(Making this post on behalf of JPrasad.)

Dear Members
Today we are celebrating a dream of a man, who dreamt for freedom, who raised his voice for freedom, and he died for freedom. Yes I am talking about the man who raised his voice for equality in all God's children.
"Let freedom ring. And when this happens, and when we allow freedom ring — when we let it ring from every village and every hamlet, from every state and every city, we will be able to speed up that day when all of God's children — black men and white men, Jews and Gentiles, Protestants and Catholics - will be able to join hands and sing in the words of the old Negro spiritual: "Free at last! Free at last! Thank God Almighty, we are free at last!"
The Great,
Martin Luther King Jr.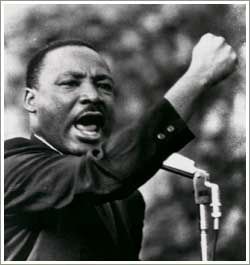 King was a leader, a true leader, who promoted peace and practiced it too. In this incomplete life, he showed a light of hope, and gave a new perspective to live a life.

"I have a dream that one day this nation will rise up and live out the true meaning of its creed: 'We hold these truths to be self-evident, that all men are created equal.'"



Today, as we pay tribute to this great leader, and read parts of this memorial speech, which made history, let us talk about how the leaders along with the people of last century have worked hard to make this world a better place to live in. and how we are as the generation of tomorrow, making a similar difference for the tomorrow's world.

"I have a dream that my four little children will one day live in a nation where they will not be judged by the color of their skin but by the content of their character."
Are we judged by the content of our characters??
"This will be the day when all of God's children will be able to sing with a new meaning, "My country, 'tis of thee, sweet land of liberty, of thee I sing. Land where my fathers died, land of the pilgrim's pride, from every mountainside, let freedom ring."
Are we free??
"I have a dream that one day on the red hills of Georgia the sons of former slaves and the sons of former slave owners will be able to sit down together at a table of brotherhood."
Do we treat each other with equality??
What are WE doing to make the dreams of King, of Gandhi, of Jinnah, and of all the Freedom fighters' of the past come true?
Was their sacrifice worth it? Are we doing justice to their hard work, and the entire struggle they did to give us a better future??? Are we paying back to them in anyway?
What is our role as the youth of today to make this world a better place to live in??
Now the ball is in your court!!
Let's together see a dream and hold hands together to make this dream come true!!
Regards,
India-Forums Development Team


Edited by Ms. Bholi Bhali - 15 January 2007 at 4:39pm