hey, just like i promised here is a pic of sheen. apparently, she is a bollywood actress and has acted in a movie called "Sheen" (that's rite, they chose her name as the name of the movie) this movie is about kashmir and stuff.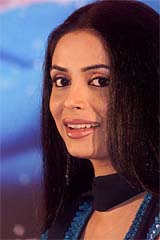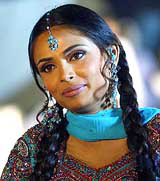 Bollywood actress Sheen smiles during shooting of the movie "Sheen" ("Snow") in Mumbai. Kashmir-born producer-director Ashok Pandit hopes his new movie, described as "a love story based in Kashmir where innocence burns," will trigger a rush by the Indian film industry back to Kashmir, once the backdrop of many Hindi blockbusters before militancy broke out 13 years ago. The photo taken on February 12, 2003
angel, i know u r gonna thank me next, so i wanna say u r welcome in advance!!