Once upon a time in the year of 1996 Brahma was sitting in meditation when Bishnu and maheswar came there all running
...They were panting heavily and looked nervous...
Shiva called "Pitama..Open your eyes..we need your concern on this matter"
Brahma slowly opened her eyes...and looked at them a lil bit disturbed
as he is busy making an another human for this world...
He asked.."Whats the matter??? Why you all r so worried??What happened in my creation??What was happening in the universe??
Bishnu replied..." We made humans..we made nature...we made emotions bt still negative emotions are over powering positive aspects for them..Humans are engrossed in so much negative thinking and all the beautiful things becoming spoilt for them...Do something Pitama...Send some guardian angle of positivity for them..."
Shiva said..."Yes I can destroy all of the negativity with my third eye
...Its a cake walk for me..but this is not the solution
...We need to made them learn peace,happiness,positivity and willpower to engross the negativity around them...
So for that we need to send someone who can spread love, happiness, energy and smiles among them..Someone who's smile can light up the world for many... an enery which can reduce the darkness of deep night...who's one shine is as brighter as Sunrays...to made the earth a heavenly leaving place..."
Brahma halt for a second and looked at his creation which is still uncompleted just when he sees Barun Deb comes to him for saying after this dry winter i will shower them with new plants and new lives
...MY rain water will pour the nature with new hopes and new beginning...
He smiled at barun deb and bid him goodbye bt his words struck him and he again looked at his creation and smiled a lil
1996 7th January Ahmedabad
A baby girl was born in a hospital who smiled
at first instead of crying...doctors got surprised as its something new they r witnessing in their entire medical career
but they r all happy as the baby is safe and sound and is healthy enough..He went out of the OT and inform the family about the new born baby...
Her family rejoiced and after sometime they got to see their little baby's face...The sight of her giving all a divine peace and calmness as if all there hurdles and worries were taken away...Like Rainfall in hot summer..Like oasis in a desert..She is cheerful and lively like that and her father named her " HELLY"
which means the first rainfall after a long tiresome summer...like a blessing, new hopes...
Seeing all this above up in the heaven Brahma Vishnu and maheshwar laughed and called Barun deb...Brahma said u remembered u said that u will shower my children wd ur calmness of water as rainfall
So i send an angel on earth who will be like ur rain to people's live...showering them wd new hopes, will mk people's life more calm peaceful and beautiful and will share a lots of positivity among all to fight all kinda negative energy and will make them learn a new way to deal wd them and all four blessed the little girl withcute angelic smile...
And today after 21 years that little god angel is spreading her positivity among people who sometime engrossed in negative thinking...
The Little Angle is now "PRINCESS HELLY SHAH"
and today we r celebrating the anniversary of this bundle of positivity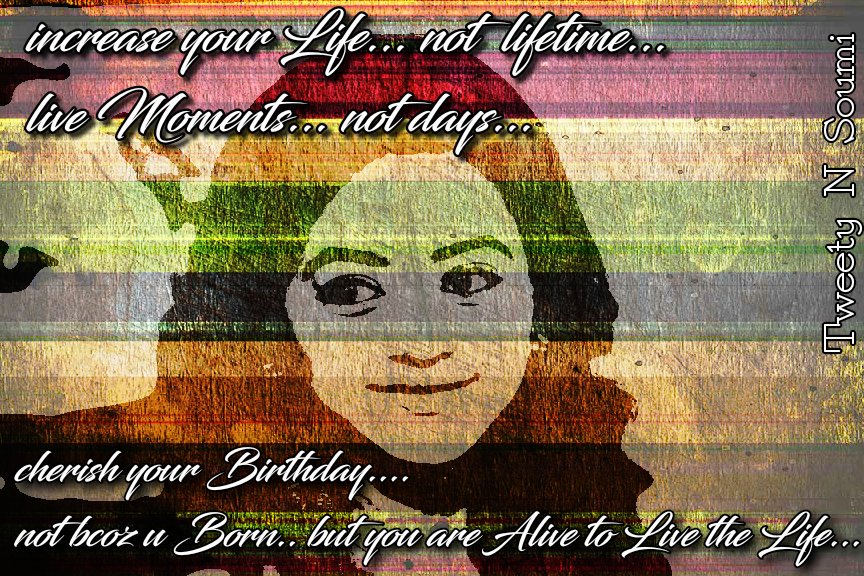 Everyday ur lips stick to smile
Sorrows can stay away a mile
The one who always light up or world
May the person stay with you forever
My every prayer is for your long life
and Happiness of you
Keep smiling doll party hard
&
Once
Again
HAPPY BIRTHDAY TO YOU



Edited by soumi93 - 07 January 2017 at 2:44am