Katrina Fanclub
this club is only for katrina's fan.If you really are katrina's fan then join this club!
Biography
Katrina Kaif has a buzz about her. She has this gravitational pull that defies all laws. She grew up in Hawaii, moved to London and is now so happy that she has struck a good wicket that she has made Mumbai her base. India is where she will be for a while and she doesn't mind singing and dancing around trees in Bollywood while she's at it.
One of eight sisters, Katrina was born to a Kashmiri father and English mother. She started modeling by accident when she was in Hawaii. She was 14 and she was approached for a jewellery campaign. After that she continued modelling in London. Even though she was brought up in London, moving to Mumbai was not a culture shock. Katrina's philosophy is that no matter what part of the globe you come from, at the end of the day every person just wants to be loved and cared for.
Filmmaker Kaizad Gustad discovered the model in London and gave her a part in his film 'Boom'. It wasn't long beofre the acting bug bit Katrina who decided to take it up full time and move permanently to Mumbai. With her gorgeous face and hourglass figure, Katrina was flooded with modeling assignments from the minute she arrived. However, filmmakers were at first hesitant to sign her because of her linguistic shortcomings.
But Katrina is determined to make it big in Bollywood! She is taking Hindi and Kathak lessons to accomodate to the Bollywood ways. Her most treasured possession is a picture of her dancing, which was taken when she finished her 40-day training in Kathak (where she used to dance seven hours a day non-stop!!)
Katrina Kaif admits that she is very romantic person and dreams far too much of romance and love. She is extremely emotional. "When you are in love, the person you are involved with should mean everything to you..." she says. She also reveals that her biggest asset is not being afraid. "I don't get intimidated easily so there's not too many restrictions on what I can or can't do" she says.
But don't be fooled by the way she looks--she might wear bold outfits on the screen but is most comfortable in not so revealing clothes in at home. And the one thing she hates is make up. "I hate wearing make-up. When I leave my hair loose, I don't wear any make-up. I feel a lot more comfortable that way. I wish we didn't have to wear make-up."
Having done two big movies in Bollywood and down south.
Filmography
Boom
Malliswari the princess
Alari pidugu
Sarkar
Maine pyaar kyun kiya?
Balram vs Tharadas
Humko dewaana kar gaye
Partner
Hello
Race
Namastey london
Apne
Welcome
Nanhe Jaisalmer
~Members~
Tiya
Anisha
Simran
Ambeeka
preity
Isha
Lil Princess
Ayesha
Raz
Bubbles
Nimra
Diya
Muqu
Kiran
Bubblezz
Jatt Kudi
Siggies: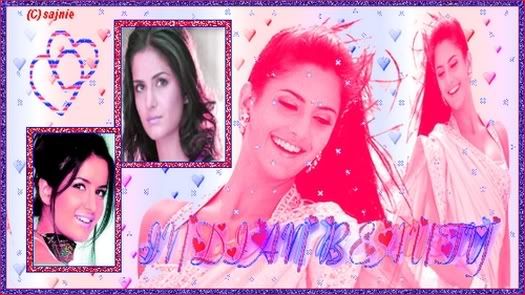 Avatars


Edited by tiya1 - 04 February 2007 at 12:26pm