MEMBERS CORNER IS A NEW SECTION WHERE CC MEMBERS CONTRIBUTIONS WILL BE SHARED ... THIS IS AN INITIATIVE FOR MAKING CC MORE ENTERTAINING AND A PLACE WHERE ALL CC MEMBERS WILL GET TO KNOW ABOUT SOME INTERESTING FACTS AND EXPRESS THEIR CREATIVE MIND IN WAY OF WRITING PULAV\STORY \MAKING SUMMARY OF ARTICLES...(OR WE CAN PLAY ANY FUNNY GAME IN CC AND DECLARE THE RESULT HERE ) ***
(ORIGINAL IDEA:NIKK)
MANISHA
Smart And Intelligent Wife
After 37 years of marriage. Jake dumped his wife for his Young secretary.
His new girlfriend demanded that they live in Jake and Edith's multi million dollar home and since the man's lawyers were a little better he prevailed.
He gave Edith his now ex-wife just 3 days to move out. She spent the 1st day packing her belongings into boxes crates and suitcases.
On the 2nd day she had to movers come and collect her things.
On the 3rd day she sat down for the last time at their beautiful dining room table by candlelight put on some soft background music and feasted on a pound of shrimp a jar of caviar and a bottle of Chardonnay.
When she had finished she went into each and every room and stuffed half-eaten shrimp shells dipped in caviar into the hollow of all of the curtain rods. She then cleaned up the kitchen and left.
When the husband returned with his new girlfriend all was bliss for the first few days.
Then slowly the house began to smell. They tried everything cleaning mopping and airing the place out. Vents were checked for dead rodents and carpets were cleaned. Air fresheners were hung everywhere. Exterminators were brought in to set off gas canisters during which they had to move out for a few days and in the end they even replaced the expensive wool carpeting. NOTHING WORKED.
People stopped coming over to visit. Repairman refused to work in the house. The Maid quit.
Finally, they could not take the stench any longer and decided to move.
A month later even through they had cut their price in half they could not find a buyer for their stinky house.
Word got out and eventually even the local realtors refused to return their calls.
Finally they had to borrow a huge sum of money from the bank to purchase a new place.
The ex-wife called the man and asked how things were going. He told her the saga of the rotting house. She listened politely and said that she missed her old home terribly and would be willing to reduce her divorce settlement in exchange for getting the house back.
Knowing his ex-wife had no idea how bad the smell was... he agreed on a price that was about 1/10th of what the house ha been worth, but only if she were to sign the papers that very day. She agreed and within the hour his lawyers delivered the paperwork.
A week later the man and his girlfriend stood smiling as they watched the moving company pack everything to take to their new home.
INCLUDING THE CURTAIN RODS.
****************************************************************************************************
Mom Knows Everything
A Mom visits her son for dinner who lives with a girl roommate.
During the course of the meal, his mother couldn't help but notice how pretty his roommate was. She had long been suspicious of a relationship between the two, and this had only made her more curious...
Over the course of the evening, while watching the two interact, she started to wonder if there was more between him and his roommate than met the eye.
Reading his mom's thoughts, his son volunteered,
"I know what you must be thinking, but I assure you, we are just roommates.
About a week later, his roommate came to him saying,
"Ever since your mother came to dinner, I've been unable to find the silver plate. You don't suppose she took it, do you?
He said, "Well, I doubt it, but I'll email her, just to be sure.
He sat down and wrote:

Dear Mother,
I'm not saying that you did' take the silver plate from my house, I'm not saying that you did not' take the silver plate. But the fact remains that it has been missing ever since you were here for dinner.
Love, your son.
Several days later,
he received an email from his Mother which read...
Dear Son,
I'm not saying that you do' and I'm not saying that you do not'. But the fact remains that if she was sleeping in her OWN bed, she would have found the silver plate by now, under her pillow.

**************************************************************************************************

Presence of mind helps, Never Panic...!!!
In a shop a man asked for 1/2 kg of butter.
The salesperson, a young boy, said that only 1kg packs were available in the shop,
but the man insisted on buying only 1/2 kg.
So the boy went inside to the manager's room and said "An idiot outside wants to buy only 1/2 kg of butter".
To his surprise, the customer was standing right behind him..!!!!!!!!!! !!!!!!!!!
So the boy added immediately, "And this gentleman wants to buy the other half!!!!!!".
After the customer left, the manager said "You have saved your position by being clever enough at the right time. Where do you come from?"
To this the boy said, "I come from Brazil. The place consists of only prostitutes and football players!!!!!"
The manager replied coldly, "My wife is also from Brazil ".
To this the boy asked excitedly, "Oh yeah? Which team does she plays for?"
NIKKK
Pic Credit - original uploader
Laksh - aaj raat meri 100th SR hai us position me
Sanskaar - aaj kal no face wash no ghurna pata nahi kaha dhyan bhatka hai iska
Ragini - online agar ache jhadu ho toh order karti hu agar laksh iss baar bhi Laksh nishana chuka toh dhulai karungi
*** ALL POSTS ARE BEING SHARED FOR FUN PURPOSE ONLY , WE DON'T HAVE ANY INTENTION OF HURTING ANY FANDOM'S SENTIMENTS OR FEELINGS
SHONA
Bhojpuri Names Of Hollywood Movies
Mission Impossible = "Eee Naa Ho Payi Bhaiya"
And Mi-2 = "Hum Phir Se Kahi Ee Naa Ho Payi Bhaiya"
Mi3 = "Abey Kitni Baar Kahibey, Ee Naahi Ho Paai Babuaa"
Titanic = "Nauka Dele Dhoka"
Anaconda = "Aadmi Khaye Wala Sapwa"
Superman = "Ude Wala Aadmi"
Silence Of The Lambs = "Bakariyan Bolat Nahin"
Black Hawk Down = "Kaali Chidiya Mar Gayil"
Kungfu Panda = "Kungfu Pandey"
Exorcist = "Jhaad Phoonk Waala Manav"
Kill Bill = "Maar Billwa Ke"
Kill Bill 2 = "Dunali Se Maar Billwa Ke"
Ghost Rider = "Phatphatiya Par Jalti Khopadiya"
Spiderman = "Admi Makadjaal Bunat Raha"
Spiderman2 = "Sala Admi Phir Makadjaal Bunat Raha"
Spiderman 3 = "Sala Ab To Kala Hoke Makadjaal Bunat Raha Be"
The Amazing Spiderman = "Ab Naya Admi Makadjaal Bunat Raha"
King Kong = "Katili Nachaniya Ka Bandar Saiyaan"
Inception = "Sapno Me Sataye Sajaniya Hamaar"
The Godfather = "Bilaayati Lalu Yadav"
American Beauty = "Bhojpuri Nachaniya"
The Master = "Padhawe wala"
Skyfall = "Aakash Girat Rahil"
Gangster Squad = "Lalu Ka Aadmi Log"
Stand Up Guys = "Khada Kar Le Babua"
Thor = "Hathoda Manav"
Kick Ass = "Pichwada Phad Debo"
Karate Kid =
Baccha Kare Hoo Haa
(Bollywood)
Three Idiots = "Teen Tho Budbak"
Ghajini = "Takla Ke Badla"
Night At the Museum' - 'Museum Ke Andar Phans Gayaa Sikander'
Planet of Apes' - 'Vaanar Raaj'
Taken : Le Li..
Taken 2 : Uski bhi Le Li..
Godzilla -Badi chipkali
The Dark Knight :Sanwla Shoorveer.. .
Wrong Turn : Galat Mod Le Liya Be.
Wrong Turn 2 : Saala Phir Se Galat ModLiya.
.
Terminator : Bhasmasur.
.
Welcome To The Jungle :Anil Kapoor Ki Chhaati Me Aap Ka Swagat Hai .
The Mummy Returns :Mataji Vaapas Aa Rahi Hain..
SAW: Dekha
SAW 2: Phir Se Dekha
SAW 3: Ek Baar Phir Se Dekha .
Inception : Khwab Mein Khwab, Dimaag Ka Dahi Janaab!
The Avengers : Angarey Bane Sholay
Wolf of Wall Street : Dalaal street ka bhediya
Kiss of the Dragon : Maut Ka Chumma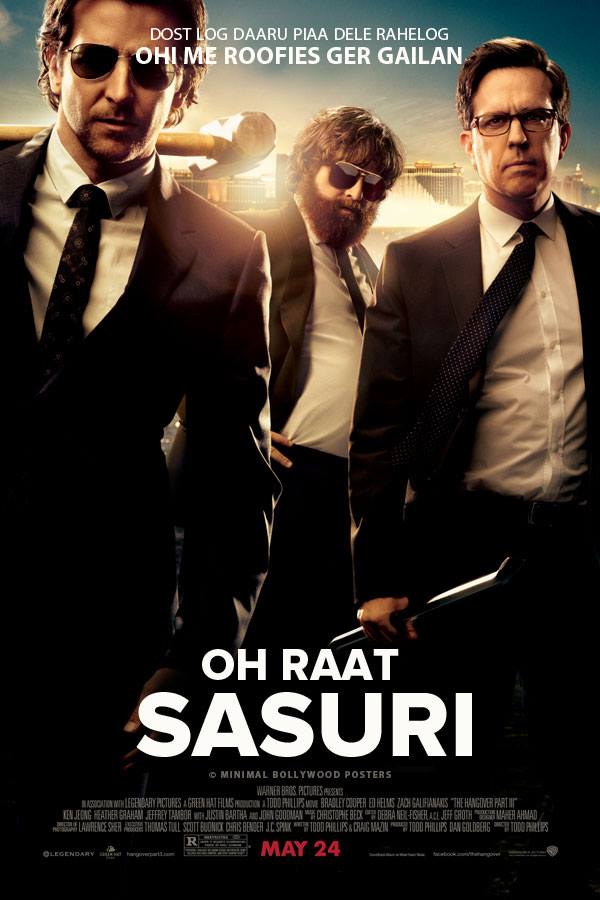 DOODH WALA LOVE
GAME PLAN : NIKKK
BASIC RULE OF GAME :
write a song or movie name or serial name by adding or substituting a word with "DOODH" after everything u write. And write d original song or movie or serial name in bracket.
Example - ye dudh toh pyaar ka dudh hai (ye bandan toh pyaar ka bandan hai)
CREDIT : NIKKK
I WILL PERSONALLY CHECK POSTS (AS MANY AS I CAN) AND ADD THE MOST FUNNY ONES IN THE "BEST POSTS OF CC" SECTION OF NEXT CC. BUT , IF ANY MEMBER FINDS ANOTHER MEMBER POSTING SOMETHING REALLY FUNNY , PLEASE PM ME (SAMPRITI ) SO THAT I CAN ADD THOSE POSTS ON NEXT CC, (AS I MAY MISS SOME POSTS)
BTW YE GAME BOHT HI AS HONE WALA HAI , TOH BEST OF LUCK @ALL SANSKAARI PAAPION


Edited by Sampriti. - 16 July 2016 at 5:46am