New Character!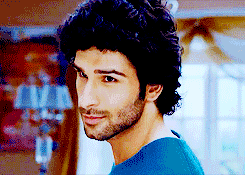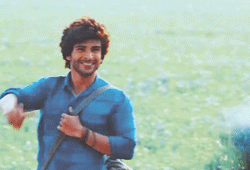 -Kismat K Dhaage-
*Chapter 8*
The Mehandi event was done as well as the engagement and Sangeet ceremony. The wedding was in two days for both families to rest and do the final preparations. Everyone had their breakfast and went back to their old routines. Today was the audition day for the Male actor of Sona's thesis film. She decided to start working on her film as soon as possible. She asked Bihaan to come with her to the auditions which he gladly agreed but Thapki as her usual self excused to stay at home helping Bhabis out so that Sona can spend more time with Bihaan. He was upset though.
"Arey Bihaan Where are you? I am gonna get late because of you. The auditions are about to start and the people are going to scold their director and scriptwriter for not being punctual!"
Sona yelled out calling for him and he came out of the house fixing his helmet.
"Oh madam it's your fault not mine! You were busy stuffing your face with Aloo k Parathae like an elephant."
Bihaan clarified igniting the engine of his bike. She rolled her eyes and sat behind him. She hesitantly grabbed his shoulder and he sped up towards their destination. They stopped at the signal just a few mile away from the studio. They had tears in their eyes from laughing so hard during their ride. Oh how both of them missed their good times. They were recalling their epic child hood adventures. She recalled their fishing memory where she pushed Bihaan in lake and later fell herself too and he reminded her how he used to take his friend's bike secretly just to take Sona to the Pani Puri stand on every Saturday evenings. Soon the signal light turned yellow and Bihaan calmed himself and started his engine to move forward but as he was about to hit the paddle some guy on a bike as similar as him cut their way and stopped right In front of them. Both got startled by his sudden entry as Bihaan's bike came to halt abruptly. Sona's cheek hit Bihaan's shoulder. She fumed at the guy and climbed out of the bike rubbing her cheek and went towards him and tapped his shoulder. He didn't responded and it made her blood boil even more.
"Are you blind? Can't you see we were about to speed up and you decided to cross our way we might have gotten seriously injured because of you"
She snapped at him folding her arms. The guy was least bothered by Sona's complains he didn't even turn around to look at her. Bihaan face palm himself and asked her to come sit back on the bike but she refused and continued scolding that Guy. After few seconds He held his hand up and Sona suddenly paused her rules and regulations speech. She saw he was wearing a chain bracelet in his hand which had a Metal tag and "RVS" was engraved on it in capital. The guy turn his head to his left and looked through his helmet towards a fuming Sona. Just then the signal light turned green and he waved at her, kicked the paddle and Sped up towards his destination leaving her completely baffled.
"What the hell??? What kind of a person he was?? He didn't even apologize and left."
Sona complained stomping her foot on the ground. Bihaan shook his head laughing silently at her. He got off his bike and went towards her.
"Let him go Sona besides you're getting late, so Come sit."
He exclaimed wearing his helmet back and she pinch the bridge of her nose to calm herself. Bihaan kicked the paddle as he felt her presence behind him and marked his way towards the theater.
"It's the last audition Miss Sohani and you haven't got the guy you are looking for! You know it will make a bad impression on the external teacher who's going to stay with you throughout your thesis!"
Sona's Teacher exclaimed as he stood up from his seat in frustration. She was sitting with the jury in a big theatre where the auditions for the cast of male lead of her film were held. She assured her teacher that everything will be alright. She panicked from the inside thinking that he came all the way from Australia to see this.
Great! Now I am, doomed! Oh the joy of agony!!
She thought. Bihaan was sitting behind Sona watching all the auditions in silence. Which were boring him out but he was only there because of her. On spot one of her colleague came and told her that the actress left because she got tired doing so many dialogue tests with every male audition. Her teacher shook his head at her in disbelief and she was biting her nails thinking what she should do to show her teacher that her work is under good progress. Bihaan rubbed her shoulder trying to relax her.
"One moment sir! I think we do have a good male lead who can match my character! Bihaan!!!! Why don't you apply for audition too?"
She suddenly exclaimed and Bihaan was dumbfounded at her. He snickered at her suggestion but got silent when he saw her giving him stern expressions.
"No no!! You know I don't know how to act! Are you crazy??? Why did you ask me this in first place??"
"Shut up! You can act I know! Come on get your bum on stage now! GO!!"
They both were busy arguing like kids silently and started hitting each other too. She stood up from her seat and started pulling him and he kept protesting.
"Uh...excuse me? Are the auditions still going on?"
Some guy questioned entering the theatre from backstage. Sona looked at him like he was the last Ray of hope in her life and quickly went towards him.
"Yes! You are just in time! Are you ready?"
Sona hopefully chimed at the guy and he smirked nodding his head. She cheered mentally. She went towards her teacher assuring him that she thinks this guy has all the potential she was searching for her Main Lead. She handed the script to the guy and asked him to read the part he has to Act. He had the same tall figure with dark hair as she imagined for her character. He also looked quite educated and he was bit manly looking though he had cute facial cuts.
"Bihaaan!! He's the perfect match for my character Yar! I hope he acts well!"
She chirped standing next to Bihaan and crossed her fingers silently praying to God that he gets selected. He chuckled at her excitement. The guy called out he's ready to audition. He came towards Sona to hand her the Script. Sona's smile dropped as she saw the RVS bracelet dangling from his wrist. Her mind flew back to the biker guy they had an encounter with earlier this morning. He went back to stage waiting for his cue and she face palmed herself in shock. Bihaan noticed her vexed state and asked her about the reason of her sudden distress.
"Bihaan he's the same biker dude who crossed our way earlier!"
She whispered to him and he looked at her as if she has lost it.
"How can you be so sure??? He was wearing a helmet Sona and we didn't see his face."
He questioned confusingly and she explained that he's wearing the same bracelet as that dude was wearing. Bihaan astonishingly said Gajaab.
"Miss Sohani your actress left so how is He going to give his dialogue test without the female's dialogues?"
Sona's teacher asked. Sona was lost thinking about the solution but just then Bihaan mischievously got an idea in his mind.
"Sona you are the script writer right? You know every dialogue very well so why don't you go act with him on behalf of your actress?"
Bihaan loudly suggested his idea so that her teacher would hear it. Her eyes widened at what Bihaan suggested. If looks could kill Bihaan would be dead by now. Sona clearly hates that guy and she was on verge of strangling Bihaan to death for blurting this idea out of his mouth. She protested but her teacher agreed and asked her to go act with him for the time being. So giving a last death glare to Bihaan, who was enjoying her doomed situation, went towards the stage.
"Rudra...People call me Mr. Rudra Veer Singh! I bet you must've seen the initials of my name written on my bracelet?"
Rudra exclaimed winking at her mischievously and she rolled her eyes showing him disgust expressions. She said some dialogues of her script and Rudra performed every dialogue perfectly. Bihaan was really impressed by his acting skills and Good expressions delivery according to the scene. Sona got tensed up thinking he might get selected so she decided to give him a final round. She ponder for a moment and got herself in the character.
"You can feel this beautiful emotion too Adarsh! I know you only know how to hurt someone beyond their tolerance but I do have a hope that love will change you someday."
Sona blurted out the dialogues of her unwritten confrontation scene between Adarsh and Juhi the leads of her film. Her acting was so powerful that she grabbed everyone's attention and the theatre went silent. Bihaan wanted to hoot and cheer at her best friend's acing but he refrained himself. Just then he got a call so he went outside. Rudra was stunned by Sona's sudden dialogue delivery and she smirked thinking he doesn't have the potential to act on a random scene without, any script given to him. She thought her work here is done and she doesn't have to bother choosing him but she was wrong. When she was about to leave she felt her arm being tightly jerked backwards and she was crashed into Rudra's chest. He was giving her intense expressions as his eyes were burning a hole through her skull and his jaws tightened. They had an intense eye lock and Sona was completely puzzled.
"The heart I have is only capable of pumping blood through my veins it doesn't and wouldn't beat for anyone Understand? Now don't waste your time on me Juhi and go live your life. I know myself I won't be effected by this pathetic thing called love."
Rudra scowled at Sona and pushed her away. Sona was blown away by his comeback. It looked so real as if Rudra's dark side took over him and he was really confronting his love interest. She couldn't help but felt appreciation for him but still she was in her character just like him so she continued.
"Your heart will beat again even if you don't believe in love! Do you even know what love is? It's just...it just... Something unique something...indescribable! You just can't explain the feelings you encounter when you are in love. You don't know when how you get effected by it but you just feel it right here in your heart and it makes you feel alive and strong. It's just drives you utterly crazy! Everyone is born with the flames of love inside their hearts, it's just that you need a spark from your partner to burn your soul. Do you know what it does to you? You...you get so restless and you daydream for that person every second. You create your own little happy place in your mind with that person. You suffer insomnia as your brain can't stop admiring the one who holds your heart. It also has an immense power of patience. It makes you wait patiently for that person 2 years, 8 years, 18 years or a decade but it does and you ask me why I am concerned for you?? How much of fool can you be? Can't you see my madness, my restlessness, my wait, my care, my concern, my hope that you will Change someday and begin to love? It is all because I have always loved you Bihaan..."
________________________________________________________________
*A/N* i know i know many typos and i am gonna get flying chappals thrown at my way for the upcoming two chapters but they are V E R Y imp ones.
P.s i am so sorry for the long wait...
i am stuck in my studies so no time for the show or forum.
DO NOT COPY THIS POST AS THIS IS EXCLUSIVE TO INDIA FORUMS


Edited by chandaaaxo - 23 November 2016 at 5:16pm