Today's Look :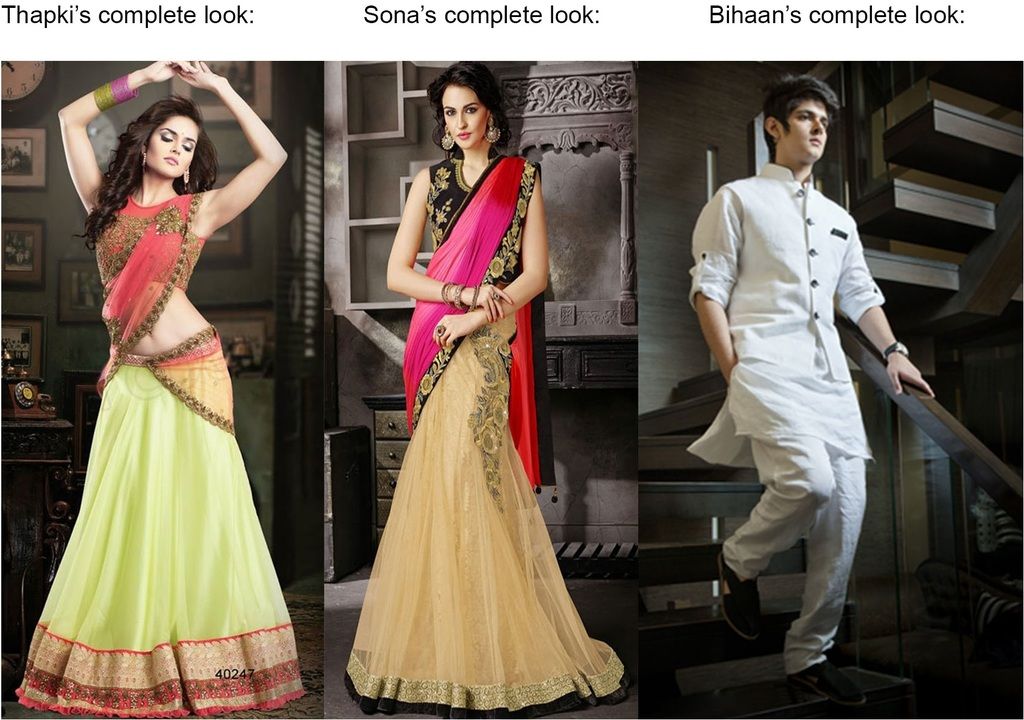 *A/N* i know , i know ! i should be studying but my car is taking too long to render so i came here
plus i just couldn't let you people hanging like this so here ya go! Enjoyyy..
___________________________________________
-Kismat K Dhaage-
Chapter 7
And the Sangeet ended with the last performances of Sona and Thapki on Bole Chooriya and Salam E Ishq earning loads of cheers and whistles from both families. Today was the second day of Sangeet and also Mehandi Ceremony of Kiran. Everyone did their Dance performances on the songs they practiced for a week and made the Couple of the day to shake some leg with them too but Sona and Thapki's performance was the highlight of the day as it made everyone dance with them. After wrapping up the Sangeet it was the time for girls to settle down for Mehandi. Along with the Groom to be, the guys of both families were not allowed to see their girls or meet them till their Mehandi is done.
"Are Sona beta Come here and meet Dai Maa she is the one who does the Mehandi of all the girls of our family. It's our faith that any girl who gets her hands done by her will have a strong and beautiful bond with her husband."
Vasu introduced Sona to Dai Maa. She smiled and Sona took her blessings. Just then Thapki came with the Mehandi bowl and put it on the table next to Dai Maa. She looked at her realizing who she was and took her blessings also.
"You are Thapki right? Whom I applied Mehandi sometimes back?"
Dai Maa exclaimed remembering her and Thapki got shocked. Sona confusingly looked between Dai Maa and Thapki while Vasu Quickly jumped in.
"Dai Maa why don't we start Kiran's Mehandi? It's getting late then you have to bless every girl so everyone is impatiently waiting for their turn."
Dai Maa agreed and left with Vasu. Thapki looked on sadly and Sona noticed her. She put her hand on her shoulder and gave it a light squeeze. Thapki smiled halfheartedly and left. Sona realized she needs her camera to take pictures of Kiran's Mehandi so she went upstairs.
Here on the other hand Viraj was waiting for her impatiently. He threw marble balls on the floor so that when Sona will come she will fall and hurt herself.
"You thought you can get away easily after hurting me? Oh no you don't! You just wait and watch how much pain I am going to give you."
He spat thinking about last night. His mind flashed back to the dance when he tried to play all dirty with her but Sona being her defensive self-stepped on his foot almost punching a hole in his shoe with her sandal heel. She then pushed him so hard that he fell on the floor while everyone laughed on him. He sensed someone coming towards her room so he hide behind the pillar. Sona was unaware of Viraj's little evil plan and just as he planned she stepped on one of the marble balls. Viraj cheered to himself as he heard her scream. He came out from behind the pillar to see her lying on the floor wincing in pain but his smirk dropped as he saw what was in front of him.
Sona's heart was in her throat and her eyes were closed but she didn't find herself lying on the hard ground or any sort of pain jolting up her body but instead She felt two warm manly hands grabbing her firmly and protecting her from falling. She slowly opened her eyes and embraced his beautiful face. It was Bihaan who was holding her and looking at her worriedly. Sona had her one hand grabbing his collar and other one grabbing his shoulder. Bihaan's warm touch on her bare waist sent a shiver down her body. She was too lost admiring him and he was too lost looking at her with nothing but concern on his face. Viraj left the place furiously cursing Bihaan for saving her in the nick of time. After a moment they both got out of the trance of gawking each other and he helped Sona straighten up. She nervously looked away but his intense gaze was still on her.
"Are you all right? I just came out from my room and heard you scream. Focus when you are walking down the hallways, wearing this big lehnga Sona or else you might break you front teeth."
Bihaan joked mocking her expressions when she was about to fall. She slapped on his arm and he chuckled revealing his dimples.
"Thank you very much B for Bihaan Pandey Ji for saving me I am under your debt oh will I ever repay you back?? Just by the way it's not my lehnga's fault I tripped over something I guess!"
Sona first batted her lashed faking the expressions of gratitude and then rolled her eyes at him. He snickered and she started looking down to search for the thing she tripped over. She then picked up the 2 small marbles balls and showed them to Bihaan. He looked at it suspiciously and started thinking about it like who would try to throw it on the floor and whom they want to hurt?
"Ufhoo! You can play the CID CID later let's just forget about it and enjoy the event some kids must've dropped it."
Sona irritatingly snatched the balls from Bihaan's hand and he protested. She shut him off and just then Bauji called him. He left telling her to be careful next time and she nodded and went in to her room.
"Thapki why aren't you getting your Mehandi done? Come I'll ask Dai ma to do yours!"
Suman Bhabi exclaimed after showing her hands to dadi, Preeti Bhabi and Thapki. Dadi praised the beauty of both Bahus and gave her special blessings to them and for their marital life. Thapki was only thinking about her limited time in Bihaan's life so she refrained herself from getting her hands done. She protested that she is not in mood but dadi forced her so she had to just because dadi wished to see the color of Bihaan's love on her skin. She went towards Dai Maa and took her blessings. Shraddha was getting her hands done and when she saw Thapki she ask Dai Maa to write Dhruv's name on her palm to make her jealous. Thapki nervously sat down and Shraddha smirk seeing her irritated. She left after flaunting her hands in front of Thapki. It was her turn and she hesitantly hold her hand forward to Dai Maa. She smiled looking at her Mehandi as she recalled Dadi Maa's words. She couldn't stop thinking about last night dance too. The feelings she was having for Bihaan were still new for her but she was just to deaf to hear what her heart is saying. Dai Maa filled her skin with beautiful patterns and just as she was done with her right hand she asked her the name of her husband.
"BIHAAN!"
Thapki screamed as she saw Bihaan was about to collide with the flower guy when he walked out of the kitchen, eating something but not looking up from his phone. He paused his steps abruptly but then smiled gratefully at her realizing he was going to get both him and flower guy hurt. Thapki smiled back and when she looked down at her Mehandi, her smiled dropped. Bihaan was written in the middle of the Palm of her right hand. She was astonishingly looking back and fro between her palm and the man standing himself. She couldn't comprehend whether she should be happy about it or she should feel upset. Her breath hitched in her throat thinking what kind of game is her life playing with her this time? His name was written in her palm without her permission just like her fate has written his name in her life without her consent. The man who destroyed her life, the man who she use to hate a lot, she has started to develop new emotions for him for the past few days. Her mind flashed back to that night in restaurant when she thought she would completely loose him that was the time she realized that without him she's nothing. He may have taken everything from her but in return he gave her the trust, the respect and most importantly the promise to be there for her when she will be in trouble which is something more valuable for her than how this relation started.
"Thapki I can't find any red nail color matching my saree will you please get me one?"
Preeti Bhabi asked Thapki worriedly earning a light kick from Suman Bhabi. She winced looking back at her and asked her why she kicked her.
"Are you mad? Can't you see her hands are covered with Mehandi and if she went to get you your nail paint her Mehandi will get spoiled you idiot."
Suman Bhabi exclaimed knocking some sense into our dumb Bhabi. She apologized to Thapki and was about to left but she stopped her.
"Don't worry Bhabi my left hand is free! See Dai Maa just started applying Mehandi on it so I can get the nail paint you want quickly!"
Thapki assured Bardhki and she jumped up and down with joy while Suman rolled her eyes. Thapki excused Dai Maa for few seconds and went towards her sandals to wear them so she can go upstairs. She tried wearing her one sandal without ruining her Mehandi but her dupatta was irritating her. Bihaan saw her struggling while wearing her sandals so he offered to help. She said she'll help herself but Bihaan shook his head in denial at her. She was still trying to protect her Mehandi while putting her left foot through the sandal and suddenly she felt herself being lifted up from the ground. She was stunned and when she got back to her senses she realized Bihaan was carrying her in his arms. They both had an eye lock for a second where Bihaan had calm expressions on his face and Thapki was puzzled. He asked her where she wants to go and she told him. As he walked upstairs he earned chuckles and whistles from the Bhabis and bhayas. Shraddha on the other hand was looking for Sona everywhere.
"It's such a good situation to bring Thapki and Bihaan marriage truth out In front of her but where is she??"
She asked herself anxiously looking here and there searching for her and as if on cue Sona entered the house with Lakhan bhaya Carrying big boxes of sweets in their hands. She put it on the table and counted the sweets to make sure all the boxes were there. Shraddha mentally faces palm herself thinking now she has to come when they left towards their room. Just then her brain dinged with another idea and quickly went towards her.
"Uh... Sona I was ermm Looking for you...uh do you have an extra Safety pin? My saree is irritating me so can you please get it and pin my saree I can't go you know..."
Shraddha trailed off showing her hand to Sona. She smile and said she'll get it and turn around to go upstairs while Shraddha smirked at herself proudly.
Here on the other hand Thapki and Bihaan reached Sona and Thapki's room. His heart was racing rapidly even Thapki could feel his heart beat matching hers. He opened the door from his foot and went inside. Unwilling he put Thapki down. Whereas she was suddenly pulled out of her trance of staring at Bihaan lovingly as the hard floor touched her feet. She regretted it but as soon as Bihaan turned around to leave, he felt his watch got stuck in Thapki's choli and her choli strings got pulled. Thapki got stiff at her spot and put her left hand on her chest to stop her choli from falling. Bihaan noticed it and he was as shocked as hers. She didn't know what she should do if she will remove her hand then her choli will fall. Bihaan was too embarrassed at himself for pulling her strings accidentally like this. Thapki's eyes watered up feeling helpless but just then she felt a warm hand brushing against the skin of her back. She felt a shiver down her spine as she realized who it was. Bihaan couldn't control himself seeing her bare back and it was making him feel vulnerable so he decided that it's better to help her before he loses his mind. He grabbed the Strings of her choli and turned her around making her face him. He removed her hand and used his chest to stop her choli from falling and connected his chest with hers. Both of their hearts mirroring each other's heartbeat. Thapki looked up at him with teary eyes and read his face showing nothing but mixture of embarrassment and fret for her. Their faces were so close that their nose were brushing against each other. This closeness was too dangerous for them. She was getting an urge to wrap her arms around his neck and pull him down to meet her lips while her bare neck was making him go stiff. He so wanted to confess his love for her, to let her know how much he needs her and how much he wants to make love to her but the fear of rejection knowing after what he did to her was holding him back. He one by one tied the knots of her choli and she felt regret of knowing this moment is about to end. He was done but instead of letting her go his hand rested on her waist and she was comfortable by it. His eyes darted towards her hand where Bihaan was written and a smiled crept up to his lips lighting up his whole face. He couldn't believe it that she has accepted him as her husband. Thapki couldn't stop smiling looking at his cheerful state but her smile dropped as the words of Vasundhra ringed upon her ears. Bihaan cupped her cheek looking at her worriedly and asked her what happened but she just remained speechless. He smiled and wiped her tears with his thumb. After few moments of staring at each other lovingly she felt him leaning in towards her. Her heart was about to explode but just then Bauji called his name. He unwillingly let her go and left. Thapki sat down on the bed cupping her cheek missing the touch of his hand.
Was he about to...? Why Bihaan? Why are you treating me as If I am someone special to you? Please don't be so caring about me it's making hard for me to fulfill my promise to Maa. I am trying to avoid you but I don't know why I myself can't resist keeping my distance from you and this fate keeps bringing us close, whenever I am trying to stay away from you. I even switched my room so it will be easy for me to leave you but you decided to spend your nights in our room. Why do you always protect me when I am in trouble Bihaan? You went against your family just to stand up for me. You even took a bullet for me and didn't care about your life once. Did you do all this just because you were bound in this fake relationship and you had to or do you...?
Just then her hand moved from her cheek to her lips and she couldn't believe what she was thinking about.
"Thapki??? You alright?"
Sona's voice brought her back to reality. Thapki didn't realize she was smiling unconsciously and her cheeks were stained with tears. She came back to her senses and quickly wiped her cheeks and nodded at a suspicious looking Sona. She bought her excuse and asked where Thapki put the Safety pins. Thapki showed her the box in drawer. Thapki reminded herself why she came here so she picked up the nail paint and both giving each other a smile went downstairs.
DO NOT COPY THIS POST AS THIS IS EXCLUSIVE TO INDIA FORUMS


Edited by chandaaaxo - 31 May 2016 at 5:30pm