tha
Originally posted by maniac_

So It's time to read some of the messages your friends have for you...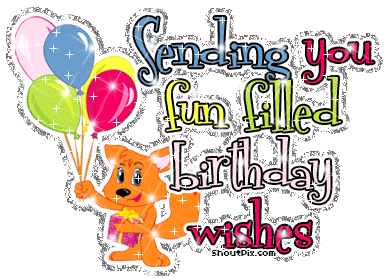 From Sunitha
From Suma
From Srinithi
Happier B'Day..Mehwish Di...May god bless u with all success in life n a good health..Waise u owe a treat for completing Masters
U r an encyclopedia of songs n just give perfect songs for any situation ..A crazy RanDeep n YuvAni fan..I had enjoyed your companion a lot n cherish times we had drooled over Yuvraj
And your hot dreams for YuvAni which we go crazy...I had loved n enjoyed all your one shots n FF...N u just have an Yuvraj within u..Best admin of AT..Love u Admin ji..Apke bina AT adoori lagti...This is my dedication to you...

kehte hai dil deewani ho gayi
Again wishing u a very HAPIEEE B'DAY..
From KHUSI
Wao it's time to party...many many happy returns of the day mehwish
Hope your special day brings all that your heart desires... Here wishing you a day full of pleasant surprise... HAPPY BIRTHDAY...
U r best admin ever i saw with balancing all things which going wrong... Besides all this u r such a beautiful n kind hearted girl and wonderful writer as well...love to read you mehwish whatever u write whether it is yor post comments or awesome ff OS...indeed u r amazing... Stay humble and nice as u r...

Happy birthday!!! I hope this is the begning of your greatest,most wonderful year ever...God bless U...love u mehwish

From JUHI
"Today, I wish all your dreams to come true as you walk on your life path. Count your blessings every day, and realize there are more than years in your life! Celebrate your day!happy birthday dhi"
From Priya
And last but not the least from the Maniac...
I'm very greatful to IF for one thing (at least) which helprd me meet some amazing friends nd u knw u top the list.. God knows what u saw in me nd decided to talk to me and that was the starting of a friendship I'll cherish forever,.. U became my medium of escape frm bursting in front of everyone and also the one in front of whom I could vent without being worried about reactions..
I can never forget our late night talks nd of course ur Rudra Roop which u Knw I'm so possessive of...
It's difficult to point out what i feel at those talks Bt it's somewhat close to this...
Leharon se hai
Saagar se gehri bhi hai
Ye teri meri baatein
Ye teri meri baatein
Rulaati bhi hain
Gham mein hansati bhi hai
Ye teri meri baatein
Ye teri meri baatein..



I really wish that U get all the happiness u deserve and all ur wishes come true nd yess hopefully u get a smart, handsome, tall and shy partner like ur very own Shanky aka Shashank Vyas...
Keep smiling, keep shining nd keep rocking like u do... Happy Birthday di...
Wow...this is touching...you guys put so much effort in...never saw wishes done this way, it's beautiful...
IDK if I deserve all this...but thank u Srinithi, Sunitha, Suma, Juhi, Kushi, Priya and Naina...
beautiful words and messages...
u guys are all the best.