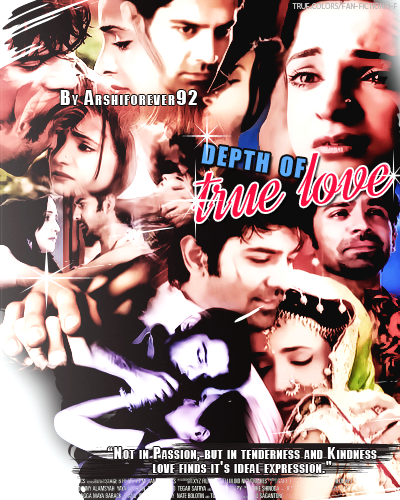 Chapter- 78 (B)


Khushi threw herself on him, silently without a word and Arnav caressed her back, kissing her head but her her next words literally shook him.
Khushi: Am I turning MAD? She asked in a low voice making Arnav to pull her backwards with a jerk from the hug,
Arnav: What did you said?
Khushi: Am I turning Mad Arnav ji?
Arnav: No! You're perfectly alright! Dare you say that again and he hugged her fiercely, crushing her into his arms and kissing the side of her head.
"Khushi' he gently called her name making Khushi to look at him.
Khushi: I can't! I am not able to let it go Arnav ji. I can see him with that predatory look... I am loosing it... I am loosing my sanity... I... Arnav cutts her.
Arnav: "YOU TRUST ME!' Don't you?
It was a confirmed statement more than a question which Khushi also felt, a quiet power that sentence held as she looked deep into his eyes which held something so different, a power, a determination but mixed fear! Fear to lose something precious and she nodded.
Rabba ve...
Rabba ve... Rabba ve... Rabba Ve....
Arnav: "You're Safe" Safe with me!
TRUST ME! If ever you loose your sanity that it'll only in our Love , only with me not because of that ****.
Kyun Dard hai itna...
Tere hi ishq Mein...
Khushi nodded with the feeling of security and protection of her Love and Arnav instantly pulled her to himself hovering over her lips intimately. Khushi closed her eyes ready to give in as he pulled their bodies intimately together.
Rabba ve... Rabba ve...
Rabba ve... rabba ve...
Arnav: "Let it go Princess! I am with you, All her fears left her as his promising words met with their lips.
They kissed each other fiercely, both having their own fear to fight with but need is only Love. Their tongues tangled, breaths mixed as in between that passionate kiss she was laid on the soft mattress with Arnav's warm body hovering over her. Her hands clinging on his collar pulling him more into her as his hands circled around her hips.
Arnav swinged her head as her mouth opened fully to his Kiss, Her heart thudding madly. Her all senses stumped by him with his erotic and delicious way in which he was claiming her and his hands moving all over her body, patiently.
The scent of his arousal was surrounding her and heat emitting from his now naked body burned her bare skin. He looked into her eyes breaking away from the kiss making her gasps and those dizzy moans to stop.
Arnav looked at her now desire filled eyes, no fear there in it, only Desire and Love. He again spoke trying his best to convince her.
"You're Safe with me Khushi" and again claimed her mouth for a Loving kiss, making her all the senses shut.
Caressing her arms, stomach and rubbing her ribcage, he cupped her br***ts softly and His mouth continued to destroy any remaining senses inside her as ripples of pleasure replaced them, inside her every fiber.
For Arnav it as not about Love making or give into their desires, it was all about making her feel Love, Secured with the confidence of being protected.
Arnav felt her body loosening around him, kiss slowing and he knew that those medicines has started effecting her.
Flashback
Khushi: " You're here ? with me." She asked to make sure she's not imagining him.
Arnav: Ofcourse my princess! Where would I go? "I can't take the risk of leaving my clumsy princess alone" he tried to humor and Khushi smiled lightly to it.
Arnav helped her to sit with the help of pillows behind her back and gave her medicines which she swallowed without any fuss looking at him.
Ref (Part A)
Flashback ends
He have mixed those sedatives with her regular medicines which he have been avoiding till now.
"Arnav ji" She murmured
"My he.. head feels heavy.. what is hap.. happening to me?
Arnav whispered still breathing onto her lips "Nothing"
"Just Trust me and relax!" and just like always trusting his words she fell asleep.
Arnav looked at her , hating himself for doing this with her but he had to protect her at any cost.
Doctor's words about taking the help of psychiatrist has already made him restless and now Khushi's unsaid plea to protect her before she lose her sanity has made his decision more firm.
Arnav stood up slowly covering her and wearing his own clothes moved out of room. His eyes burning ,mad with rage and hatred as he called Aman to give instructions.
Shyam Manohar Jha will get a slow and painful punishment and he'll make sure of it. He just needs his Khushi by his side before he face that ****.
When Khushi woke up in evening she was surprised to see Arnav packing their stuffs.
Khushi: What are you doing?
Arnav: Packing!
Khushi: But why?
Arnav: For Mumbai. Confused with his curt answers she asked again.
Khushi: But we still have time.
Arnav: No! We don't because we are leaving for Mumbai tomorrow in early morning.
Khushi(surprised): But why? So sudden?
Arnav(coming beside her): I just thought that what are we doing here, it'll be good if we go there early and work from there only.
Khushi looked at him and keeps her palm on his cheek.
Khushi: It is because of me ! Right? Work is just an excuse.
Arnav: Khushi ...
Khushi: You don't have to lie, I know it!
Arnav (sighed): Yea I just feel it'll be good for you to be away from this place and Mumbai have your friends also, so you'll feel better in new atmosphere and with your friend.
Arnav(looking at still silent khushi): Khushi I promise you that **** will see the worse who have led you here. He'll beg for the death , I'll make his life a living hell for him but before that I want you to get fine. My biggest achievement and his biggest defeat will be when you'll be ready to face him without any fear. I want you to punish him , he is our prey Khushi, he have not only tried to play with you but he had dared to hurt my Love and I want us to be together and see when I'll destroy him.
Arnav: Therefore we are leaving from here right now, you need a new atmosphere and your friends to make you feel better.
Khushi(Smiling lightly): I just need you Arnav ji than feel safe even in worst situations.
Arnav(kissing her forehead): I know and I am always with you but you need to stay like before the feisty and Bubbly Khushi and for that you need to go out mingle with others but that can't happen in Delhi because we can't predict what Shyam is doing, so it'll be good we go there to Mumbai.
Arnav: You'll be busy in work and meet your old friends also, it'll help you to move on and I am always beside you. Khushi looked at him with tears in her eyes.
Khushi(smiling): In other way it's good that we are going there early.
Arnav: Why?
Khushi: because my friend about whom I was telling you is getting married.
Payal jiji gave apartment's contact number to my friend when she received call at GH, luckily it was Jiji who was received the call otherwise all would have come to know about that I am not in Mumbai already.
Arnav: as if I care! But I am happy at least you'll enjoy there.
Khushi: So much ! I can't wait to see my friend.
Arnav: And I just want to see that smile of your face adorning always.
Khushi smiled and pecking his cheeks, hugged Arnav, later they slept after having their dinner and telling maid to not come from tomorrow because they're leaving. Khushi felt bad because she have got habit of having this maid around even Maid left with tears giving thousand blessings to Khushi and Arnav chuckled "Trust Khushi to befriend with Maid also."
Next day early morning Arnav's chopper was ready for them and they flew to Mumbai "To start a new phase of their Life".
To be continued...