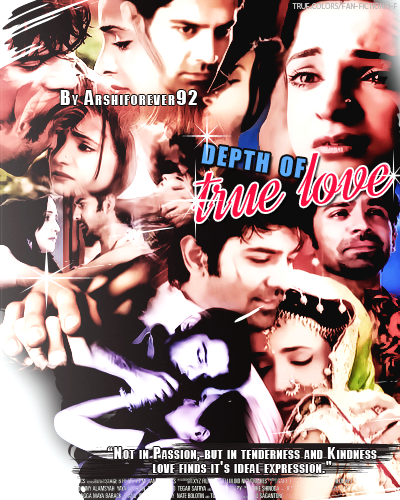 Chapter- 77 (B)


Arnav slide down beside her on his knees and kept his hand on her shoulder .
Arnav: Khushi! Are You Ok princess?
Hearing his voice Khushi looks up at him slowly and a ghost of a smile appeared on her face, she was going to reply him when she saw some moment past him and she started shivering again.
Looking at her fearful face Arnav held her from shoulders asking "What happened Khushi?" but she didn't responded and kept looking at door with fear.
Arnav: Khushi..
Arnav turned around to see what is making her scared but found nothing, he looked back at Khushi, frowning.
"Khushi? "
"Princess wouldn't you tell me?"
"Please talk to me Sweetheart! You're scaring me"
Khushi looked at him with her fearful eyes before replying "I saw him ... he.. he was here ... Arnav ji he was looking at me with.. with that same mad glint."
"I was calling for you to save me from Shyam Ji; where were you? Shyam Ji was here... he.. she started hiccuping and Arnav looked at her guiltily cursing himself for not returning early.
Arnav: Khushi! he can't come here..
Khushi: No!! Infact he was here till now, he just moved away from there, she said signing towards the room door.
Arnav got up and walked to the doorway , his eyes searching hallway finding no one except Maid and security there, he walked back to khushi and holding her close to himself, he told her again "There was no one Khushi"
Khushi: He was here, I am telling you.. He was! she said desperately.
Arnav: Ok Calm down! He pulled out his phone and called the security keeping phone on Loudspeaker, so she can her.
Arnav(to security): Has anyone been up around the floor or around the apartment?
Security: no sir! we have guards placed on all the entries and exits of the building and from the time rain has started hardly anyone has been in or out and Elevators have also not been used except by you.
Arnav: Ok! Drop the maid at her home and carry on with your work.
Security: Ok Sir!
Arnav (to Khushi): You heard it?
Khushi: But i have seen him, Her tears flowing continuously. Arnav hated Shyam for doing this to his love, She's in so much pain, scared and distressed just because of that ****. Arnav was trying to soothe her but suddenly she started to get up.
Arnav: What's Wrong?
Khushi: He was here.. I saw him.. he was looking at me just like that night with same madness and lust. I'll show you... he was here.. she tried to walk up to the door only to feel light headed and before she can fall Arnav held her in his Arms.
Khushi: Arnav Ji..
Arnav: I am here now Khushi, and "You're in my arms"
He made her lie down on bed and caressing her hairs kissed on her forehead.
"I am sorry Khushi! If only i hadn't been so stupid to leave you alone, it wouldn't have happened"
"It hurts me so much to see you hurt, "I Love You Khushi"
Arnav leaned down and kissed her softly on her lips which slowly with such a fierce intensity that melted her, detaching his lips from hers he muttered again "I Love You" and slanting his lips on her quivering lips kissed her again , hardly; his warm tongue sliding smoothly over hers. Standing up abruptly Arnav walked out of room leaving a scared Khushi. Locking all the doors he returned back to room closing the door behind him before sliding back beside Khushi on bed, Khushi who was closing her eyes in fear looked at him.
Khushi: You're here? I thought you went away again.
Arnav: Where can i go laving you? When every moment away from you makes it difficult for me to breathe, he said kissing on her both eyes and Khushi tried to smile.
Arnav traced her lips with his fingers, slanting his lips over hers again and with that ravenous kiss only sound of , throaty moans, harsh breathing and rasps of clothes was coming.
continued in part C below
_________________________________


||My Index||
Arshi Forever Fanfictions