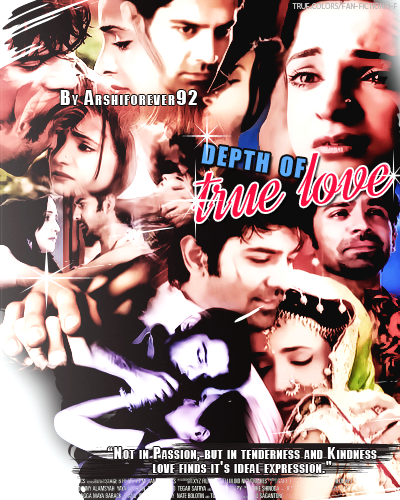 Chapter- 73


Next day
Arnav scrunched his eyes reluctant to wake up but feeling someone shaking him, he opened his eyes to see Khushi's face.
Khushi: Wake up Arnav ji (she said shaking him).
Arnav: "What the!" Khushi please let me sleep and you also sleep. I am feeling tired.
Khushi: Then sleep but atleast Leave me! I need to have shower.
Arnav: Khushi! It's so early Princess Sleep for sometime than I'll take you for shower.
Khushi: Arnav ji! I need to have shower now, she said giving pressure to "Now" and Arnav's sleep vanished.
Arnav: Acting stubborn? Are we?
Khushi: Yes!
Arnav: Someone is looking Fresh.
Khushi: Very much! Now leave me.
Arnav: Ok. But how'll you shower yourself because I am in no mood to wake up, he said smirking.
Khushi; Ok. I'll do it myself and she got up with her wobbling legs.
Arnav: You're so stubborn. Stop! I am coming, he said while getting up and picked her in his arms before taking her for shower.
After both got showered , Arnav helped Khushi in wearing yet another of his shirt think something and made her sit on bed.
Arnav Doctor will be here in sometime till than I'll check what made is cooking for breakfast.
Khushi: you called doctor?
Arnav: umm.. yes.. actually...
Khushi: because you were scared from last night, Khushi completed for him..
Arnav: Khushi!
Khushi: I have you than I don't need anyone.
Arnav: and I am always with you but still you need a check up, Khushi nodded with a smile.
Khushi: Will you do something for me?
Arnav: Anything my Princess.
Khushi: Today I want to cook myself, I am tired of that boring food.
Arnav: Princess you are weak and that boring food is for your good health only.
Khushi: please! She said with a puppy face.
Arnav : Ok but first I'll ask from doctor, only if he allows.
Khushi: Laad Governer!
********************************************************************************************************
When doctor entered in room today Khushi didn't flinched back in fear, she was holding Arnav all time. She looked much calmer than usual which was noticed by Arnav as well doctor.
Doctor checked her pulses, temperature, Arnav was all the while looking at everything keenly when he got a call moved out of room after Khushi told him to receive it.
When Arnav came back Doctor was trying to help Khushi in getting up.
Arnav: What the hell are you doing? He shouted making both doctor and Khushi to jerk back. Arnav ran to Khushi pushing Doctor aside, He again settled Khushi comfortably on bed.
Arnav: what the hell you were doing? He shouted on doctor.
Doctor: Mr. Raizada your wife wanted to know when she can walk by her own, so I was just checking her, Arnav nodded looking sternly at Khushi.
Arnav; ok! I'll help her in that.
Doctor: well than I have checked her. Her BP is little low, she can now start walk but not for long time. She should walk little as it will help her muscles to work perfectly. Otherwise she's healing for better, Arnav nodded and sighed in relief.
********************************************************************************************************
Arnav: Doctor I wanted to talk with you, he said as they walked out of room.
Doctor: Yes?
Arnav: How is Khushi condition now? He asked anxiously.
Dr. : She's healing well. Her bruises are healing and you being always with her having an positive effect on her. She's recovering fastly, her mental state is much better than expected. In fact today she didn't went hysterical in your absence, she looked calm."
Arnav: yes! she is acting much better and fresh from morning but she's having nightmares frequently.
Dr: that's natural ASR! After going with such incidence. This type of incident leaves lifetime effect on mind. For Mrs. Raizada everything is still fresh but as I said her recovering speed is amazing all because of you. I even got to know from nurse that you are not taking help of injection when she get those panic attacks which is also a very positive point as she will be not unconscious most of the time.
Doctor: I must say ASR! You really love her truly. " I have seen many cases when even the family if victim don't support her after such incident but the "Depth of True Love" I am seeing in your case hard to describe in words.
Arnav: Thanks doctor! But Do you mean that these nightmares will always going to stay with her?
Doctor: No! but yes once in a while she can have them and it can be frequent for now also those nightmares can be very real for her, at that time you have to handle her carefully. Though I would suggest you keep those injections with for the time of emergency And with passing time and proper care her nightmares will reduce, Arnav nodded.
Doctor: But I should say, she's recovering, I don't think you'll need them because the way you have chosen to heal her is LOVE which I can see is very much deep and True.
Doctor: I may take your leave now. Good Luck!
********************************************************************************************************
Arnav comes back to Khushi after doctor left.
Khushi: I have asked with doctor, he said I can have my regular meals.
Arnav: I know what he said, don't act smart . You can have your regular meals but it shouldn't be too much oily or sweet, Khushi pouted looking at him.
Arnav: This wouldn't work princess! And My princess wanted to walk by herself? Why didn't you told me?
Khushi: So you can shout? Like you did sometime ago.
Arnav: I got scared princess, you wouldn't understand.
Khushi: Ok but I want to walk , I get bored sitting here all day. Even doctor said that it'll help me to recover physically soon.
Arnav: ok I'll take you for walks from now.
Khushi(happily): Really?
Arnav: Yes!
Khushi: Ok now take me to kitchen so I can make breakfast.
Arnav: No! For now breakfast is ready and you'll not cook.
Khushi: but why? Please I want to.
Arnav: ok but you can do it for lunch, now have your breakfast quietly, Khushi agreed to him reluctantly. On other side Arnav was happy with the change in Khushi and looking at her smiling face.
********************************************************************************************************
Arnav(getting ready): Khushi I have some important work, otherwise I wouldn't be going.
Khushi: it is really necessary?
Arnav: If it wasn't not, I wouldn't have decided to go.
Khushi: Ok!
Arnav: Princess! It's really important and Payal will be also here soon. I'll will be also back before lunchtime..
Khushi: Hmm Please try to come back soon.
Arnav: I promise!
Khushi smiled at him, she have decided yesterday after hearing everything what Arnav said that she'll smile for him. He's doing everything for her and she don't want to stress him more. He have many responsibilities even than he's always by her side taking care of her.
To be continued...
_________________

100+ Likes for next update


_________________________________


||My Index||
Arshi Forever Fanfictions