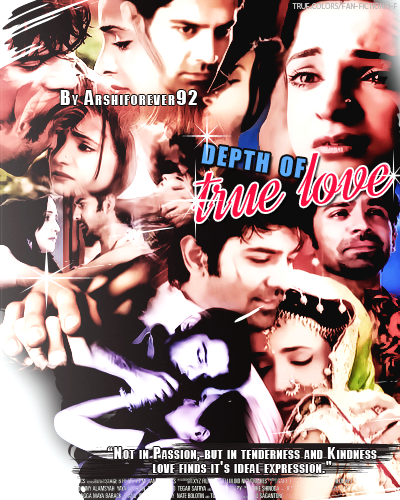 Chapter- 70


After talking with Arnav , Payal met with Khushi for sometime but in Arnav's presence only. Payal was feeling it weird that Khushi have no problem with Arnav but kept quite, for now Khushi's health is more important.
Night Time
Like Previous night after checking upon Khushi, nurse left to sleep in another room leaving Arnav and Khushi alone.
Arnav was sleeping with Khushi, when Khushi woke up from the sound of Thunder. She looks around to find room dark and from windows she can see that weather is bad and continuous sound of Thundering also scared her. She looks at Arnav besides her who was sound asleep after so long.
Arnav is completely into her, taking care of her every need even before she asks, she didn't wanted to wake him up but the darkness around and weather outside was sending chills into her.
Hearing another loud thunder she sat up breathing hard when another image crossed her mind of Shyam. She started sobbing again remembering shyam's assaults . She struggled to breathe but her insides was churning in fear from inside.
Khushi was still breathing heavily when she felt Arnav's hand sliding on her waist and soon she was engulfed in his arms from behind. Arnav held her from waist by one hand and soothed her from other hand caressing her arms.
Arnav stirred in sleep by the sound of thunder when he heard the sound of low sobs and his eyes instantly opened to see an heavily breathing Khushi and looking at the darkness, it didn't took him long to realize that she is scared from darkness and her sobs was indicating that she is living that horrific memories also. So without saying anything he soothed her.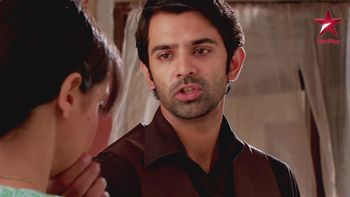 "Shhh... Khushi" You're safe princess here with me. Khushi moved back more snuggling into his arms.
Khushi: Why? Why he's still not leaving me?
Arnav: He have left long ago Khushi. It's you who are holding him back because of his thoughts, Khushi looked at him from sideways.
Arnav: Khushi! I am here to protect you. I am not going to let him near you but it's you who are holding him back and letting him win even after he was failed in his intentions, when Khushi kept quite he continued.
Arnav: Khushi You have to trust me and live normally. Shyam has failed Khushi than Why are you letting him win?
Arnav: If you keep thinking about him and live in fear than he'll win in his intentions in spite of being failed and I'll be the Loser, Khushi looks at him in surprise.
Arnav(cups her cheeks): Yes I'll be the Loser because though you say you trust me but still instead of me being always by your side, you are letting that **** rule your thoughts.
Arnav: Please Khushi Fight with it! Don't let him win. You need to make me win, you need to make our Love win and it's not possible if you let his thoughts rule your mind. I want my Khushi back, who is fighter, who don't accept defeat without fighting.
"I want my Khushi back, The Feisty Khushi."
Arnav: Only than Shyam will loose and I'll win. Our Love will win over his cheap intentions.
Khushi was shedding silent tears hearing his words. Caressing, her tendrils from her face, Arnav caressed her cheeks Arnav leaned on her lips.
Khushi: Arnav ji...!
Arnav: Shhh... Let me take the first step and you have to help me and his lips finally landed on hers Kissing her softly and Khushi felt her body filling with Love and Warmness and all fears forgotten for the moment.
Khushi pulled Arnav closer and they kissed each other with longing, their breaths mixed , sucking each other lips, nibbling them.
Arnav held her waist tightly but carefully not to crush her, he held her at little distance which irritated Khushi but Arnav still careful not to hurt her maintained it. After few minutes Arnav pulled back from the Kiss and rest his forehead on Khushi's.
Arnav: "You're really stubborn you know". But I am one step ahead of you. I have tried been Loving and caring Arnav for you but if you still not listen to me I have to handle you as ASR because I don't want to Loose against that ****. Khushi said nothing for sometime but with little smile after composing herself she said something which made Arnav to laugh.
Khushi: And you think I am Scared of ASR? Well than sorry to hurt your big fat Ego bit I am not.
Arnav(chuckling): Ohh really? Time will tell and he pushed her on bed, caressing head.
Arnav: Now Sleep.
Khushi slept instantly in Arnav's arms for the night but will she be able to fight with her fear easily as Arnav asked or Arnav will become ASR, this Time for his LOVE.
To be continued...
_________________

100+ Likes for next update


_________________________________


||My Index||
Arshi Forever Fanfictions