PART-5
Story continue:
In Sameer's car their is silence... No one is interested in talking... all is on their thinking mood... Their is only one thing is on their mind,,, that is,,, "who's the girl with Arjun"... Arjun... ACP Arjun Rawte who is never interested in girl,,,, or in relation ships... So,,,, it is very hard for them to digest this think that Arjun is in Mumbai,,, missing his regular days in ETF office,,, nd roaming with a girl...
Suyyaash's Pov:
Woh ladki kon thi juno k saath... kya rishta hai unke bich... juno kitna khush lag raha tha... es tarah se phele kabhi usko nahi dekha... hum usko training time se jaante hai,,, kabhi kissi ladki k saath vo itna free nahi hota,,, toh fer es ladki k saath,, kya rishta hoga uska es ladki k saath... Lekin usne kabhi kaha nahi ki uski life mein koi ladki hai,,, ager kehta toh hum uski khushi mein khush hi hote... lekin shayad mein galat soch raha ho... juno kissi ladki k saath casually bhi toh bahar aa sakta hai... pr dekh kr casual wala relation nahi lag raha tha... Arjun ki aankaho mein us ladki k liye ek alag si kashish thi...kon hai voh ladki... aur ager uski life mein koi ladki hai toh voh humme bta sakta tha,, hum sab khush hote uski khushi mein...
pr kis haq se voh humme btata,,, sab rishte toh humne galat fami mein torh diye the...
aaahhh... mein kuch zayada hi soch raha hoon... haan,,, i need to divert my mind...
End of Suyyaash pov...
Pallavi's pov:
juno ladki k saath... dekh kr lagta tha ki juno usko pyaar krta hai... uski aankhe us ladki ko ek pal k liye bhi nahi chot rahi thi... ladki ka chehra toh nahi dekh paayi pr Arjun ka deewana pan dekh kr keh sakti hoon ki ladki mein koi toh baat hogi joh humara juno usko itna pyaar se dekh raha tha... pr juno ne hume btaya nahi ki voh relation mein hai... pr batata bhi kis haq se jab humko us pr trust krna tha,, humne uska trust torh diya... or ab... mein kuch zada hi soch rahi hoon...
End of Pallavi pov...
Ritvik's pov:
juno ladki k saath... i mean humara junno ladki k saath tha... i think mujhe chad gyi hai... voh bhi bina piye... juno ladki k saath kaise ho sakta hai,,, voh toh Relation ships pr beleive hi nahi krta,,, fer kaise,,, specially after that Maya's incident... he stop talking with everyone... with us also... he transfer himself to some other city... he didn't even for once talk to us... after that we meet him last year,, when he join ETF as a second commando... pr fer bhi usne btaya nahi us ladki k baare mein... ya shayad us ladki ka koi relation hi na ho Arjun se,,, or hum zada hi soch rahe ho... haan.. essa hi hoga...
End of Ritvik pov...
Shree, Chotu, Lisa's pov:
Deva... yeh kya tha... SYS ladki k saath... or smile bhi kr rahe the... or hume smile k naam pr SYS... jb dekho danth... or khud ladki k saath Dinner Date... smile nd all... hmmm...(LISA:Arjun smile krte hue kitne cute,, hot,, sexy lagte hai...)
but kaash voh ladki ETF mein hoti,,, Arjun sir usme busy rehte or humme unki daant bhi nahi kaani parthi... or SYS lessons bhi nahi milte...
(they don't no soon their wish will be complete)
pr yr Roshini & Riya ka kya hoga,, voh dono toh... pr Arjun sir kisse pyaar krte hain yeh baat mayne rakhti hai... or vaise bhi Arjun sir ager us ladki k saath nahi hote toh bhi inka dil toot hi raha tha... nd the best thing is waqt rehte sab pta chal gya,, jitni jaldi yeh sach accept krle,,, utna accha hai...
End if their pov...
Riya's pov:
Arjun sir kitne khush lag rahe the aaj us ladki k saath... kon thi pta nahi... kaisi dekhti hai yeh bhi nahi pta,,, pr itna pta hai ki ager Arjun sir us lakdi se pyaar krte hai tih koi toh baat hogi us mein... i know sab ko lagta hai ki mein Arjun sir ko like krti hoon,, pr as a idol or kuch nahi... nd i prey to god to always keep Arjun sir happy... Even if his happines is in someone eles...
End of Riya's pov...
Roshini's pov:
kon thi voh jiske saath Arjun sir the,, kitne khush the voh...
i hope he always stays happy like this... but i really want to see her,, how she look like... i mean if Arjun sir is dating someone,, is taking care of her then their will be something in her,,, who capture our arjun sir in her charm... i hope he always stay like this...
End of Roshini's pov...
Aisha's pov:
Arjun sir like reaaly Arjun sir ladki k saath... kon thi voh... Aisha or kon hogi Arjun sir ki jaan k allawa... Sakshi... Arjun sir ki wife,,,, i know very well that Arjun sir is married... I myself attend Arjun sir's marriage... other then his family nd some close relatives no one was their... But i was their... bcoz i know Arjun sir from last 7 yrs... after his training he shift to banglore,,, i also stay their that time with my family... that time i was a student... in an accident i lost my parents,,, but without any relation sir help me... my uncle was going to marry me with his partner son who is a very bad guy but Arjun sir save me,, help me to pass my exams then trained me for my IPS exams... he did so much for me and now its my time... that day in accident spot when i saw Sakshi ,, i was shocked to see her their but then i compose myself,,, next day i myself talk about accident spot and car's no. so that Arjun sir can know about it... Now he is in mumbai with Sakshi taking care if her... i know Riya & Roshini Arjun sir k liye feel krti hai pr mujhe unhe samjhana hoga ki voh bas unka crush hai... nothing else,,, taaki future mein arjun sir aur sakshi k beech koi misunder-standing na ho...
End of Aisha's pov:
Sameer's pov:
Rawte kis ladki k saath tha... or voh mumbai mein hai toh office kyu nahi aata... or voh ladki joh Rawte k saath thi... usko dekh kr essa kyu laga ki woh meri "MAAHI" thi... pr maahi toh kb ki jaa chuki hai... or voh ager mumbai mein hoti bhi toh Arjun k saath kya krti... woh dono toh ek dusre ko jaante bhi nahi... or meri maahi kabhi bhi ek aise ladke k ssath rishta nahi bannayegi joh mujse jurha ho... jant hoon meri hi vajha se voh mujse door gyi thi... pr plz Maahi ager apne sammy ko sun rahi ho toh plz vaapis aa jao... plz ur sammy miss u... miss u maahi so much...
End of Sameer's pov...
There everyone is thinking about Arjun & sakshi... nd here Arjun is driving his car nd also looking at his jaan,,, his wife,,,, his and only his sakshi...
Arjun's pov:
hmmm... aaj sakshi k dr. k saath meeting thi... unho ne kaha hai ab sakshi phele se theek hai or phele ki tarah uski movement bhi kal se start krwani hogi,,, taaki voh phele k tarah sab kuch kr saake... i hope Sakshi jaldi theek ho jaye... i can't see her in pain... vaise bhi apni stupidity mein usko bahut hurt kiya hai ab or nahi...
i will give my all love,,care everything to her to make her feel like a princess,,,, my princess... mein apna waqt dena chahta hoon usse,, woh waqt jiski voh haqdar hai...
i will be always their fir her in her every step she take in her life... i will be their for her as a friend,, when she want to share something,,, i'll be her boy-friend,, when she want to be free-bird... i'll be her husband in her life when she want me to take a decision of her life without even asking her...
i'll be their for her always...
plz bappa help me in this...
she never ever question me in this 3 yrs of married life... then also when i leave her nd come to mumbai,,, i know it is very difficult for a women who'z husband leave her... now, i will not repeat my mistakes...
End of Arjun's pov...
Arakshi reach theur house... Arjun park his car in parking area... Then come to Sakshi's side help her to get down... then they enter inside their house...
( Arakshi's house)
They came into their room.Arjun change himself into grey vest and cargo pants...
Sakshi also comes out of washroom after changing into this...
After seeing Sakshi Arjun is lost into her...
Arjun's pov:
Sakshi is looking so cute and sexy... of i m not in love with her then agter seeing her now i would surely have fallen for her...
Sakshi is feeling very sleepy,, but seeing arjun just standing she call him,, which bought him of his stairing session...
Arjun see Sakshi is already in bed nd is looking very sleepy,, so, he come near her nd hand over her medicines to her,,, which she gulp without doing her nakhras,,while taking it...
Arjun make her lied down,, then cover her with soft quilt... then himself lie next to her... After few min, he feels soft hands around his waist... he know its sakshi... She have a habbit while sleeping she hug someone... in her school days its always her teddy bear but now she can't use it,, bcoz Arjun everynight take it away from her,, bcoz he feels jeaouls of teedy... because he can't share his wife to anyone,,, not even to a teddy bear...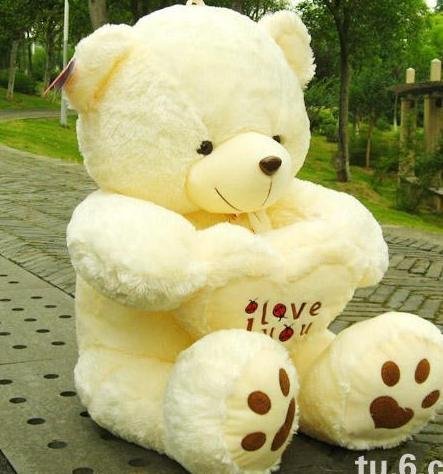 ( sakshi's teddy bear)
Arjun pull sakshi over himself nd hug her waist tightly,,, like if he not then she will vanish in his sleep...
finish...
ignore mistakes...
this part mostly contains everyone's pov...
so, if u guys feel bored than plz ignore...


Edited by shdiksha - 06 September 2016 at 1:17pm