Welcome to SKR Updates
The episode begins with Siya accompanying numerous women folk , to a temple of Devi maa .
All work together in cleaning the temple and decorating it along with Siya .Finally Siya garlands the deity and covers it with red chunari
All the women join in aarti lead by Siya ..."jai jai devi chandra chakori ..."
It is a serene atmosphere . Siya thanks devi mata for her first meeting with dashrath nandan here and now she was his wife, she is ever grateful This update is written by Sutapasima for Indiaforums
Siya remembers her aarti of Devi maa before her marriage .and we see a flash back of that scene , when Siya laid her eyes on Ram for the first time .
Siya prays that she fulfill e duties mata had bestowed on her .
At kailash Parvati asks Shivji about Sita doing the pran pratishtha of Devi ma deity
Shivji explains the significance of this in Ram Siya lives . Parvati says if she is called she would definitely go to her aid .

At the devi temple there is entry of evil forces, asuras .
Siya asks the ladies that if you are praying with honest heart adi shakti will herself come to their aid , she asks the ladies to continue pooja while she takes Devi's trishool and stands guard and challenges the attackers
Asuras laugh at siya and asks for that person who killed their brothers
Next moment maa kali in rudra avtaar appears and challenges the asuras . Maa kali slays all the asuras while siya watches the spectacle .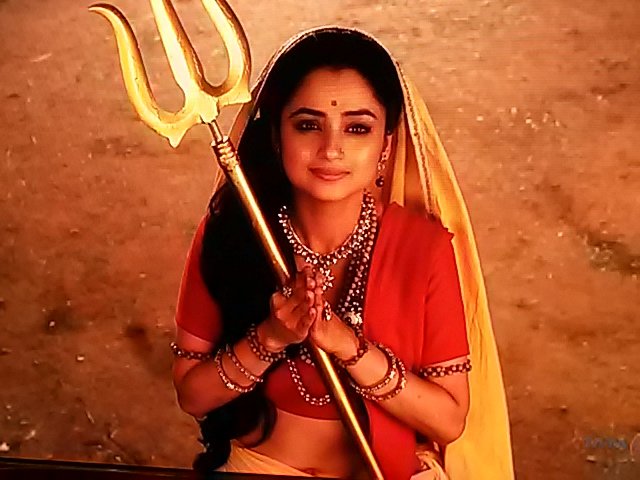 After all the demons are slayed Maa Kali quietens ans disappears
Siya smiles at the sight This update is written by Sutapasima for Indiaforums
,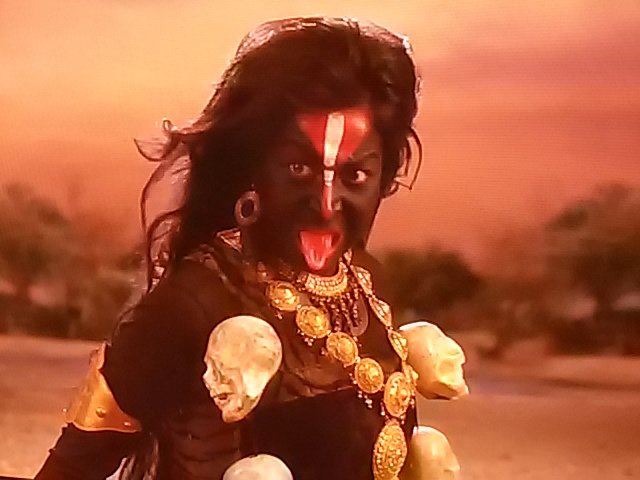 At kailash parvati arrives and shivji is not pleased with her act , parvati says sita is her bhakt and she had to go to help her ,shivji says sita did not call for devi's help, sita's life was not under threat . Was her action justified ??
Shivji explains Siya Ram are Narayan and Laxmi , they have their own duties and agenda, he asks Parvati not to interfare in Narayan Laxmi Leela in future what ever happened .


At Vali's palace he is getting annoyed with sugreev for being irresponsible. Tara takes Sugreev's side. Sugreev arrives with Roma and tells Vali that he loved this princess of Gandharva land , sugreev and Roma reveal their love story to Vali .This update is written by Sutapasima for India forums Vali and Tara and pleased to see such a knowledgeable and propitious girl for sugreev , he declares he will arrange a grand wedding for his bro, Roma seeks the blessings of Vali and Tara .

At his den in Lanka Malya raj beats and tortures the asura who just got defeated from Sita asura pleads n says those people were in appearance of sanyasi but had divine powers .


Precap for tomorrow
Malyaraj is furious for hiding this act of his from lankesh Ravan , asura pleads forgiveness , but he warns about earned the wrath of Lankesh .
Later Vibhisan confronts him for his actions and threatens to kill him .He screams as he is injured with Vibhisan's sword

Lankesh Ravan is seen entering the place looking menacing .




DO NOT COPY THIS POST AS THIS IS EXCLUSIVE TO INDIA FORUMS


Edited by Sutapasima - 23 April 2016 at 9:40am