10 SECRET stories about Bhabhiji Ghar Pe Hai actress Shilpa Shinde we bet you do NOT know!
The Bhabhiji Ghar Pe Hai actress has been controversy's favourite right from the beginning. And we are not saying so, a look at Shilpa Shinde's track record and you will also agree with us that she had indeed courted controversy all her life...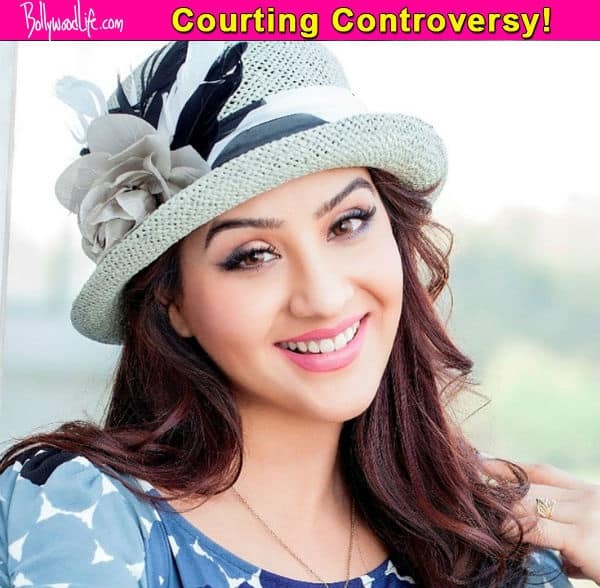 This Angoori Bhabhji is no longer ghar pe, but to her credit are many shocking stories that goes beyond her recent Bhabhji controversy.
Shilpa Shinde shockingly quit her popular show Bhabhji Ghar Pe Hai midway citing various reasons. The actress has a very colorful history.


The lady has courted controversies both in personal and professional space and it makes you wonder how you missed the lady who has been in limelight all along be it for her broken marriage, other name, unsuccessful filmi career. The actress' 16 years in limelight that is best in these 10 things that we bet you have never heard ...
#Shilpa Shinde AKA Akansha's unsuccessful Bollywood stint:
Shilpa Shinde started her Bollywood career 15 years ago, but then she wasn't known as Shilpa Shinde. The actress was called Akansha! She was launched in year 2000 in a movie titled Le Chal Mujhe Sang, which was produced by famous Marathi actor Dada Kondke's son Vikay Kondke. The film bombed and so did Shilpa's filmi career. She was cast opposite Rohit Bakshi another TV actor and likes of Alok Nath and Raza Murad in the film, but her career failed to take off.
#The South Connection:
After her unsuccessful debut in Hindi films, she went on to feature in Telugu films like Chinna backed by famous Telugu producer Dasari Nayayan Rao. She was still Akansha when she featured in another Telugu film Shivani by Suresh Verma, but failed to make a mark down south.
#Shilpa enters small screen...
Shilpa was launched on television by actor Kunal Khemu's father Ravi Khemu in a big budget show called Amrapali that aired on Doordarshan. For the show the actress learned Sanskrit and yes for this show she changed her name back to her original maiden name Shilpa Shinde from Akansha.
#Struggle continues...
After that she did another show on Doordarshan called Miss India as a negative lead. But it was only in Star Plus' show Sanjeevani where the actress played late Sanjit Bedi's love interest that she finally got noticed. Shilpa went on to feature in Kabhie Aaye Na Judaai, Bhabhi, Meher, Hari Mirchi Laal Mirchi and Hatim. She also did second leads in show like Betiyaan Apni Ya Paraya Dhan on Star One, but never was she a popular main lead TV star.
#The BIG FIGHT with Neha Bamb:
Shilpa got her big break with Zee TVs Maayka, where she replaced the lead Soni. The actress shared screen space with Neha Bamb, who played her sister Maahi on screen. The was her first hit show that got her recognition. During Maayka , Shilpa had a major fallout on-sets with her co-star Neha Bamb and both did not even talk to each other . Later on both patched up, but it was said that Shilpa had a temperament that many could not stand.
#A marriage that did not happen!
During Maayka, Shilpa got close to her co star Romit Raj and both were soon engaged. The couple was to get married too, the wedding cards were also printed as well but at the last moment this wedding was called off. Romit moved on and got married and is now a proud father of a daughter. In fact, Romit and Shilpa did a cameo as to be married couple in Rajan Sahi Swarg on Colors TV, and we hear that their wedding was replicated as a special track.
#A simple family gal!
Shilpa belongs to a middle class Maharashtrian family. The actress lives with her mother and younger brother in a bungalow in Malad, Mumbai. She has studied psychology. The actress has a good command in Hindi and that's why despite being a Marathi girl she could play a village belle Angoori from Uttar Pradesh with ease.
#From being the replacement... To being replaced!
The actress played a lady don, mother in law as well. Shilpa Shinde was replaced in Bhabhiji, but she had also replaced Kamya Punjabi in the past. Shilpa played a very strong negative role of a mother in law in Life OK's Do Dil Ek Jaan. As Daya Mai , a Maharashtrian don Shilpa had replaced Kamya Punjabi. She played a mother to a teenage boy played by Ayaz Ahmed. Here too Shilpa quit the show midway and was replaced by actress Pragati Mehra.
#Shilpa v/s Shubhangi
Shilpa Shinde had also quit famous comedy show Chidiya Ghar, where she was played a housewife Koyel and incidentally Shubhagi Atre replaced her there too like Bhabhiji. Though Shubhagi too quit but the show, it still continues to entertain fans and the character is being played by Aditi Sajwan.
#A roller coaster ride
Shilpa started her career with a historical character and played a cameo in Life OK's Mahadev as Mahananda. She had an elaborate dance sequence in the show and coz of this she quit Do Dil Ek Jaan as well in just one month. After that the actress joined the team of Bhabhji Ghar Pe Hai and it was Angoori's character that gave Shilpa the stardom that she struggled so hard for 15 years.
Looks like Shilpa Shinde has been a DIVA all along. Be it her personal life or her professional life the lady has lived life on her own terms. Now she has plans and says she will back soon with something that fans will be happy about. We hope that she manages to keep her next stint controversy free!

Link:http://www.bollywoodlife.com/news-gossip/10-secret-stories-about-bhabhiji-ghar-pe-hai-actress-shilpa-shinde-we-bet-you-do-not-know/


Edited by vyoman - 22 April 2016 at 11:54am