Kangana Ranaut's lawyer SLAMS Hrithik Roshan for leaking emails, calls him DESPERATE - read full statement!
The Kangana Ranaut-Hrithik Roshan legal spat has intensified over the weeks. And a few hours back, we got hold of the duo's email conversations and we were shocked. However, the actress' advocate maintains that the actor had hacked her account and fabricated the emails...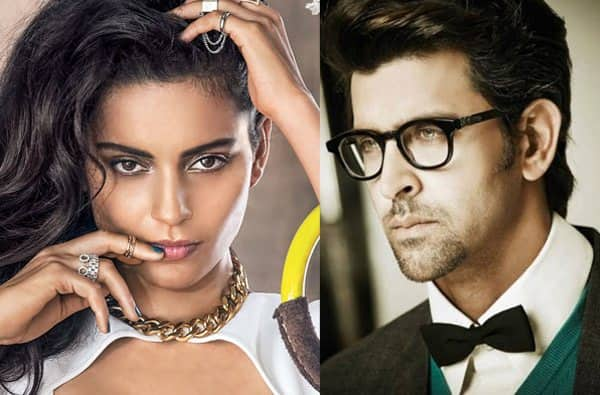 After Hrithik submitted a few emails to the police, the case has become even more uglier...
The Kangana Ranaut-Hrithik Roshan legal spat has intensified over the weeks. After sending each other legal notices, the duo and their legal representatives have been in a kind of a brawl as both the teams throw allegations and counter allegations on each other. A few hours back, we got hold of Kangana and Hrithik email conversations and it seems that all his claims were proved by it. From the revelation about Kangana suffering from Asperger's syndrome by the actress herself to the fact that he did not reply to any single email, all points towards the fact that the actress was actually talking to an imposter earlier and not Hrithik.
However, Kangana's advocate Rizwan Siddiquee maintains that Hrithik had hacked the actress' account and fabricated the emails. In a statement to TOI, he said, "My client Kangana Ranaut has alleged that Hrithik Roshan was continuously hacking her email accounts due to which she was forced to shut and abandon her two primary email accounts more than 8 months ago. These allegations were also contained in my counter notice cum reply dated 1st March 2016, to which Hrithik has still not replied to despite lapse of more than fifty (50 days). It is a matter of record that Hrithik filed his FIR only on the 5th of March 2016 i.e. after my client claimed that her emails were hacked. It is therefore apparent that the emails that Hrithik is referring to or relying upon, in all probability is not genuine at all and could largely be fabricated.In any event my client is bold enough to admit and accept the emails which were genuinely communicated to Hrithik on his correct email id, only once she verifies the contents of the same. Until such verification and acceptance on the part of my client, any emails circulated by Hrithik to the media in an effort to tarnish my client's name and image or to put pressure on her and/or to outrage her modesty should be treated as fabricated."
He also slammed the actor's antics and called him desperate. Rizwan also suggested that his client won't bow down to Hrithik's pressure. As he added to the daily, "Hrithik needs to understand that by circulating such unreliable emails or by asking my client to relinquish all her legal rights and liberties and quietly record her statement with the police without asking any questions, proves the extent of his desperation and nothing else. If he really wants to clear his public image, then he should answer all questions publicly and not keep quiet on the main subject matter of his notice. Such acts of deviation or putting pressure will not work with my client. His acts of commissions and omissions have proved it all, so far. Hope, better sense prevails before it is too late."


Edited by ChotaBheem - 22 April 2016 at 9:52am