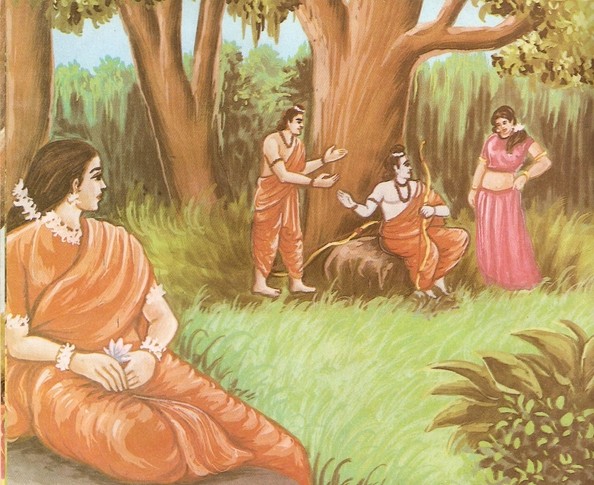 Now Shoorpnakha came to Ram and said, "Who are you, Youngman? What for have you come to his land of the demons?"
"I am the son of King Dashrath, the
ruler
of Ayodhya. I have been exiled for fourteen years. I want to pass this period her in peace. But who are you, O Gentle Lady? "said Rama.
"I am Shoorpnakha, the sister of Ravana, the powerful ruler of
Lanka
. The governors of the area are my cousins - Khara and
Dushan
. They both are matchless warriors. I want to marry you. I am by all means a suitable match for you," replied Shoorpnakha.
"But I am already married. Here is my wife Sita. Well, that Youngman is my brother. He is a nice match for you in every respect." Ram suggested by way of joke.
Now Shoorpnakha went to
Lakshmana
and said, "I have not been able to find a matching life-partner for myself anywhere. Now I have come to you. I see that you are the most handsome man and I am the most charming lady on this earth. God must have made us for each other. Let us marry and
live happily
." "You are a princess while I am a mere servant of that man. Is it proper for you to wed me?"
"No' Saying so, Shoorpnakha flew into a rage. She came back to her demonic form and returned to Ram and said. "I see that you are not ready to wed me only because of this ugly wife of yours. So, I must devour her up and then you will marry me." With these words, Shoorpnakha advanced towards Sita and pounced on her.
Seeing the fearful demon-ness felling upon her, Sita exclaimed in fear, "Lakshmana! Save me from her."
Hearing Sita's shouts, Lakshmana at once ran towards Shoorpnakha with a dagger in hand and cut off her nose. He said, "Here is your reward for attacking Sita."
Shoorpnakha ran for her life and weeping bitterly, she came to her cousins - Khara and
Dushan
. She burst out, "Down with your strength and power. Just see my condition. Can't you avenge my insult?"
Coming to know of the entire story, Khara and
Dushan
marched towards Panchvati with a
large army
. Seeing the demons, Ram said to Lakshmana, Panchvati with a
largearmy
. Seeing the demons, Ram said to Lakshmana, "Brother! Take Sita to a safe place. I shall face these demons."
Lakshmana took Sita into a nearby cave. A messenger of Khara came to Ram and said, "My master Khara has ordered you to leave this place at once." "We are warriors. We roam in the forest for game. We are always ready to face true warriors and never fear them. A true warrior, when he proceeds to the battlefield, never takes recourse to tricks. It is sheer cowardice," retorted Ram.
The messenger told Khara all what Ram had said. So, both the demon brothers attacked Ram with a 1400-strong force of demons. But Ram made short work of them all except one demon named Akampan, who fled away to save his life. Khara and
Dushan
were killed in the action too.