When Tanu openly offered Purab and Akaash to join her team...
(Tanu is Chandler in this situation)
Pukash are looking fineee.
Okay, sorry back to the topic. So everyone is openly aware of Taakhil now. This whole convo is awkward. She's openly telling them to join her team? Why isn't she scared of the fact that so many ppl know about her and Nikhil? Are there any team members from Prada's team that she's aware about? Anyways, while they've managed to accomplish nothing for Pragz, I do appreciate Pukash's undying support to our girl. So far, whoever Tanu has managed to make an accomplice has only cared about money, so it was nice to see her offering them money and being rejected on her face. LOL they're willing to jump outta the moving car to stop Tabhi's marriage? Awww, cute, but guys, thats dangerous, please dont, okay?
And Pukash, thank you for not being blackmailed into her "I'm pregnant, remember" speeches!! Favorite part of that scene!
When Aliyah confirms Tanu is 6 months pregnant...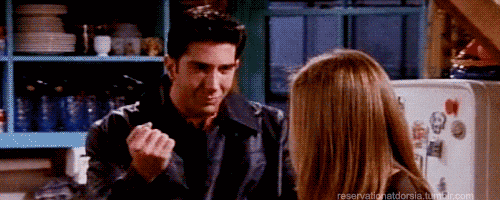 (To CVs)
*water spits out of mouth* WHAAAT? You give us a timeframe of how long this track has been running? And while I should have been happy, you have actually confirmed that this whole exposing Tanu track has seriously taken at least FOUR MONTHS in KKB world? Y'all should have kept the time frame a secret, honestly. When you can drag the kidnapping week for two months and call it "a week," this 8 months could have easily been said to be only 2 months. *shaking head*
And ALSO, when Abhigya had come back from the jungle, Daadi had confirmed they'd been married for seven months...plus the 4-5 months now...
We should have gotten an Abhigya marriage anniversary and a bday for Pragz!! Just saying, if we're really going to talk about time. Either don't bring it up or be accurate about it.
But guys...if she's six months pregnant...she's not pregnant. Theres an oddly-shaped pillow under those tight dresses. Trust me. She has already done something about it. I dont think Tanu is dumb enough to keep waiting for Abhi to marry her while she literally grows a Nikhil-looking baby in her?
Er...is she? Btw, LOL to Aliyah for mentioning baby will look like Nikhil!
When Raj kinda implies he's still evil, but then he wants you to also believe he's just playing with Taaliyah.
Raj, what is going on in that brain? Please please please don't have evil khayaals in there! I thought Aliyah was going to switch sides to get on Abhirab's good side, but from her inner monologue, I dont see that happening. However, I do see only Tanu getting exposed during her exposure. Sorta like MMS, where Tanu was kept behind the veil. KKB doesn't let the net equilibrium of villians coming and going ever shift one way or the other-when one leaves, another enters through Tanu's window.
Abhigya's scene...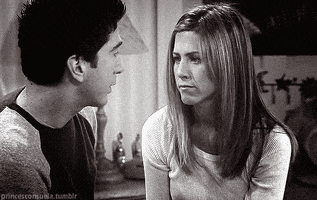 (Abhi is Rachel in this situation)
Ooh, I actually liked the nok jhok. I like that he openly tells her he knows she's hiding something from him. And her reply! "I'm not lying...I'm just not telling you the truth." I love this. Because at least she has, yet again, reiterated that she indeed has a secret from him. Good job Pragz! Also, loved the political roles they gave to each other! She does tend to change the topic and go around in circles when it comes to coming to the point. *sigh* And he is definitely the oppositional leader! Idk, the convo seemed very couple-ish to me, so I approve.
That GIF above is for when he catches her. He's so lost in her!! Oh hun, you had her in your life for 11 months! (Well idk anymore, considering Tanu is 6 months pregnant). Should have used that time wisely, dont ya think?
OOH, BURN FROM PRAGZ! "I dont need your support...I'm going to have to get used to living on my own." Aww, the guilt he had when she said this. But Pragz, you know you're not really leaving him, na? So why giving him the guilt-trip?
What Abhi is really thinking when he says he makes his own life decisions...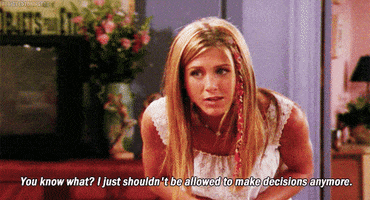 LOLL, she knows two months ahead that she's going to have a premature baby??
Abhi don't fall for her dumb excuse, its an obvious trap! I know this is your first baby, so you don't know much, but maybe you should have spent the past 6 months reading a guide to pregnancy...you'd know this isn't true!!
Abhi...when have you ever taken decisions about your life without anyone's influence?? Who are we kidding?
And why are you concerned what Pragz is going to think when you get married tomorrow? *crickets chirping* I think everyone knows you're getting married to Tanu, babe...was that not obvious...? And you really think Tanu is going to samjao Pragz? *rolling eyes*
When Purab gave Pragz the "Sorry" Card...
AWW. Bulbul was a lucky girl in terms of getting Purab as a husband. Like how adorbss is he? And to think Abhi and Aliyah thought Purab and Pragya were ever a thing?
Also on a serious note, now that Purab has given her a sorry card, do we never get to see this scene with Abhi and Pragya? Because whenever I want a certain Abhigya scene, it happens...just with someone else.
PRECAP: WHAT EVEN. Abhi, you're getting married in twelve hours and you wanna carry Pragz in your arms? AND WHAAAT, YOU ADMIT YOU WERE ALWAYS LOST IN HER EYES AND WERE ATTRACTED TO HER THAT ONE DAY UNDER THE BRIDGE??
CVs, what are you doing to me...