Thoughts on Last Saturday's Episode 5/28
Note: So I'm guessing I left off last when Abhi tried to make Pragya feel better. And she wore that nice chatri to sleep. And we had overdose of Rakaash and I was melting. Okay, here we go!
When I see Tanu and Nikhil enjoying framing Sarla Maa
They've started reminding me of a nasty version of Bunty and Babli. They're cons that are in this together. They get on each others nerves. But they are definitely depended on each other. Tanu confides in him, he shares with her his cruel plans and creepy laughs, she pays his hospital bills. They're horribly/weirdly/uncomfortably perfect for each other.
Btw, Tanu, thank you for recapping everything I didn't remember! Problem is, now I'd rather have not remembered. I hate theft tracks in KKB.
When they try to make it look like Mithali might actually do good...
Yeah, OKAY CVS. Can we please move on? Like I dont even understand why Tanu is the least bit bothered when Mithali finds her with the money. Bribe or no bribe, she's ultimately going to go against Pragz and help you, based on history! Her brain just loves picking the evil-er (eviler?) choice.
It gets me annoyed that they can never show characters like Mithali, Taya-Tayiji or anyone develop into more pivotal roles. Not that I want to see them anymore than I do. But then again, maybe if they had positive shades to them, or hints of goodness, I'd appreciate them more. But nope. Once evil, forever evil.
While watching the whole Abhigya scene where Abhi pretends to be sick
Abhi's SMILE while he's laying in the couch thinking to ditch like the old school days!!
*In KKB heaven right now because of that smile* But hey, can't you make her feel better without getting her to do seva? Is the attention always supposed to be centered around you, babe? But Shabz manages to make even the harshest Abhi critics to melt a little
And LOVED how she figured it out and played along! 109F temperature!!! Our boy, sorry, er, hero...is such a drama-queen. And his mom, er, the heroine...loves pampering him. *sigh* I've got my vision of this relationship all wrong, since I kinda want it the other way around.
But anyways, I love how she got him to admit that he was lying! Wait, did she just say, my hubby Abhi Mehra? Are they now so openly calling each other husband and wife?? And are they talking about potty? WHAT?
P.S. Can I use this gif for Rachna and Akash too? Obtaining receipts for the medical bills was actually not a horrible idea.
When Pragz admires the hell out of Abhi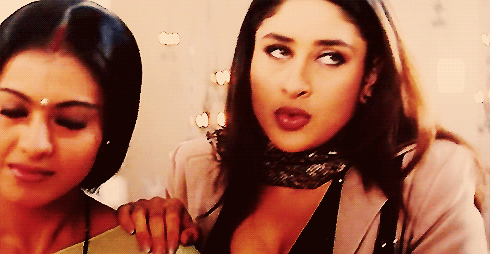 Uff, Pragz. him touching your feet is paap? Since when?? And why so many eyeylocks amidst a sprained ankle loll? Pragz, when someone sees you fall and they try to ease your pain by checking if its moving or whether ice helps...it does not mean you should feel like he is showering you with love. Yes, he loves you. But this is not one of thos "OMG HE REALLY DOES" moments. Like, come on, babes. Its 2016, not 1916 (I wonder what little things they would have eyelocks about if they were transported to the year 1916?)
Mehh episode. I guess the Abhigya scenes were good. But thats about it. I just hate theft tracks. I'm not sure why I'm thinking to go through watching all six episodes. And why do I feel like I'm not going to like how Tanu gets exposed?


Edited by Naina- - 04 June 2016 at 8:06pm