Note: SPOILER ALERT! No Abhigya scenes today. Liar liar pants on fire for giving us the same precap from yesterday. I'm not sure if I want to watch, but hearing lots of praises for Sriti, so here it goes...
I don't want to put another GIF for this, but HAAYE, AKAASH IS JUST LOOKING SO FINEE. THAT HAIRCUT AND THAT JACKET ON HIM
Okay, back to the episode.
When Daadi "sweet-talks" about how the mission should continue.
I know, Pragya can also blurt out the truth. But Daadi is supposed to be the queen of wisdom, right? Isn't that what they're showing in the show? Its her house...er, sorry, her grandson's house. She watches her "pyari bahu" and her mother get accused of things that DAADI KNOWS is false. She sees Sarla utterly humiliated, but still wanting Pragya to go through this mission for her "Kumkum." *sigh* More on that later. But Daadi decides to comfort Sarla and Pragya. She STILL thinks its best if she doesn't slap Tanu and just blurt the whole truth to her grandson, who will believe her more than anyone else standing in this house. UFF. How I dislike this aurat.
EDIT: Just watched how Daadi yelled at Mithali and Tayee-ji. Good job. But throw them out!! "Daafa ho jao" does nothing!
Its funny, the show is literally called Kumkum Bhagya. And yet, we roll our eyes and look at the TV screen in disgust whenever anyone mentions kumkum or bhagya in the show. I'm one of them! Like, Sarla, please! Stop worrying about Pragya's bhagya and her kumkum! Think if they can do this with you and Daadi manages to stay silent, what can this khandaan do with you??
CVs have to find a better way of incorporating kumkum and bhagya dialogues, because at the moment, they're not working.
When the Police tells Abhi to step aside as its their duty to arrest Sarla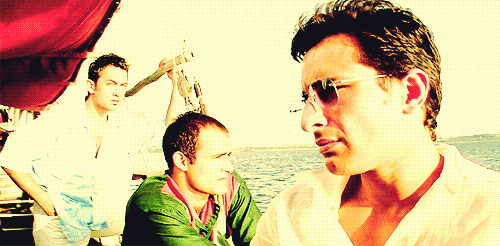 HA.HA.HA. So this is why MM is blooming with villians! Because the judiciary system is horrible in the show! I'd go back to count how many times Police has walked into MM, but I then again, I have a life (no, I really don't.) But how many times have they walked back from MM empty-handed? UMMM PLENTY OF TIMES! Inspector saab, what are you talking about, Willis? How many times have you come to arrest Abhi, Pragya, or Aalu and but then left without any charges? Lekin duty AAJ yaad aayee, when you have to arrest an elderly lady for stealing money from her daughter!! LOL. And when the owner of the house denies any robbery being made, police squad is being ziddi and remembering their duties? AND TO TOP IT ALL OFF, THIS DUDE WONT EVEN LISTEN TO THE COMMISSIONER IF SUCH A COMMAND COMES.
*eye roll, face palm on repeat*
When Sarla told Pragya to keep the mission going because THEY'RE SO CLOSE TO EXPOSURE
OKAY.
When you realize that Pragya is now left alone in the hands of Daadi and she might have no one from the Arora clan in the near future
(I know, I've used this one before. But its one of my personal favorites)
I don't know if thats a good thing or a bad thing. Because Arora clan were useless in providing Pragya the confidence and motivation to be care-free and think about herself. But then again, who would want Mehras as in-laws? Its a lose-lose situation.
When watching the Sarla-Abhi scene
Hey, good for you Sarla, for telling him to try to figure out right from wrong! But wait...oh no, more "Beta-ji" taareefein!! *SIGH* Why are you telling him he's so loving?? I haven't really seen LOVING ABHI YET!
AND WHAT ABOUT PURAB, BECHARA? HE'S THE BEST DAMAAD YOU HAVE. AND YOU ONLY HAVE TWO. Useless, yes, but at least he's never given you a reason to be heartbroken in the first place.
However, Abhi's death stare to Tanu was pretty nice to see.
Guys, you could have told me that today's episode was DAADI-CENTRAL! I wouldn't have watched! Though the Sriti-Sarla scene was adorbs on Sriti's part, I'm too annoyed at both Sarla and Daadi to have appreciated anything tonight. Sorry!