OMG TODAY'S EPISODE. LIKE I HAVE NO WORDS. NAMIK SLAAAYYYED. EVER WORD. EVERY EXPRESSION FROM SHRAVAN WAS JUST THE BESSSTTT. NIKITA WAS ADORABLE. AND GOGLU WAS JUST LIFEEE.
LIKE I DON'T KNOW WHAT TO DO WITH MYSELF.
GIF REACTION: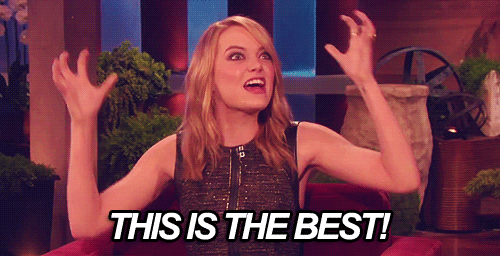 LET'S JUST GET ONTO TO THE REACTION BEFORE I LOSE MY SANITY AGAIN *EXCESSIVE ALL CAPS ALERT BECAUSE LIKE TODAY WAS M'f**kING AMAZINGGG*:
-SHRAVAN NO BB YOU DON'T NEED TO DO THAT BUT DAMNNN THE WAY HE PULLED THAT OUT THAT CHECK, LIKE---HE SO BOSS. MY OXFORD GRAD LAWYER WHY YOU SO FREAKIN HOT. HE LOOKS SO HOT WHILE HE'S DOING HIS "HOT-THING"
-Manju you BETTER NOT paani-phero-fy on this plan
-BAWAL? AE AURAT, HE WENT TO FREAKIN OXFORD SHUT UP.
-AWWW SHRAMANNN
-Suman's feeling guilty isn't she?
-AWW Kuch hona chahiye tha? Basically, "I don't need a reason to walk into your room."
-AWWW "TUM
-YEH SAB MAIN TUMHARE LIYE TOH KAR RAHA HOON. I MEAN SACH KE LIYE.
LOOOL NICE SAVEEE. This 6'4'' towering beast MELTS around her.
-TUMHARE SAATH KI ZAROORAT HAI. HUM SAB KO.
-Aww the Malhotras <3 My faveee. Like they really feel like a family.
-"Mummy-ji" count: 1
-LOL Aww Pushkar still calls him "Sir" bechara kitna darta hai Ramnath se.
-As annoying as Kameeni chachi is, aww I'm so glad to see Pushkar fight his first case. Love that even the side-characters are getting attention from the writers <3
-Ramnath is so adorable though <3
-DAMN NO MANJU BETTER NOT REVEAL THEIR PLAN TO THIS GUY. IMMA SLAP HER.
-Wait is this a part of Shravan's plan? Is Manju actually playing along for once. Finally dimaag use kar rahi hai.
-Sachai, BULLSHIT.
-PEHLI BAAR AAP LOG KE LIYE. AA-HAA-HAA-HAA BADA AYA SATYAVADI.
-"Tere paas kaha se aaye," I love how they tried to make the fact that they "happened to have" Sameer Mamu's signature seem natural.
-"Clutch phir se kharab ho gaya." Aww the way she said it.
-Their fight is soo cute. <3
-"Khud toh late lateef ho,"
-Goglu is so cute!
-LOOOL HER FLIRTING IS SO RIDICULOUS BAHAHA
-LOOOL Shravan's laugh. "Dramaqueen" BAHAHAHA
-Lambuu BAHAHAHAHA
-LOL "Shakal dekhi hai uski? HIS REACTION OMG LOOOL THE WAY HE CHECKS HIS MIRROR IM DYINGGG "Nope, still hot."
-BAHAHAHA OMG IM DYING OMG OMGO SDJHFAD "YEH HO KYA RAHA HAI WAHAN PE"
-LOOOL SHRAVANNN IM DYING THIS IS f**kING AMAZING
-"DARIYAGANJ!" THE WAY SHE WAS SCREAMING THAT TO TELL SHRAVAN BAHAHAHA
-LOL THE BACKGROUND MUSIC. GOGLU IS IN LOWEEE BAHAHAHA OMG
-Pan khana hai. LOOL This GIRLLL
-She looks so cute in a helmet
-GOGLU JI KI YAAD MAIN BAHAHAHA
-BAHAHAHAHAHA AHAHAHA AHAHA AHAHA AHAHAHAHAHA OMGGG "DIBETES NA HO JAYE SAALE KO." LIKE
SAALE KO.
OMG TOTAL JELLY BOYFRIEND, TOTALLL DELHI BOYY
Akhir aise waqt main matra bhasha nikal hi aati hai
-LOL SHRAVAN'S EXPRESSIONS IN THE CAR. "THIS GIRL. LIKE KUCH BHIII"
-HER FAKE CRYINGGG SHE'S SUCH A NAUTANKI MAN AND I LOVE HERRR
-"SHUMAN I LUB YOU. BHERRY BHERRY LOWE YOU." OMGGEE GOGLUUU
-LOL Helmet phek dala
-"Do minute late aata toh tum toh usse shaadi hi karleti." OMG EVERYTHING THAT IS COMING OUT OF SHRAVAN'S MOUTH RIGHT NOW IS JUST
:'D
-NAHIN PHIR TUM KYA KHAOGI? TUMHARE GOGLU KI YAAD MAIN?
OMGGEEE BAHAHAHAHAHAHA SHRAVAN YOU'RE KILLING ME RIGHT NOW
-"SAD KYUN RAHE HO?" BAHAHAHA TOTAL BACHPAN KE DOST WALA VIBE BUT LIKE OMG if only you knew Suman
-"
NAHIN MERI TOH SHAKAL HI AISI HAI NA
?" omggg these TWOOO. SAB YAAD RAKHTA HAI
-MEHNAT?! LOL HIS FACE.
-OMGEEE IM DYING BAHAHAHAHAHHAHA
"YOU KNOW WHAT. TUM USSE FLIRT KARO. USSE DATE KARO.
USSE SHAADI HI KARLO
. MUJHE KYA!?" BETA ABHI REWIND KAR KE BATAU TUJHE KYA?
BUT DAMN BOY SHRAVAN LITERALLY HE'S SO FUNNY WHEN HE'S JEALOUS.
-LITERALLY THIS MAN THOUGH, LIKE WON'T EVEN LET A GUY WHO BY THE WAY IS LIKE NO COMPETITION FOR HIM EVEN FAKE FLIRT WITH HIS SUMO WITHOUT GETTING ALL JELLY
-IM DYINGGG. EVERY SECOND OF THIS EPISODE WAS JUST PERFFF
Precap:
-Uthak-bethak OLV wala scene
-LOOOL PUSHPA DRAMA STARTS TOMORROW RIGHT?
*i need to go to the freakin emergency room im dying like I CANNOT CONTROL MYSELF RIGHT NOW*
*I'M GONNA REWATCH THE SHIT OUT OF THIS EPISODE*
-Kriti


Edited by .SankaDevi. - 20 April 2016 at 3:24pm