This is the topic for Rishabh and Prerna Bajaj fans. I am posting some sweet scenes. I hope reading this topic will make you feel good :)
These scenes are contributed by PRB fans. I have given credit whenever possible. Please don't get angry if by mistake your name isn't mentioned with your scene. I have edited the scenes to make them more crisp. This is an ongoing topic so if you want to contribute scenes, please do that. Also, if you are not a PRB fan, please don't spoil this topic by writing anything against them. Anything not relevant will be deleted.
The Beginning of an eternal love-story:
Pehli Mulaqat:
Shri Rishabh Bajaj enters a party wearing off-white suit. Prerna is in a black n pink sleeveless salwar kameez. The moment Rishabh enters, she laids her eyes on him. Rishabh doesn't notice her. Everyone wants to meet Rishabh and he is greeting people. Prerna use ghoorti rehti hai-the way she was looking at him..quite an intense gaze for a 'stranger'!
Rishabh is with a pretty secretary n lots of other people r also with him. He walks past her but doesn't notice her.
Prerna's boss Mr Gill tells her that they better meet Mr Bajaj before he leaves the party. Mr Bajaj is talking to sm other group of people. Prerna and mr Gill go there and Mr Gill says "Hello Mr Bajaj"
Rishabh turns around, shakes hand with Mr Gill and says in style "Mr Gill..The man himself! Nice party!"
Mr Gill "Thank you! Bajaj saab, main apni ek associate se milwana chaahta hu" and points at prerna. Prerna is smiling nervously - almost sweating. hehehe.
Rishabh looks innocently at Prerna.
"Prerna Sharma. Hamare channel ki creative director." Gill says.
Prerna smiles from ear to ear and blushes and nods her head forward to indicate her respect for him.
"aaahhh...." Rishabh says lazily. He stretches his hand, Prerna stretches forward her hand, they d hold each other's hands. A Handshake!
"Miss Sharma!" Rishabh exclaims.
"Aap wohi shaksiyat hai, jinki saari credit Gill saab le jaate hai?" Rishabh says in a casual voice. (aawww chweeet!) Gill and Prerna laugh. (He is such a charmer- right from d first meeting!)
"It's an honour to meet you" Rishabh says innocently.
Prerna is smiling. She shakes her head disagreeing with his statement.
"Honoured to mujhe feel karna chaahiye. The Most Successful NRI businessman!" She says, like a starry-eyed fan who is meeting her favorite hero for the first time.
Rishabh smiles shyly n looks down- our humble hero is feeling shy as our heroine has started praising him right in their first meeting. as he smiles looking down...the dimples flash...ohhhh he is so hot.
Looking up he says "Thank you Miss Sharma. But the honour is SINGULARLY mine. Aap ki woh riots ki jo coverage thi-"
He praises her work. Prerna ab itni smile kar rahi thi ke kya kahe!
He tells her that he would like to work with her because she is very 'adventurous'. (LOL yep they hv done many 'adventures' together so far LOL!)
He tells them that he has to leave to catch his flight for london and his secretary reena is there to represent him.
"Mr Sharma! Nice meeting you" He says charmingly.
"Same here" Prerna smiles.
They shake hands again.
Rishabh turns around and walks out. Prerna stares at him and plays with her hair.
"Congratulations Prerna. Bajaj ka itna kehna hi kaafi hai" Gill says.
Prerna is very happy.


Prerna gets possessive : By Prernafreak:
madam prerna had to go alone to meet Mr.Bajaj. Komolika also arrived there and was intending to discuss selling off the bhasu properties..Prerna saw her entering Bajaj's cabin without any appointment, and in characteristic prerna style, barged in , shouting at all. The cool dude Mr.Bajaj was unfazed, he calmly told komolika to wait outside..prerna immediately cooled down and started giving him her lovely smiles and I forgot what stuff they were talking...I was just watching them together..it was a short but sweet scene
Prerna worried about Rishabh: By ronitian:
rishu n meneka both are in the same plane n go sumwhere ..
but then news mein they say tht the plane crashed ...
n prerna gets 2 kno bout this n is shocked .. n then she starts crying also .. she calls up baba n ck ... n even vineet .. n every1 cums riunnin .. n she is tellin baba mr bajaj thik honge na ... n other stuff .. n totally worried ... n then rishabh shows up unharmed .. he cums home tht time only .. i think he gets offf the plane bcoz meneka is sitting next 2 him n meneka also gets off the plane then ... I THINK ...
Prerna teaches Rishabh to enjoy simple pleasures of life
Rishabh and Prerna go with cookie to her school. The teacher asks whether Prerna is cookie's real mom and Prerna replies that even though she isn't cookie's biological mom, she cares for cookie like a biological mom would. Rishabh is impressed by prerna's thoughts.
While coming back, cookie wants to go and sit in a merry-go-round. or was it some other ride? Ok whatever it was, rishabh refuses saying that he has work in office. Prerna forces him to go for the ride instead. Uncomfortable, Rishabh goes to the sea-shore with prerna. Cookie and Prerna have a great time enjoying the ride. Rishabh stands nearby- with his coat off and folded on his arm in style, and watches them with a cute expression on his face. Then he drinks coconut water..one more..and one more...by the time prerna comes there, there are coconuts everywhere!!!
Thoda sa pyar hua hai: By sunny
Rishabh went to Australia n bought a house thre, he wanted his family to shift but came back only to see everybody headed by his wife dis interested. Rishu baby was very upset but he realised... n after a few days called his secretary at Australia n informed her that they're not coming... Prerna heard this n came to him... Rishabh gave her the news n told her if she doesnt believe him... she can "re-dial" n confirm.... But Prerna was in All Praise for him... she said u r so understanding n al alll sorts og nice-nice sweet-sweet words... Baby khush ho gaya!!!
First Hug By ronit_dream (same scene???)
baby is taking entire family zabardasti se to australia. then baby has a change of heart n he tells prerna that he is going to stay in india. she is so happy and surprized that she hugs him.
i remember i ws surprized becoz i think for first time she hugged him like that (aakhir kab tak resist karti bechari )

Scenes By Manasi:
Dulha-Dulhan
This was the very 1st scene I had seen in KZK – Rishabh Bajaj & Prerna's first marriage. Ronit looked sooooo handsome in that navy blue sherwani & white pheta.
I love you..
The 31st December 2002 episode. Ronit looked very good while dancing with Prerna. Then in the car Bajaj tells her that he loves her very much & can't live without her. This was my fav scene till that 'too hot to handle' scene in which Bajaj & Prerna consummated their marriage.
I won't drink again
The next very episode, Bajaj is fully drunk & breaks the glass in his hand. Prerna asks him " yeh aap kya kar rahe hai?" He says, " Main aur kar bhi kya sakta hoon, apne aap ko chot pohchane ke siva… jis ne har mod par tumhara saath diya hain, Kabhi to uska saath diya karo" The next day Prerna tells him that from now onwards, he doesn't have to get drunk to tell her anything & she will always remain his friend. Then Bajaj promises her that he'll never drink again.
Dosti ki baatein
Bajaj is taking Tushar to Australia after that accident by Samay. Bajaj had shouted at Prerna for not testifying against Samay & Sulabh in court. He says, " Us din ke liye maafi chahta hoon. Shayad ummedein inti bad gayi thi ki dosti ki had paar kar gaya. Dobara aaisa nahi hoga."
Bajaj dreams abt prerna: By Sukhi (Ronitfan)
Bajaj opens the door of his lonavla flat and starts walking inside it. Suddenly he sees prerna dressed and decked in red bridal wear. As soon as she sees him she turns her back to him angrily-
Prerna- aa gaye aap? Aakhir fursat mil hi gayi na aane ki?
Bajaj is like---prerna? He starts walking towards her when an imaginary bajaj goes to prerna with his coat in his hand (the brown one).
Bajaj- sorry prerna…..thodi si deri ho gayi
Prerna- thodi si nahi……poore ek ghante se ruki hoon main aapke liye….koi andaaza hain aapko!?
Bajaj- very sorry prerna….plz mujhe maaf kar do (looks so cute!)
Prerna- sawal hi nahi uth-ta!!
Bajaj- sirf is baar…….?
Prerna- theek hain…..sirf is bar maaf kar rahi hoon….agli baar maaf nahi karungi!!ok?
Bajaj very lovingly smiles at her and they both hug. (at this point……the kya pyar karoge song starts….) and then….with hands around each-other's waists….they move to another room……the real bajaj follows…..
In the room….there's a mirror in which bajaj…..instead of his reflection sees this scene that-
Prerna is moving away from bajaj when he grasps her hand and pulls her REALLY close to himself. For some moments……he stares into her eyes with intense love…..and then kisses her forehead ever so passionately and moves on to kissing her cheek.
Bajaj just looks on…..looks at how close the imaginary bajaj and prerna are…..
After that……bajaj and prerna r having a very romantic candle-light dinner where they r thoroughly enjoying each other's company . bajaj feeds prerna and enjoys each and every moment….they both laugh their blues away…….when suddenly the imaginary bajaj looks up @ the actual one….stares…..smiles in a way like-"iska kuch nahi ho sakta" and continues with his dinner. Bajaj comes back to reality and thinks about something.
(this scene was amazing yaar……bajaj was looking unbelievably sexy and so-so-so attractive and also- ronit and shweta's chemistry……even for the matter of 3-4 minutes was rocking…..and to that extent that my ears had gone hot while watching these scenes on tv……they looked as if they were in love since eternity…….prerna was also looking out-of-this-world! I hope this dream comes true some day! Keep ur dreams coming bajaj!!! We love them! Bajaj rulez……and rulez with prerna!! Haha! Too good)

9th Dec 2004
At night, they are standing near a glass window of a room...both are standing keeping a long distance bet. them-at two ends of the window. There is a chilly wind...and the night is quiet. It's snowing in panchmeshwar...both have content, peaceful expression on their faces..
Both r looking out of the window-not at each other. He says "I always loved u...wanted u to love me...but I kept giving u pain. I don't know why.." She says "Happiness can be given by a stranger, but pain can be given only by someone close to u...dard koi apna hi de sakta hain and the pain I gave u unknowingly was much more than the pain u gave me." (Bass! That's all! The topic is closed...as both have said their apologies. Now it's time for some romance!) He extends his hand towards her, she puts her hand in his…she moves closer to him, and they hug. Their eyes are closed, and they are hugging each other. They have such happy, content _expression on their faces..
The night, the chilly winds, the snow, the beautiful glass window.and the two lovers lost in a world of their - it was amazing..
The Hottest ever scene update by ronitfan
Bajaj returns home to find his house in complete darkness. He shouts for birju kaka but there's no answer. He switches on the lights to find a beautifully decorated house…..with cool flowers here and there….his gaze stops at a big red card waiting to be opened. He removes his coat and opens the card. On the flap it reads-"sorry Mr. Bajaj…..Prerna". he opens the card which on the cover read-"I truly love you and I just want you to know that I will be yours….something something…." . he opens the card and it says, "Dear Mr. Bajaj… .
u r everything I ever wished for…
u r everything I ever hoped for…
.u r everything I will always love…
and so on your birthday….
I will love u the same… because you are my gift….from the heaven above……
love Prerna"
He gives a smart smile and moves towards his room. He looks for Prerna but she's nowhere to be found. He finds a letter addressed to him by Prerna. It reads – Mr. Bajaj, main jaanti hoon ki aaj main aapse sirf maafi maang sakti hoon….Aaj aapke janamdin par meri taraf se aapke liye ek chota sa taufa….zara mud kar dekhiye!" He turns around to find a rose and a brand new suit. He looks at the rose happily and opens the coat. He goes to the washbasin and finds "sorry Mr. Bajaj" written by Prerna on the mirror. He smiles to himself and suddenly hears Prerna crying in the room. He rushes to see what's wrong…Prerna tries to wipe her tears and gets up. She says, "Mr. Bajaj….na jaane kyun mujhse har baar galati ho jati hain….." Bajaj-(cuts her in between) kuch mat bolo Prerna…..kuch kehne ki zaroorat nahi hain….hum dono kyun aise ek doosre se maafi mangte rehte hain….safai dete rehte hain…jo log pyar karte hain who us pyar ko jeete hain…..aise maafi mangkar use zayar nahi karte…(isn't he cute?!!!) chalo….aaj se yeh koshish karte hain ki kabhi ek dusre ko dukh na pahuchaye….kuch aisa na kare jis-se hame safai deni pade….ok? now c'mon….give me a smile! Prerna gives a weak teary smile…..Bajaj closes in on her and wipes her tears…he holds her face with both his hands and gives a nice kiss to her. He slides his hands down Prerna's hands. She looks at him, smiles and leads him to the b'day cake….Prerna holds the knife along with him and they cut the cake. They feed each other some cake. Bajaj is happy and kisses her.. Prerna switches on some music and holds his hand. He tightly grasps her hand in his (not the usual style…..really passionate!) and they dance….they r very close to each other…..Bajaj gets intimate and moves his face against her….a pyar karoge version plays for both of them….Bajaj puts a maangtika on Prerna's forehead and kisses her once again…..(a very hot kiss indeed!)
Bajaj…..like a true romantic hero…..lifts Prerna in his arms…..and steadily and slowly brings her to the bed…..all the time he stares right into her eyes….giving a premonition of a great time ahead……he gently keeps her on the bed…..and gives her yet one more kiss…..Prerna curls up and grabs Bajaj around the neck. our macho man Bajaj…..with his shirt off….hitting it out with Prerna…..he is caressing her hair when Prerna keeps a hand on his eyes( covering them)……Prerna and Bajaj have a great time……completely lost in their glorious romance….oooooh-la-la!
old update posted by Manasi in old hub:18th Jan 2005
Prerna gets up angrily and goes inside. RB realises he needs to do some 'damage control' so he excuses himself and goes inside. Prerna is packing RB's suitcase. She is looking disturbed and upset. RB asks her "what happened" She says "kuch nahi.. soch rahi thi kaun se suits pack karun?" RB says "All these suits that u have selected- all of them are fine actually..." Prerna gets angrier and sweetoo is enjoying teasing her (chooo chweeet). Prerna says "Aap aisa kyun karte hain?" RB says innocently "kaisa?" (wow he looked so handsome and sexy in this scene....just amazing) Prerna says "Abhi abhi to aap aaye hain aur phir se ja rahe hain" RB teases her again "matlab suits ka to bahana tha...mera jaana tumhe accha nahi lag raha.." Prerna says sarcastically "mujhe achha kyun nahi lagega...aap ka kaam hain, aap jayiye " (hehehe they have such good chemistry! this scene was really funny, romantic and cute) Finally RB says "Haan lekin is baar main akela nahi ja raha hoon, tum bhi mere saath ja rahi ho.." (WOW- isn't he the sweetest husband !) Prerna is surprised !!! she says "lekin.." RB says "Main ne kaha na- hum dono ja rahe hain. now u pack your stuff also !" and he walks out of the room. Prerna is very happy and she smiles to herself.
Regards,
Arti
Favorite scenes posted from Bajaj_prerna's topic:
1. When Bajaj gets into some blast/accident and Prerna fears that something would happen to him and gets all worked up, and then everybody finds out that he is alright I like that scene becoz that was the first time I realised that prerna loves bajaj like mad.....
2. When madhvi tries to kill bajaj ,and prerna pushes him away without thinking that the bullet can go in her body and then they fall on each other and look in each other's eyes and then 'pyar karoge' starts...that was the time I realised prerna can die for bajaj...
3. When bajaj has an accident in panchmeshwar and he wakes up in hospital and says 'prerna' and there prerna can actually hear his voice....that was so sweet and romantic..
1) Just after their 1st marriage, when Bajaj is in office and really DESPERATE to talk to Prerna, he starts giving missed calls to Prerna on her cell. Then Prerna looked on horrified at the no. of missed calls from him and called him back to know if everything's OK and he just says- "nahin kuch nahin...galti se tumhara phone lag gaya" & then he quickly hangs up and gives his ultimate INIMITABLE smile.That was the moment when I was assured that this man was not gonna end up as a desparado and that his love was really something to watch out for!!!
2) When Bajaj plays superman at Kolkata and saves Anurag, Probin, Dia, Sneha and Prerna from that miserable bomb blast by fighting single-handedly with that bomb-planter.After that,Prerna was just not able to leave her man alone and applied balm to his hand ever so lovingly.
That was the moment when I knew that Bajaj could even lay his life for the person he loved and that Prerna was slowly getting to realize the value of Bajaj and his emotions.
3) When Prerna escapes from the bomb blast in her car (20-yrs ago) ,Bajaj is informed by Gupta abt Prerna being in the hospital. Bfore he could say anything, Bajaj got the jolt of his life, dropped the drink in his hand and rushed to the hospital in a simple shirt and pant,along with ruffy hair and looking damn HOT! And then just the way he couldnt contain his emotions and hugged Prerna tightly....in front of the whole medical staff...was AMAZING!!
But the best part of this scene was easily the part when the Police came for her statement, and Bajaj held her hand in his and sat close to her ALL the time when she was telling the police abt what happened.That was the moment I knew Bajaj was SOO protective about Prerna.
4) Another instance when Bajaj showed his protective instincts for Prerna when he gave a damn for his injuries in Panchameshwsar and went off immediately to search for Prerna in the storm...what a man..!!!
Superman ki Premika- Picture Update
Rishu goes to Kolkata, fights with the villians and saves a few thousand lives by defusing the bomb.
Rishu gets his hand injured during his heroic act and is sitting in his room. He is in pain but he is too much of a man to admit it!
Prerna comes to his room and Rishu looks at her.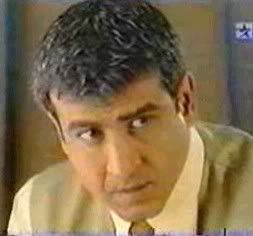 Prerna is soo worried. She takes medicine bottle, sits next to him and orders "Haath dijiye."
Rishabh is amused to see prerna getting so worked up for a small injury.
"Nahi..jarurat nahi hai....buss chota sa.." He says casually. (MEN!!!)
Prerna knows her man so she isn't going by his word. Prerna takes his hand in her hand and looks closely at his injury.

"Yeh jara si chot hai?" Prerna Mommy asks as if she is talking to a 10 yr old boy.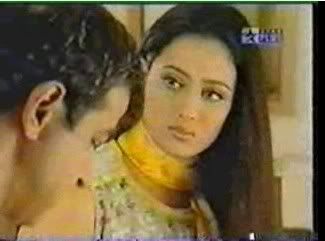 She starts applying the medicine very lovingly. Rishabh looks at her.
hhhmm...Mere haath mein tera haath hai...chot ka to sirf bahana hai....aaawww love is in the air...what sizzling chemistry...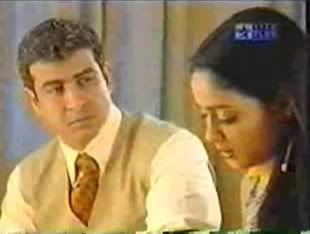 Prerna speaks as she continues applying medicine n rubbing his hand .
"Mr Bajaj, when u came with me last time, I accused u that u didn't trust me , but now I know that we think something, but truth is something else. Agar aaj aap yahan nahi aate to-"
"To main sub kuch kho deta." Rishabh says. Prerna looks at him with love, pride, worry- so much emotion...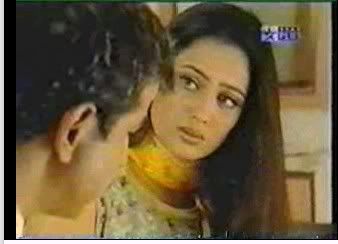 He gets up, stands in his usual style(hands in pockets) and speaks without looking at Prerna.
"When I was fighting with those men, for a moment...I felt that everything will be over. Perhaps that very thought gave me power to defeat that man. Today the importance of my loved ones is increased in my life. Because I can't live without my loved ones."
Throughout the scene, Prerna is looking at her Superman with so much emotion, love and adulation.
(Ronit looks hottttttttt in this scene. Shweta too looks nice. Awesome eye contact. They look so much in love!)


Edited by nehavarun - 18 November 2006 at 12:55pm