PART-8
ANUSHAKA'S POV:
I slowly slowly tip- toe downstairs seeing here & there to see no one... I thank god for this... I come down now," but where's my sister's... Why they r not looking for me & Shona... They r not in our rooms also,,, if not upstairs,,, then where they go... Here they r not even looking for us nd I m the only idiot here,, who is looking for them... Huh... Argh... But I should say thanks to god,, that our moms r not here looking for us... If they know about this then no one can save us,,, not even god... Now I reach downstairs,,, but know also I cannot find anyone...
I should check sitting area"... I went towards sitting room... Their my father's sitting and reading business magazine... I look around,, no one is their ,, so, I went and back hugged my father... He looks at me,,, I can see he is happy seeing me safe,, but also he looked lottel tensed,, but I ignore it,, thinking bcoz not finding me & shona he must be tensed... But know we r back and happy ... So I ignore and start to say thanks to god... But but but... My happiness didn't stay for long,,, from my back someone twist my ear & I let out a cry... Bcoz it hurts,, I turn back & their my whole family is standing,,, my sister's r also their... But I can see new faces,,, some guest... But when did they come... . RIght now I ignore it... My mother is twisting my ear...
I look at my father for help,,, but he didn't say anything...
"Aur Kane bhi Kaiser,, aaj tak biwi k aage kissi bhi pati k chali hai,, job inki chalegi"... So, I stay quite,, but my ear... It's hurting...
Parineeta
Pari:kaha thi tum ab tak,,, yeh koi tarika hai, es tarah ghar se bina kissi ko btaye gayab hona... haan bolo... pta hai sab kitne pareshaan the...
sab ko toh lag raha tha ki tum room mein ho... pr tum dono toh ghar mein hi nahi hoo... sab kitne tensed the tum logo ki vajha se... essa bhi kya kaam aa gya ki es tarah bina btaye chale gye... bolo ab...
Here Anushaka did nothing,,, but just looking at her mother nd smiling... Everyone in room thought she will explain herself or will get angry... But after seeing her smiling they become shocked,, specially Rathore, khurana & kundra families...
Anushaka here is smiling her mother scolding her in tension,, she know seeing Shona and her not at home,, their family will be tensed,, but seeing her mother in front of her nd lestining her,, she start smiling... Bcoz this is what she miss in 1 yr when she is in Europe with her sister,, and their families is in India... she miss her mothers scolding her for her careless towards her self... And she know her sisters also miss this... So, it doesn't matter these sister because of whom their family is scolding them,, bcoz they know in their scolding their is always their care for these sister's...
Parineeta:tum smile krna band kro or btao ki kaha thi...
but in retirn she got a tight hug from her daughter Anushaka... Anu hug her mother tightly as if her life depends on it...
Anu: I miss u mumma... i miss u,,, i miss ur scolding...
for a min. all was like aww... but after a moment,, Parineeta compose her nd start saying...
pari: bas bas... ache se janti hoo kitna miss kiya tumne... aur topic mat change kro or btao tumhari behan kaha hai...
usko chot aayi hai or es tarah bahar chali gyi,, rest krne ko kaha tha na... kaha hai vih...
Anu:mom voh toh mujse pehle hi andar aa gyi thi,, ab tak aap ko nahi milli...
Suddenly they hear a voice,,,, all went to see who's voice is this...
SHILPA'S POV:
I enter inside house,,, my own house like a thief... with a basket...
first i m feeling very hungry,, and this back-ache is also not helping me... and upon this i m smeeling like hospital... so, i change my self into this...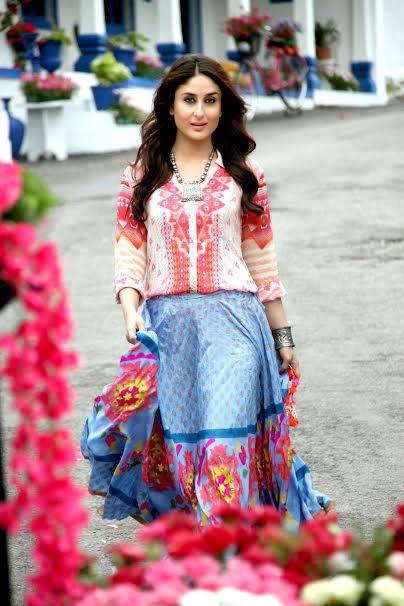 Now,, its fine... i picked up my basket,, nd starts to go down stairs... i m feeling very hungry.. i straight went inside kicthen... and found Magnum ice-cream (yummm)...
She is so much into her ice-cream that she dosen'y notice that someone is coming towards her and that person is talking on ph. so, they both dumb into each other... the person was about to fall nd he shout,, when small tiny hands hold him from waist... there eyes locked.. they were lost in each other's eyes... nd that person is no one other than "ARMAAN"...
nd SHILPA is the person who hold him from falling...( i know its always boy who hold girl from falling,,, but here is twist ... here shilpa hold Armaan from falling)... All families also reach their nd is looking at this cute scene as if its world 8th wonder...
All chuckled at scene now to Arsh...
Shilpa nd Armaan widened their eyes and were looking at each other arms... jaha tak ice-cream ka sawal hai,, woh toh Shilpa k muh mein hai like a looly pop... She was so lost in him but due to her back ache she losse her hold on Armaan nd THUDD!!
Armaan was on floor... Shilpa stand straight with a hand on her back... bcoz it start paining her due to stand on same way for few minutes...
due to this her ice-cream also fall on Armaan mouth...
Armaan removed ice-cream from his face nd yelled at top of his voice...
Armaan:are u blind or what ... can't u see me coming towards u nd this bloody ice-cream.. Tumhe mera hi face milla tha esse girane k liye... yakh... or upar se tumne mujhe giraya... are y mad or what???
Shilpa:on top of her voice "sorry khambe (pillar) ji mujhe nazar nahi aaya k ek haathi (elephant) mere saamne aa raha hai... aakhe tumhare pass bhi hai ya chance maarne ki koshish kr rahe the...
Listening these all starts to laugh...
Armaan with anger: chance or tumpe...
aah galat fahmi hai tumhari k mein tum pr chance maaroga...
mujhe tumhari shakal bhi nahi dekhni...
shilpa:mujhe bhi shoank nahi tumhe dekhne ka...
ek toh khambhe jaise or chehra dekhne k liye upar dekhna partha hai... aah... my neck is paining...
Armaan: listen mujse panga mat lena... u understand...
Shilpa:kuch kaha kya mujhe,, sunaai bhi nahi diya...,, ager himmat hai toh kuch kr k dekho...
Armaan: challenge accepted Miss Whatever!!!
finish...
finally Arsh meeting...
i hope u guys like it...
tell me who'z it...


Edited by shdiksha - 03 September 2016 at 11:29am