Wohooo... Thank you so much for all the lovely comments guys.. It really means a lot to see people encouraging and appreciating your work...
So are you guys ready for some Paris Romance..?!
Here goes the first part..
I hope its up to your expectations.. Do leave your comments and silent readers do hit like button..
*******
Raman was pacing around the lobby waiting for Ishita from last 30 mins. He glanced at his watch, it was 12:00 in afternoon!

Itna time lagayegi toh ghum liya Paris.. He wondered as his eyes went up to the stairs and there she was standing, dressed in pink and white floral frock with a simple silver bracelet. She was busy talking to someone on her iphone, as she came downstairs and stood near Raman. On noticing from close he realised she wasn't wearing any makeup just a lip gloss and kohl yet she was looking no less than a diva. A natural beauty that she was, doesn't need layers of cakey makeup to look gorgeous. He was so busy admiring her that he didn't realise when she ended her call and was looking at him with her brows snapped together. She waved her hand in front of his eyes, "Hello.. Mr bhalla? Come back from your lala-land!"

This made him snap out of his thoughts.. Or better say, out of her thoughts as he looked away, while she had this mischievous smile playing on her lips! Raman looked at her as she wrinkled her eyebrows naughtily.

"What?" He mouthed but Ishita moved her head in negative.

"You know? Kisi ne sahi kaha tha, Bhartiya Railway aur duniya bhar ki auratein, kabhi on time nahi ho sakti.."
"Excuse me?"

"What excuse me? 5 min bolke aadha ghanta barbaad kiya hai..Paris ghumna hai yaa nahi?" Raman replied, in an attempt to cover up his embarrassment.

"Hahaha..Raman and his one-liners!" she replied in a sarcastic tone with a pout as she began moving towards the exit while Raman smiled at her cute pout. She looked around to find him standing at his place only, "Oh hello mr. bhartiya railway? Abb tum kyu time barbaad kar rahe ho? Chalo!" Ishita said as she pulled him along with her.

"Waise sunn.." she whispered slowly and Raman neared his ear to hear properly, "Thodi tareef karde ghis nahi jayega!" Ishita replied with a wink as Raman's jaw dropped and Ishita laughed.

"So? Kya plan hai?" Ishita asked as they stepped out in sun, and Ishita fished out her summer hat from her small backpack.

"Plan toh bahout saare hai.. But we'll start from Place de la Concorde!" Raman said as she looked on with confused expressions.

"Place de la con.. What?" She said as she looked up confused.

Raman couldn't help but chuckle, "Check it out yourself!" as both of them walked to their first destination.

It is a located at the southern bank of Seine river, and offers 360 degree panoramic view of Paris. The views of the Eiffel Tower, the Seine and the Arc of Triumph lets you feel the atmosphere and the beauty of Paris. Therefore, Paris in nutshell. Ishita looked around the place in awe as she clicked pictures of the stunning panoramic view.
They strolled near the bank of Seine river, as Ishita admired the beauty of clear waters while Raman was busy adoring her. Just like a little girl, Ishita went ahead to feel the running water on her hand, and when he was not noticing she even splashed handful of the water on him and started laughing. Raman looked at her with serious expressions at first but then he too started laughing along with her.
As they went ahead, crossing the Concorde bridge, it was time for some historical exploration. Since Ishita loved paintings, they decided to visit the Orsay museum. The museum holds mainly French art including paintings, sculptures, furniture, and photography. It is one of the largest art museum in Europe. Ishita admired the greatest works of Van Gogh and Monet with amazement.
"Enjoying?" Raman asked looking at her.

"Enjoying? Are you kidding me? I'm super duper enjoying!" Ishita exclaimed excitedly like a child. "Abb what next?"

"Well.. Some nature talk!" Raman replied smiling, as he grabbed her hand and walked towards their next spot which was the Garden of the Tuileries. It was a private royal garden which was made public during French revolution. The beauty of the garden was beyond the scope of explanation in words. Both Ishita and Raman looked awestruck at the absolutely incredible garden with well maintained artificial lakes and sculptures. Tired by all the walking, they secured themselves a spot under the cool shade of cherry blossoms.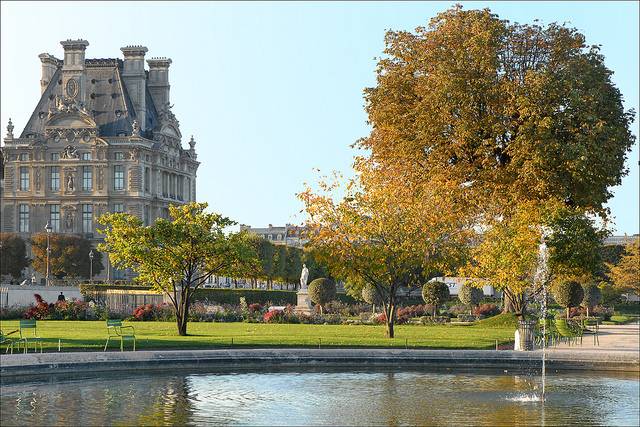 "Ek selfie toh banti hai !" Ishita spoke up, "Kyu Mr Bharatiya railway?"

Raman made a face at her calling him Mr.Bharatiya railway and Ishita laughed. Taking out her iPad from her backpack, they clicked a few selfies posing with gorgeous cherry blossoms in the backdrop. Raman looked at Ishita as a beautiful smile adorned his lips as she sat there on the muddy ground, hugging her knees and eyes closed, feeling the gentle breeze on her face.

"Kuch bologi nahi..?" Raman finally broke the silence.

"Nahi.. main khamoshi ki awaaz sunn rahi hu.." Ishita replied in a mesmerised tone.

"Khaa.. moshi ki bhi awaaz hoti hai?!" Raman asked mystified.

"Of-course!" Ishita replied, finally looking at him as he cutely scratched his head and tried listening to the sound of silence but in vain.

"I guess I'm deaf yaa phir khamoshi doesn't like me enough!" Raman declared after his failed attempts.

Ishita chuckled, "You need patience to hear that! Wait.." she said as she shifted closer to him and covered his eyes with her palms. "Now try!"

Well, he didn't know abt the sound of silence, but he could clearly hear her rhythmic heartbeats. He could feel her breaths on his bare skin, and he could smell her exotic peach perfume which was enough to give him goosebumps. Hell, who gives a damn about silence now!

Finally she removed her palms from his eyes and looked at him expectantly. He smiled, flashing his dimples and she smiled back looking straight in his eyes. They shared an eyelock when a ball from the nearby group of children hit them and broke their trance. Realising how close they were, Ishita immediately shifted back to her spot looking away in embarrassment.

Raman quietly got up from his place, "I'll be back!"

"Hmmm.." she nodded, for she turned back to enjoy the silence again. Suddenly she felt something falling over her head and looked up. It was raining flowers, she smiled widely at the touch of delicate cherry blossoms. Sure enough, Raman was standing by the tree trunk admiring the her beauty. By the time they left garden, Ishita was pretty hungry.

"Raman! Tumhare plans mein khana included hai yaa nahi? I'm starving!" Ishita said while Raman was going through some city guides to plan what next.

"Bhukkad ho tum ek number ki !" Raman looked at her hopelessly, "Batao kya khana hai?"

"Kya milega?" she asked, immediately.

"Sab kuch.. Paris has got some of the finest dinings of the world!"

"Yeah right aur pay kaun karega? Tum?!" Ishita blabbered but then realised what she just said.

Raman looked at her with raised eyebrows, "Kyu? Main pay nahi kar sakta?" he asked, pretending to be hurt.

"I didn't mean that.." She replied looking at him apologetically and snapped her forehead.

"Don't worry mere paas tere lambu ka credit card hai.. See!" He said as he showed her Ashok's credit card.

"Don't call him lambu atleast !" Ishita pouted.

"Toh kya bulau.. 6 ft 2 inch?" he asked chuckling.

Ishita rolled her eyes, "Lambu's better !"
"Khair I'm pretty bored of the 5-star lunches..you've to be so sophisticated and poised in front of everyone.. Khana khane ka maza he nahi aata.. Let's look for something local!" Ishita added while Raman looked on amazed.

Bilkul pagal hai.. Pagal madrasan!

Finally after looking around for a while they found themselves a cosy cafe-cum-restaurant. One could hear people chattering over cups of coffee and enjoying each other's company. Ishita inhaled the strong aroma of coffee, and smiled, "Dekha! Yahan aayega maza khana khane mein.." she exclaimed.

"Maan gaye aapko!" Raman replied, surrendering to her choice. "Have a seat.. I'll get something to eat!" Raman added as he left to order something for both of them. Meanwhile Ishita reserved a table for two near window. A freelance guitarist along with some bongo players were giving the much needed entertainment to the lively crowd. To their tunes some couples were dancing as well. Raman noticed her from the counter and smiled as she cheered for an old couple who were dancing and even joined the musicians to sing along with them. Raman came up with their orders, and literally dragged Ishita to have something.

"Khalo kuch.. Energy chahiye baaki din ke liye!" Raman reasoned and she had to give up.

"Aiyoo Murgan!" She looked at the dishes, wide-eyed, lying in front of her with lots of butter and cheese. "Itna saara butter.. Main bhains ki tarah phul jaungi." she frowned. Raman shook his head smiling, "Kha le kuch nahi hoga.. Waise bhi tum already bhains ho.. So don't worry!" Raman replied with a wink, earning a smack on his shoulder. Raman savoured the delicacies as he moaned in pleasure.

"This is brilliant.." he said, pointing out the veggies with his fork.

"How mean!" she pouted as she looked at the dishes with tempting eyes. The food looked delicious indeed with tangy sauces, dressings and loads of butter! Giving in to her hunger, she grabbed her fork and shoved it into her veggies, relishing their flavours. Her whole face lit up as she enjoyed the food. After having a fulfilling lunch at cafe and some dance on guitar tunes, they left the cafe.

"God !! That was the most amazing lunch I've ever had !" Ishita exclaimed as she sipped her black coffee.

Raman grinned, "I loved it too!" when he collided with a passerby and stained his shirt with coffee.

"Oh..f.." He cursed as he tried wiping the coffee stain with napkin only to worsen it.

"Yeh aur kharab ho jayega!" Ishita said as she took the napkin from him and helped him in wiping off the stain. She was working on his stain while he was having difficult time controlling his emotions. Feeling her close to him always gets difficult. Ishita could feel his body tensed up, and to warm him up, "Dont worry! Izzat nahi loot rahi hu tumhari.." she spoke up.

"Kya pata? Neeyat bigadte hue der nahi lagti." Raman replied, wittily.

She looked up, "Achha?! Khud ko Shahrukh Khan samjhte ho..?"

"Nahi.. Shahrukh Khan nahi hu magar usse kam bhi nahi hu.. See!" he said, pointing out his dimples and Ishita couldn't help but chuckle at his cuteness.

"Ho gaya!" she said as she backed off.

"Thank you !" Raman replied and added, "I think abb next Effiel Tower chalte hai..? What say?" But she was busy looking at something with gleaming eyes. He followed her vision to find a huge ice-cream parlour in front of them.

"Ice-cream khaogi?" he asked but Ishita made a face.

"Calories!" She looked at the ice-cream parlour with dull expressions.

"Itne gunaah karliye toh ek aur sahi.." Raman said as she looked at him with sparkling eyes, and both of them made their way to the ice-cream parlour. Both of them relished their ice-creams and it was time for some shopping now! Ishita was unstoppable once they entered the mall. She went from one shop to other, looking for variety of things.
"Bas kar madrasan! Kitni shopping karegi aur?" Raman finally asked for she had no plans to stop any time soon.
"Tere paise kharch ho rahe hai?" she asked, while trying some accessories.
"Nahi!" Raman replied.
"Toh chill kar!" Ishita said laughing, "Achha help me out! Which one?" She added as she turned around to face him with two different earrings. Raman looked at both of them and made a face.
"None!"
"Rehne dein.. you don't know anything!" Ishita pouted and Raman chuckled as he came forward and chose a pair of earings for her with delicate pearls.
"Try these!" He said as he looked on in the mirror while Ishita tried them. When she was done she looked at him expectantly, to which grinned the widest smile. After an hour or two of shopping, Ishita was finally done! Raman looked at the number of bags he was trying to hold and sighed. It was evening by the time they left mall and sun was about to set coloring the sky in the most beautiful shades of orange and pink. Raman asked her to hurry up or they'll miss something spectacular.
After a 10 mins walk, Ishita found herself standing on Lover's lock bridge. She had heard of this bridge where people write their names on the padlocks and affix them to the railing of the bridge, but witnessing it was a different experience altogether. Just the way she had heard, there were thousands of padlocks affixed on the railing. Some were heart shaped, some were personalized, some of them were new while many of them were rusted brown. Beyond the bridge lay Seine river reflecting the colors of the sky.
To be continued...
Waiting for your response!


Edited by pcnsb - 25 April 2016 at 2:08am