Chapter 44
How could he manage to do this, she watched in utter disbelief. What magic had he done behind the closed doors? This wasn't believable, the way he had turned the situation around despite not having a conscious connection with music.
But a tiny part of her knew, had always known, only he could have done this...for her and for music. No matter what his mind says, it would not be able to stifle the voice of his heart which was struggling to break free.
THIS! wasn't 15 days of friendship, it had to be an eternity of love, some of which she had witnessed in this life time and some that she believed they had carried over from the previous ones. Why else did their paths cross? Why else did he, The Manik Malhotra, who had every possible blessing that a man could ask for and every possible comfort that any person could dream of, have to go out of his comfort zone to protect her?
As their performance ended, amidst an ocean of claps ,cheers and smiles dampened by tears, the entire troupe of kids, all 17 of them came running down to Manik, who had returned to his VVIP seat and was proudly watching the performance from there.
'Shit, now the principal will create another scene' Nandini thought and quickly walked up to the VVIP zone to take her class away. But she had been a second too late. That cynic's wrath had already begun.
"What are you doing here, disturbing our esteemed guest? Where is your teacher Nandini, she isn't supposed to let you roam like this."
The children were hurt and confused. Wasn't this their Manik bhaiyaa, wasn't this the same guy who had made this performance possible? Why then was the principal shooing them away from him?
"Wooo sir main..." Nandini tried to say something before Manik cut her short.
"Well actually sir, with all due respect I am indeed representing my father. But to be honest, the reason I came here today was for my best friend." He glanced at Nandini and gave the principal one of his trademark drool worthy smirks. "And of course these army of friends here" he looked down at the children who had surrounded him from all sides and smiled. The You-Don't-Mess-With-Nandini-Or-These-Kids expression on his face was too obvious to be missed. "But I must say what talent you have in your school, simply mindblowing!! I keep telling Nandini to come and join our company. At the very least, she will get thrice of what she might be making here but her love for these kids...money can't even compete with that. She is a true teacher! Whatsay kids?"
So Manik had officially cut a lemon and smeared it all over the principal's face in broad day light in front of 50 dignitaries and all the poor man could do was to show his 30 odd betel stained teeth. But Manik was sure, the lemon must have started doing its work.
"Now if you could please excuse us, these kids, they need a treat after that performance." He smartly walked out, the pied piper followed by his jumping rats oops monkeys.
Nandini watched in silence. But that was only a faade she put up for the world. If someone could capture the image of her heart, she was dancing a fusion of ballet and Bharat Natyam. She wanted to blow a trail of whistles in true Bollywood style. Her hero was back and how. But till she had the kids around, she had to BEHAVE.
Even though Manik wanted to take all of them out, there was no way 19 people could fit in his posh BMW. The next best option was to order something. They all huddled together in the class room and started singing and dancing, waiting for the feast to arrive.
Nandini was a little quiet now. She was trying to swallow the scene like a girl gone hungry for days. This could be one of the happiest days in her life in a long long time. Where had he been, her knight in shining armour. Why did destiny take him away when she needed him the most? Why couldn't he be with her when one by one Nyonika destroyed them all. Aryaman was the first to go, she threw him out of space and forced him to return to New York, she cancelled all of Dhruv's solo contracts that he had achieved on his own merit & she had a show down with Mukti. What Nyonika did to her was worse, she didn't hit her directly, she targeted her unassuming simpleton chacha, planting a plot in his office to expose him as a thief and offender. It was to save her uncle's reputation and his entire career that she had to give in to Neel, that jerkbag who happened to be at the right place at the right time and the only one who had agreed to stand as a witness in favour of Nandini's chacha in the impending courtcase. Of course he had his terms and conditions. You don't expect people like 'Neel' to do things for free, do you? She was still fulfilling those terms and conditions, and no one had a clue about it except the devil himself and her best friend Navya. Her gullible chacha, who was at the center of the controversy
Didn't have a whiff about all this. Of course Nandini could have confessed everything. But then you know Nandini, this is so typical of her to put herself in a spot to help others around her.
But that was then, when she was alone and helpless. Now she wasn't alone and so she wouldn't let that scumbag puppet her around.
"Marry you? Neel Dixit? Not even in your dreams..." she muttered under her breath.
"Hey Nandu miss, kis duniya mein khoyi ho, we are damn hungry, jaldi aao" Oops, she had slipped away, from the bright present to the dark alleys of the past. As always, Manik's voice dragged her back.
"Haan aayi"
Since when did Manik become such a natural with kids? She remembered how little Abir had kicked the day lights out of him and the man who fought the whole world single handedly, had broken into a sweat just holding him in his arms. How did this transformation happen? Was it because he always carried the baggage of an abusive childhood? What his mother had done to him for years, had that made him apprehensive and insecure while handling children. He didn't want to hurt them because he himself was a broken child?
And now because he didn't remember any of it, his natural instincts had taken over. This, was the real Manik. She felt like crying, she felt like smothering him with a hundred kisses. She wished for a magic wand that could heal all the pain he had inside.
She couldn't control herself, not even with the thought of the kids watching her. She went ahead and hugged him, infront of 17 dumbstruck kids who suddenly went silent. Even Manik was caught by surprise. And would you believe, he blushed!!!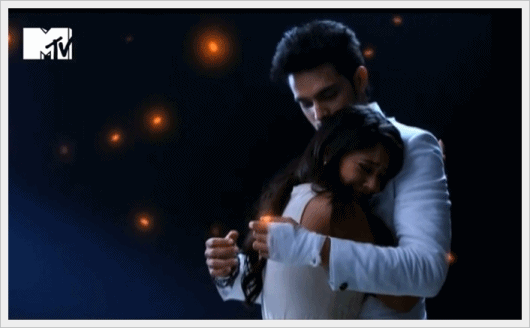 Edited by rk21 - 08 June 2016 at 5:26am