Chapter 41
The moment he saw her message "I m not feeling well, call me as soon as u r free" , he left office. It had been one of his busiest yet best days till now. He had been in a breezy mood all day long. He had learnt more about the business in one day, than he had collectively learnt since the day he joined Malhotra group of Industries. Some people are born winners, the moment you see them you know they are special. Manik was one such guy. Unlike most of us, he didn't bother with pretense if he didn't care. He was undoubtedly sharp and unquestionably determined, but what stood him apart from the rest was his unmatched passion. If he put his heart to something, he would leave no stone unturned to achieve it. He didn't give a damn to competition or competitors. They didn't even exist for him. His only competition ever was he himself. And this held true for his personal life as much as it did for his professional one.
The day had also been good because Manik had finally undone his mistakes from the previous day. He had apologized to all the five people he had screamed on earlier. This time though, he refrained from giving away the chocolates. As it is, people were already in shock because of the UNEXPECTED apology, doling out chocolates would have taken it to a whole new level. From now on, he decided to chew on her ideas for a while before executing them. That girl was crazy and she drove him crazy and he didn't want to jeopardize his reputation in this combined craziness.
He had thought, he would end the good day with a good chat with Nandini, but this message from her...
"Are you ok?" He didn't spare a second for the niceties. Manik, as you know by now didn't bother with pretense.
"No"
"What happened, listen I am coming"
"Are no..no.. I am not sick or some thing, I am just nervous"
"Nandini, did you bribe your English teacher to let you pass? Who writes 'I m not feeling well' instead of 'I am nervous'?"
"Manik...bye"
"Hey...listen, don't ok...don't disconnect. Acha bolo, kya hua?"
"Ek to yahan meri halat kharab ho rahi hai, and instead of consoling me, you are cracking jokes at me...woow so much for friendship haaan mr. Manik Malhotra!!"
"OK...ok I am sorry...I am sorry, but bolo to baat kya hai?"
"Kuch nahi , bas I am nervous for tomorrow."
Manik chuckled instinctively but soon controlled himself. " U mean kal ke performance ke liye?"
"To kya, kal shaaadi to hai nahi meri"
This wasn't going well. Nandu was in a terrible mood. Manik had to do something.
"But you have practiced for over a month.."
"Exactly.. And still.. Aaj bhi aadhe logon ke steps thik nahi hain, kisi ka sur yahan jata hai, kisi ka wahan...I am seriosly pissed off."
"Nandu, who bacche hain, you can't expect them to perform like professionals right and in a way its cute too."
Manik had a point. But something was bothering her and she wasn't sure what, like an ominous premonition.
"I don't know Manik, aisa generally nahi hota, but this time kuch ajeeb si feeling hai, jaise kuch galat hone wala hai.."
Manik didn't get into his car today. He started walking instead. The sky was dark and it was windy, typical of Pune monsoons. He imagined how beautiful it would have felt, had she been there with him, right now.
"Listen Nandini kuch nahi hoga, tomorrow, everything will be fine. Waise if you want, I can come down and try to cheer you up."
"You will travel 3 + 3 = 6 hours just to cheer me up?"
"Do you doubt??"
"No..no ..I know you can do anything... The Manik Malhotra an do anything in this world."
'But, only for you' he wanted to say. "So, then should I come?"
"Nahi, its 8 now, tumko pohounchte pohounchte 11.30 ho jayega and then when will you return? Fir tumhe kal aanaa bhi to hai...leave it..phone pe hi baat karo"
"As you wish mam! Acha who game khelein, the one we played last day and you lost?"
"No, I am not interested, you will cheat again and I will lose."
"Acha chalo aaj cheating nahi karenge, aaj open book karte hain, so you can pick and choose. Well I have abetter idea, lets do a dialogue game. I will tell you the cheesiest dialogues and you have to reply me with cheesier dialogues. Whoever goes silent first loses."
Nandini pondered over that.
"Manik.."
"Hmm..."
"Not working.."
"What's not working?"
"I know you are trying to distract me but its not working.."
'Try something different Manik' he thought to himself. "Yeah, you are right this ain't working. Ok, so let's see what will happen if things do go wrong tomorrow. For one, the kids and their parents would be disappointed, and then your principal will fire you, so you will be jobless and will have to return to your parents in Mumbai."
"Wait a second.. How do you know my principal will throw me out...??"
"I am smart...unlike you. So coming back to the point, you will be jobless and at home, so your parents will force you to get married to Neel. And in any case, he is dying to marry you."
"W*F Manik Malhotra!!!!! Who told you he is dying to marry me?"
"He messaged me, don't you know?"
'Now I would chop him to 4 pieces and feed them to hyenas' Nandini shuddered at her own violent thought but Neel didn't deserve any better.
"Listen Mr. Malhotra, and listen carefully, I am not going to screw up tomorrow, the principal will not throw me out, I will not be jobless and I would definitely not marry that jerk."
"Are you sure?" This was working!
"Never been more sure in my life."
"But you can think about it, not a bad option after all.. You can get married and settle in Switzerland. I will come to see, every once in a while."
"Tumko bohot jaldi pari hai mere shaadi ki, itni hi jaldi thi to usdin kyun aaye the who sawaal puchne?" She had caught him. He was trying to make her feel jealous, now she will his trick on him. "Waise you are right... agar I screw up...I might have to..."
"Nandini, kuch nahi hoga, ok? Even if you screw up, I will be there and I'll make sure that jerk doesn't even touch you."
"Wow Manik, that was a quick turn around..."
"Waise if you hate him so much, why did you get engaged to him? Did your parents force you?"
"My parents are no more. I lost them when I was 12."
Shit, he had been going on and on about her parents not knowing that she had lost them at such a young age. His heart went out for her. She should have told him, but then he had never asked. It amazed him, how despite coming from such a sad place, she could spread so much joy around. How could she give hope to others when she herself had so little of it. He promised to himself that he would always watch for & over her, not just as a friend but as a guardian too.
"Come on face time" He didn't realize he had walked for over two kilometers. She could indeed make him forget everything, even time and space.
"I don't have an iphone"
"Ok Gtalk? Fb chat? Skype? Any video call"
"I will download skype and ping you."
That's how the night rolled, not as bad as Manik had presumed. In fact this was the second night they were spending together, albeit virtually this time.
The last time, she had fought his demons, this time he did it for her. When she gave him a call after installing skype on her laptop, he asked her to login and place the laptop on her desk, put it on charge and turn on the speaker. He did the same with his, so that he could talk to her for as long as she was awake and then watch her sleep. She, for one hadn't thought something like this was ever possible, to be far and yet so close. She always knew he was a gem, but she had seldom seen him sparkle like this. Who knew what tomorrow had in store, but today had been more than kind. Nandini silently said her prayers to Aiyappa, thanking him for bringing her life back.
Outside her window, the fireflies glowed and the stars shined as she fell asleep, safe and secured in the virtual arms of her soulmate. He stayed up though, keeping his promise to himself.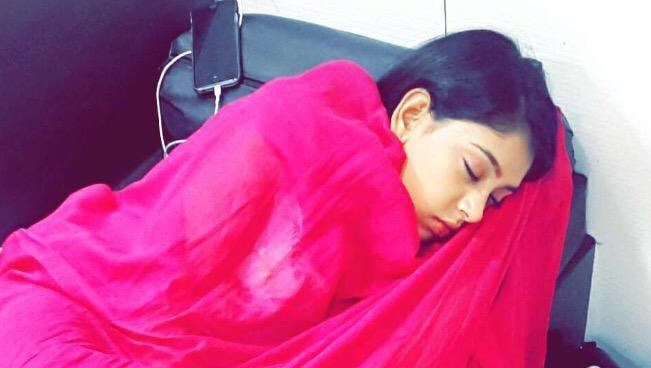 Tomorrow he will meet her. She would be fine, he knew because he was going to be there, always and forever.