Chapter 36
Neel Dixit could give anyone a chill in their spine.
When someone acts angry or revengeful, almost always, they have a backstory. Its only when you come from darkness that you want to remain in darkness, because sudden exposure to light can blind you for a while. But Neel came from light and yet was as dark as the black hole. His traits were not circumstantial, they were congenital. In simpler terms, we are a sum total of our experiences but Neel was BORN EVIL.
Neel was the older of two sons, in an upper middle class family in Mysore. His father occupied an illustrous position in one of the Government sector companies and hence was quite respected in his circle of friends and acquaintances which also included Nandini's grandmother.
Coming back to Neel, he was strange from the time he gained sense. When other kids would play around in the ground, Neel would sit in a corner watching them with hawk eyes.
Every once in a while, he would go to them, and command them to make him their captain. Naturally, they would shrug him off and he would return to his corner seat and put on his hawk eyes once more. The moment any of those kids fell down or got hurt, he would feel a surge of happiness in his blood.
In school, he was a rather average student, in studies, sports and extra- curriculars. The only thing he was brilliant at was sucking up to his teachers. And that's how despite being traceless throughout the year, he would always be in the top 3 when the results would be announced. He used to rampantly cheat during his exams and practicals. To be honest, who doesn't, each one of us must have cheated once or more during our childhood but what was eery about Neel was that he would coax someone to show him the answer, copy it, submit the paper and then he would sheepishly walk up to the teachers (he sucked up to) and secretly complain against that same boy or girl.
Forget about others, he was jealous of his own younger brother Nishant who by Gods grace was a perfectly normal and superbly talented boy despite being born to the same parents. Neel would often stealthily tear off the pages from Nishant's copy but the next day when Nishant would return home crying, having being reprimanded by the teacher for not completing the homework (the torn pages), Neel would be the first one to console his brother. This continued for years till one day when Nishant saw the real face of his brother, the day when Neel tried to harrass Nishant's girlfriend in his absence. That was when Nishant decided to severe all ties with his elder brother, and even though they stayed in the same house, they had become strangers to each other.
Eventually Neel completed his engineering and cracked the campus interview to join one of India's leading IT companies. But his antics wouldn't stop. He was the black sheep in the office, eavesdropping on people, coaxing them to share their personal problems with him and then using the same information back on them whenever it suited him. That's how he had landed up in the IIMs for an executive MBA.
One of his colleagues was having an affair with a girl from the same office but different department. This colleague in question was a genius when it came to programming and naturally Neel pretty much stuck to him all the time. Thinking that Neel was a true friend, this guy had confided his deep secrets to him. He had told Neel that his girlfriend was pregnant and if their families didn't agree, he would have to coax/force her to abort the child. He had begged Neel to help him convince their respective families. What do you think Neel did? Instead of helping his friend in need, he started blackmailing him. He threatened his friend/colleague that if he didn't give Neel the white papers (technical thesis papers in the Software industry) he was working on, Neel would expose his dirty little secret. As you can guess, the guy was too scared to revolt. And so, Neel dixit typed his name on his colleagues white papers, submitted them, got an award and received a corporate sponsorship to the IIMs. Now when anyone asks him his qualification, IIM is all he flaunts.
Just when you think you are feeling sick to your stomach, I have some more trivia to share. Because, he has already eaten up so much space here, I might as well write everything else that I know about him.
He is a 3rd degree pervert, using girls for his pleasure and then using them for his purpose. Sometimes girls would willingly step inside his cobweb and at others they would be forced to. While he had used many girls, the one case that particularly stands out is Nishant's girlfriend from school. She was a terribly sweet girl, much like Nandini and equally righteous. This freak Neel, always had eyes on her. He would not miss a single opportunity of getting close to her on one pretext or the other. Sometimes, he would accidentally collide with her, sometimes again - accidentally his hands would brush against her, none of which by the way was accidental. The girl, being as vivacious as she was, ignored it for Nishant's sake till that day when Neel directly confronted her, alone at their home. God knows what extent he would have gone to had Nishant not walked in by chance and saved her. The girl, traumatized beyond words, eventually broke up with Nishant, leaving him guilty and heartbroken for years to come.
Now you know why he has the hots for Nandini. He wants to claim her and use her, sometimes for his pleasure and sometimes for his purpose. Bringing Manik and Nandini close was a step towards fulfilling a purpose, the purpose of getting into the Malhotra industries. However, he would still not give away his claim on her. That he would retain by hook or by crook and this time he was lucky because his opponent was a wounded prince. A prince without a memory. This couldn't get easier, he felt.
However, what remains to be uncovered is why Nandini had to step into this shit. The reasons must have been compelling for sure. Eventually we would know when Nandini herself tells us.
Oh I missed something here, don't you wanna know how Neel looks? C'mmon guys don't be a spoil sport..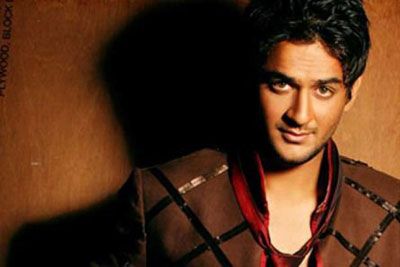 So what scares me is that this guy has no limits, so conscience and thereby no fears. He doesn't have a soft vein in his heart, he doesn't carry any sadness, he doesn't come from darkness so basically there's nothing in him that could be fixed. You would just have to bulldoze him, if that is possible given his track record. I sincerely hope, destiny favours Nandini...and Manik.
***********************************************
For those of you who couldnt connect the dot, I casted Vikas Gupta as Neel, the picture above belongs to him,...the same Vikas G who bulldozed our KYY
Reactions??? comments???
Please dont kill me, i still have a lot to write
Ok, so this weekend I received a lot of wonderful comments, most of which I couldnt reply to. I am sorry guys, but i read every single one of them and i acknowledge with a heart full of gratitude. SOmetimes due to time crunch it gets little difficult to reply, especially on IF because its so not user friendly.
If you want to follow me on wattpad, my id is @1_drop_of_rain
But I want to know the colour of your hate indicator right now. (Evil me)
Love
RK21


Edited by rk21 - 30 May 2016 at 5:45am