Chapter 32
Location: Delhi
"Acha Chill kar na Navya!"
"Yeh koi baat hui Mukti? Hum yahan Abir ke liye aye hain aur humne pehla hi din waste kar diya. Abhi 2 baj rahe hain aur hum yaha baithe hai."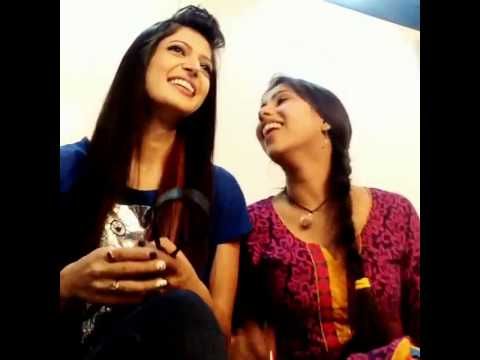 Navya was furious at Mukti. They had caught a late night flight to Delhi and when they checked into the hotel, it was past 1 am. But instead of going to bed, Mukti dragged her to a club where the girls drank and danced away till the wee hours of the morning. The result was, they had to cancel the snooze of the alarm some 10 times before one of them finally switched it off. As per their idyllic plan, at this hour, they should have been somewhere in Janakpuri, spying on the adoptive family of Abir or perhaps trying to break into their home. But in reality, one was holding her head in both hands and the other was gulping down her 8th glass of lemon water and cursing the other.
"I need to go to the washroom."
"Tell me something new..yeh tera 4th trip hai in 2 hours."
Navya stood up and staggered towards the restroom.
She must not have even made it halfway when she took a sudden U turn and hastened back to where they were sitting in the hotel restaurant.
"Mukti!!!" She howled in panic.
"Chilla kyun rahi hai meri maa? Mai tere samne hi baithi hoon." The worst thing that you can do to a person struggling with a terrible hangover is to shout in their ears. Navya was sweet and Mukti loved her to bits but there were times, like now, when she wished for Navya to tone down her 'DQ' (Drama Quotient).
"Main marne wali hun Mukti."
"Whattt!!!!" She almost chocked on her saliva.
"Hume lagta hai mata rani hume apne pas bula rahi hai." She was panicking now, wiping beads of sweat from her forehead.
"Have you gone nuts?" She moved her hands from her head and looked angrily at Navya.
"Hamari maa kehti hai ki jab koi marne wala hota hai na to use mare hue log dikhte hain, wo hamein le jane ke liye aate hain"
Mukti was trying to think who she wanted to kill first, Navya or her mother? Perhaps her mother was right this time. Navya's time was actually up and she would be glad to do the honours.
"So kis ko dekh liya tune? I mean kiske bhoot ko?"
"KAAABIRRR!!!!" She stuttered.
"What the f**k Navya!!!" Mukti stood up in shock and disgust. "How dare you ? How dare you joke about Kabir???" She screamed at Navya.
Navya was taken aback by Mukti's violent reaction.
"Mata rani ki kasam hum jhoot nahi bol rahe hain mukti." She mumbled meekly, mostly to herself. She turned back and found no-one at the spot where she was claiming to have seen Kabir's ghost minutes ago.
**************************************
Location: Panchgani
Why did they have to allot her last period on all 6 days to this class? For one, she would be totally drained out by the time she began the last period of the day and then this happened to be her junior most class and thereby the noisiest and the most demanding one. For them, Nandini was not a teacher, she was Nandu mam, sometimes even Nandu didi - their playmate & confidante. She was the only one they could tell their random and often nonsensical stories to, she was the only one they could demand cakes, chocolates and food from, she was the one who would post their letters to their families and she was the one who helped them with other subjects like maths and science after school.
No matter how tired they left her, she really loved these kids. It was strange how they always understood her moods. She had noticed, how despite being the rowdiest class ever, they maintained pin drop silence whenever Nandini was sad or upset. In a boarding school where children are away from their families, the bond they form with their teachers are much deeper. Nandini went out of her way for her students, especially these ones. Besides teaching them music, which she was appointed for, she often prepared something or the other for them. She helped them with their studies as well as personal problems, often staying back after school to take extra classes. When she was with them, she became one of them, they gave her something to look forward to in an otherwise directionless life. They made her laugh with their antics and warmed her heart with their unconditional love. Away from family and friends and in absence of Manik, they had been the only ones she could claim as hers.
"Nandu mam, cake kahan hai?"
Shit! She had promised them on Saturday that she will bring them cakes. How could she just let it slip away from her mind. She silently cursed Manik for occupying her head 24*7, though she knew, it was exclusively & entirely her fault.
When she remained quiet, they understood that perhaps they would have to return empty stomach to the dormitory.
"But didi you said 'Nandini promise'. Its not good to break promises, you told us."
The little boy 'Chiraag' who had asked Manik if he was Nandini's boyfriend, scolded the other boy "Wo Mam bhul gayi, tu bhi to homework lana bhul gaya tha English class mein. Mam tum kal lana cake woo chocolate and candies wala."
Nandini never went back on her words, and she didn't like it either when others did that to her, like Manik had done, break his promise. But today she had broken her own promise, albeit unintentionally. Feeling extremely embarrassed and yet touched by their kind gesture, she was wondering what to say when she saw a peon standing at the door of the class.
"Nandini madam, aapke liye ek parcel aaya hai."
Parcel? Nandini wondered who could have sent her a parcel. She hadn't received a single parcel in her 6 months at Sanjeevani.
"Thank you bhaiya, aap laye ho yahan?"
"Haan Madam, andar le aaon kya?"
Nandini knodded. The peon carried in two boxes, one big and one small, neatly wrapped and tied with colourful bows.
Nandini was surprised, but more than her, her students were amused. They all quickly huddled around the gift boxes. Red-faced, Nandini got further embarrassed. Firstly, she had forgotten to bring them cakes and now someone had sent her gifts. What should she do, the kids were curious to know what was inside but she wasn't sure. She bent down to look if there was any gift tag on them.
Sure there was 'For the big child', the tag on the small box read. Nandini quickly checked if there was one on the bigger box as well.
'For the small ones'. She unwrapped it and what she saw inside brought a big smile on her face.. Little muffins in every possible colour and with every possible kind of topping, at least a 100 of them. She pulled out a tiny note from inside 'Because your monkeys love cakes'.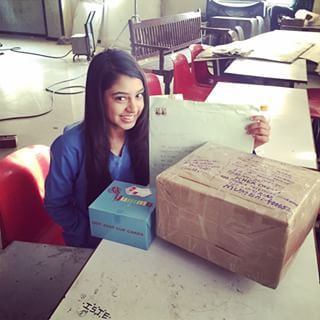 That was it. All hell broke loose in her class. They had been asking for one, now they had a treasure box full of the yummiest cakes. 20 pair of hands went inside the box at one go. Nandini took a step back and took in a deep breath.
Nandini Murthy, who always had something appropriate to say on every occasion was caught searching for words.
"Mam apna promise nahi bhulti, I told u" Dimpled Dimpy was jumping.
"I must confess bacchon ,yeh maine nahi banaya."
"Yeh aapke boyfriend ne bheja hai na? who bohot cute hai." This time Nandini didn't scold Chiraag. Yes her Boyfriend??!? was cute. Period.
Without even opening the other box, she typed impulsively "Thanks but no thanks, all I wanna say is...I looove you for this."
The bell rang and Nandini started gathering her monkeys, their muffins and her belongings. She had to rush to the outdoor stage to practice for the upcoming annual function. One minute late, and the principal would give her another worthless lecture on discipline and punctuality.
****************************************************************
Location: Pune
She must have received it by now. In fact she had. The guy he had instructed to deliver the package had called him an hour ago to inform that he had personally handed over the package at the school reception. Why didn't she call him yet? Should he text her? He started typing but then deleted the draft message.
Why should he text her? She should have at least sent a 'Thanks'.
He deserved it. He had spent three hours hopping from one confectionary to another to find the most colourful muffins. Actually he had only planned to buy the shoes, but when he woke up in the morning thinking about last night's word game, it suddenly stuck him that Nandini had not mentioned anything about baking or buying cakes. But hadn't she promised them, her tiny army that she would get them some. What if she had actually forgotten? If she did forget, he would be majorly responsible for it. The whole of Saturday night, until Sunday morning she was with him and by the time he left her, her feet were sore and bleeding.
He imagined how disappointed the children would be, especially that one... the one who had asked him if he was Nandu's boyfriend. He had to do something about it.
In case, Nandini did remember, there wasn't any harm in sending an extra bunch.
Picking up the shoe was rather easy. He went to the most expensive boutique and asked for a pair of red shoes. They bought some 30 odd pairs, each more exquisite than the other.. Stilettoes, wedge heels, ballerinas, gladiators...and a dozen more jargons that the sales lady was dropping at him along with few generously flirtatious stares. He rejected them all, much to her displeasure. As if that wasn't enough, he dismissed the girl and volunteered to pick the shoe on his own. He hadn't asked Nandini, her size. But given that she barely reached his collarbone, he could pretty much guess she would be a size 4 or at max 5. And then from the dozens of shoes on display, he picked the most unassuming one with padded soul and cartoon prints. When he asked the same sales lady, who was trying to flirt with him earlier, to gift wrap the shoes and generate the bill, She gave him a wicked smile.
Manik understood exactly what she was thinking 'this hottie has such a terrible sense of fashion!!'.
However, what she didn't understand was that "Nandini Murthy made her own fashion statement, which didm't necessary follow logic or trend, and that's exactly what drove him to hand pick a shoe for her in the very first place'.
He looked at his cell once more... still no message from her. Perhaps he shouldn't have sent the package after all !