Chapter 25
They started walking through the uneven hilly trails towards what was famously known as the Lover's point. This is where one could get the best view of the sunrise and the sunset in Panchgani. Nandini was struggling from the word go, every now and then she kind of lost her balance. Manik looked at her feet. "Nandini Murthy how dumb can you be? Don't u have proper sneakers? Who wears chappals on a hike?"
"U said 10 mins. Poha nikalke microwave karne mein 7 minutes ho gaye the so..."
"U mean U knew it and still chose to wear these because I told u to come within 10 minutes?"
She knodded.
He stopped walking. "Nandini, whatever I am going to say next, pin it inside your little brain. Life mein na always have yourself covered, koi kuch bhi kahe. Mere 10 min ke chakkar mein, what if you slip and fall?"
'Really Manik, so that's what you did, cover yourself by leaving me alone?' she thought.
"Now hold me." He extended his hand.
She hesitated.
"Mera hath pakdo Nandini, you are safe with me." He commanded her this time. She knew she was safe with him, in fact there was no other place in the whole world where she could be safer. She was only afraid, that the closer she let him come, the weaker her resolve would get. She had to dig out the truth, no matter what. She slipped her tiny hand in his.
They continued talking as they climbed their way up the hill. Finally, Nandini declared that they had reached the 'Lover's point'. The sun was just about to set and they both sat on a mighty rock, exhausted from the steep climb.
"Wow that is some view huh!!! " Manik was literally stunned. They were sitting on the edge of a hill and infront of them was a deep valley. Far ahead, there were another series of hills and the sun seemed to be playing hide and seek from behind them. The golden rays reflected off the mundane grass and the wild flowers glittered like diamonds. It was another world, far from d harsh realities of life they both carried in their hearts.
Manik took a deep breath. He hadn't felt this relaxed in a long long time.
"U like sunsets, don't u NAndini? "
"Nahi. Mujhe sunrises zyada pasand hain. Sunsets make me sad."
"Have you brought Neel here too, to watch the sunset? " Manik immediately regretted asking it.
"Neel!!" She chuckled. 'Agar sunsets dekhne ke liye paise milte to shayad woh aa bhi jata.. Aur aataa to usko yahin se niche push kar deti.life se ek tension to kam ho jata' She mumbled under her breath.
"Did u just say ssomething? " He pretended as if he hadn't heard her. Inside, he felt a tiny bubble of joy. But he wondered if she hated him so much, y did she get engaged to him.
"No no i just said i havent brought him here."
"Waise Nandini, tum dono engaged couples ki tarah dikhte to nahi ho.. "
"Jo dikhta hai woh hota nahi aur jo hota hai woh dikhta nahi"
" kaunsi ghatiya srk ki film ka dialogue hai yeh.. Totally cheesy.. Waise u b careful of him. I dont get good vibes from that guy."
"You are talking about my fiance Manik. Can we discuss something else please? "
What was it, one moment she cursed him and the next she was defending him. Why did girls have to be so complex. He was irritated. He raised his hands in d air gesturing that he was backing off. "Main nahi discuss karunga is bare mein, ok. "
"I didnt mean to hurt u.. "
He cut her off midway "Listen Nandini Murthy, Its ur personal life and I am not interested in what goes on between you two. I personally think your fiance is a big jerk, but if you feel like worshipping him instead, you are more than welcome. All I wanna say is be careful." Suddenly, he felt terribly lonely. He had no friends and no girlfriend, no one that he could claim his own. He was getting too friendly with Nandini, he shouldn't forget she was engaged to someone. He got up and started walking.
It had already started getting dark. Nandini bit her lips. He was hurt. He was hurt with that little statement of hers, did he have any clue how much pain he had inflicted on her. Did he have any bloody idea how many nights she had cried herself to sleep. Nandini got up too and started running after Manik. She kept calling him but he kept on walking without responding to her.
Anger, he didn't know where it came from but he was so full of it. He felt safe when he was angry, for when he wasn't, the world tossed him around like a puppet.
HE kept on walking back through the jungle till he could see the road. He stepped on the road and was just about to cross when he heard Nandini yell. He immediately turned back thinking she was hurt, and that very moment a speeding car passed by, missing him by mere inches. Manik stood still, in utter shock. Nandini came running, almost tripping over in the desperation to reach him.
She was a total nervous wreck, drenched in sweat and tears. Panting heavily, she was struggling to breathe.
"Are you ok? Tum thik ho?" She stuttered like a maniac, tugging at his jacket. "Tumhe lagi to nahi?"
Manik who had just recovered from one shock was about to get another. "I am ok Nandini, I am fine." He tried to calm her down.
But her tears wouldn't stop. When it finally sunk in that he was unharmed, her concern turned into anger and she started screaming "Have you lost it? Tumko dikhta nahi hai, andhe ho tum?"
"Nandini.." He tried to explain but she wouldn't let him speak.
"Gussa, har baat par gussa..gusse ke alawa tumhe kuch bhi samajh mein ataa hai? Yeh gussa na ek din tumko kha jayega aur tumhare sath un sabhi ko jinko tumhari fikar hai. Main kabse tumhare peeche bhaag rahi hun...andhe ho, behre ho?" She just wouldn't stop.
After a while her words stopped making any sense to him, he was so lost in watching her animated expressions. Her face had grown red like a tomato and her lips kept moving. No one had ever dared to shout at him and this tiny little girl was literally scolding him and that too in full public view. Should he laugh ? (nono she will burst with anger), should he kiss her ? (he was so tempted to, but that would be inappropriate).He pulled her close in a hug. Her face reached his chest and he could feel her flutter, She wanted to break away from him but he wasn't stupid enough to let her do that. He held on to her till he felt she had calmed down.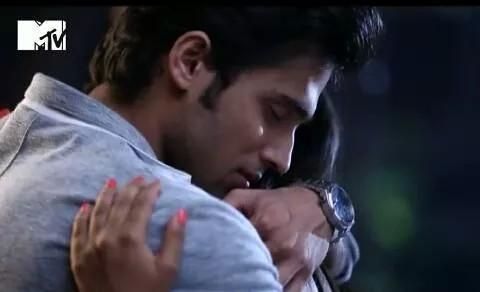 *************************************************************
I apologize for not being able to reply to each of your comments. I am eager to know how did you like this chapter, so do send in your happy, sad, angry, sweet, long, short comments. I also want to know how do you feel about the selection of images so far. Do U think it is adding to the story and makes it appear more authentic?


Edited by rk21 - 17 May 2016 at 8:52pm