Chapter 22
Friday, May 13, 2016
"So this is it haan? This is what is left of us? Wooww!!"
"Mukti... Mukti... Itna hyper hone se kuch nahi badlega." Navya cupped Mukti's hand, trying to pacify her.
Mukti pulled her hand away from Navya's grasp. "You are so damn right. I shouldn't get hyper. I should just chill, and we should raise a toast to our fallen friendship." She mocked Navya "Right??"
"No not right. Yaar tum hamari baat samajhne ki kosish nahi kar rahi ho. Waqt ke saath saath log badal jate hai, dosti badalti hai, rishte bhi badal jate hain."
"Exactly Navya, exactly, time ke sath sab change ho jate hain. Ek din jo log family se bhi zyada close the, thicker than blood..as we used to proudly claim, aaj unke paas milne tak ta time nahi hai." she leaned back in her chair dejected. She stared blankly at the people around, friends, couples and families laughing and enjoying, watching life pass by yet not absorbing anything. "How many times did u message them navya and how long had we been waiting for this day?"
"Thora waqt do Mukti..sab think ho jayega. Itna kuch ho gaya in 3 saalon mein..kisike liye bhi aasaan nahi tha. "
"Janti ho Navya, log jis FAB5 ko jante the, the terror in college, a group of badass music lovers..hum actual mein who nahi the. We were five broken kids, hum sabki apni stories thi, apne pain the jinse hum bhag rahe the and the only place we found strength and solace in was amongst ourselves. When we were alone, we were weak and vulnerable and koi bhi aake humein hurt kar sakta tha but when we were together, no one dared to even touch any one of us. Our strength was our bond, our friendship, our togetherness and today we have nothing. Once more we are broken pieces, scattered all around. Koi bhi aake can walk over us."
She continued " Yaad hai Navya, ekbar Dhruv ne gusse mein Manik se kaha tha ki FAB5 ko 'Manik and band' hona chahiye tha. He was actually right. Kyunki jab tak who tha, he kept on trying, trying to hold us together. Even after Kabir's...he tried till his very last day."
It was not often that Mukti let her emotions out. She has had her share of sufferings in life, she has been on antidepressants, she has had anger issues yet every time she turned around stronger. But that was because she had her support system, she had her buddies to pull her up from whichever ditch she fell into. She had a 3 am friend in Manik, with whom she could discuss anything and everything without a care in the world. Alya was her angel in disguise. Despite her being so nave and sweet, when it came to Mukti, Alya was like an elder sister, always keeping a tab on her. Mukti missed her and the heart to heart chats that only two bestest girlfriends can have.
Dhruv had always been the quietest of them all, but he was the only sane listener in the FAB5 madhouse. However, her favourite had always been the gullible Kabir because with him around, she could make mistakes and he would always have her back. The sense of humour that Kabir had, could turn any tragedy into a comedy of errors and Mukti in her gloomy life craved every bit of the sunshine that Kabir carried around.
It hurt her badly that Destiny had snatched away Manik and Kabir but she was more hurt because of those who remained and yet grew apart. They hardly ever met, Alya remained busy with her fashion career and Dhruv was desperate to salvage whatever remained of his. Even Nandini who had been an example all through, who had impacted all their lives, given them strength whenever they needed it had distanced herself. Only god knew why she chose that jerk. Its not like, she shouldn't have moved on. It wasn't her fault, Manik left her without an explanation but 'NEEL'? Like seriously...
The only ever person who was remotely concerned about her was Navya and that explained why despite planning for 1 whole month, she and Navya were the only two people present there while the others conveniently bunked.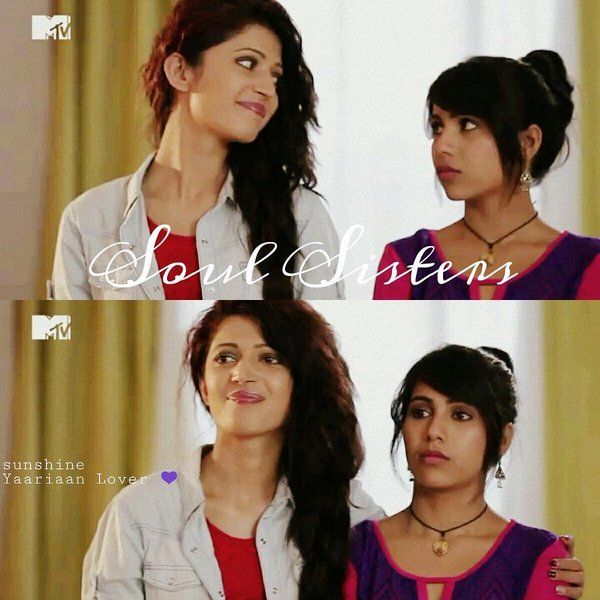 Photo Credits to the creator.
Navya took a deep breath. She pulled her chair closer to Mukti's. "Dekho Mukti tumne jo bhi kaha, sab sahi tha, par dosti ka pehla rule yeh hota hai ki chahe kuch bhi ho jaye, u don't give up on your friends. Who nahi aaye, ek bar nahi aaye, koi bat nahi, fir se plan karte hain aur agar who phir nahi aaye to unke ghar mein ghuske unko kheench ke layenge."
"Like seriously Navya? We are not kids right ki u force them to come."
"Kabhi kabhi bare bare problems solve karne ke liye baccha hi banna parta hai. Meri ma kehti hai.."
"Not again Navya..." Mukti folded her hands to plead Navya to stop her patented statement that would soon snowball into an extra large preachy discussion if she didn't stop it right away.
They both laughed. "Chal tequila marte hain..and the bill is on you RJ Navya"
"With pleasure meri Maa..waise I have planned to take the next week off"
"Why?? Tune trip plan karliya and mujhse poocha bhi nahi"
"Koi trip whip nahi hai. Bohot dinon se Abir ki koi news nahi hai.. I want to see him. Tu chalegi mere saath?"
"Neki aur pooch pooch..done."
***************************
So, my lovely readers, I had put up a poll to know how you want the story to progress..25 of you have responded and the unanimous choice is to bring in FAB5 but without shifting the focus from Manan. And your wish is my command...
But the response has been dull.. silent readers are the most dangerous of the lot. U got to send in your comments (and mind it not one liners). For all the hardwork that goes into writing a story (and trust me its a lot of hardwork), u gotta show some love. It doesnt have to be love alone, U r entitled to question, argue, criticize and demand as long as it is in the good interest of the story.
If you want PM, please add me as buddy.
Will wait for your feedback. Enjoy...