Chapter 63
So much for Nandini wanting to cook for him. The kitchen was a big mess, with the marinated chicken on one side and half cut vegetables on the other. The chopping board had become a mini pool of blood and both of them felt like throwing up. Together they cleaned all the mess. No, clean would be the wrong word, Manik just about packed everything which included the utensils , veggies and the chicken, tied them up in a huge polybag, and stuffed the bag into the trash bin. Cleaning was not even an option for him and there was no way he would even let her touch any of it again.
"Listen you are not cooking ever again. You will get food parceled every single day, I promise you that." Old habits die hard.
"I wasn't born a millionaire Manik."
"I was and you will listen to what I say."
"No I can't and I won't. I will be careful hence forward."
"Why do you have to argue on every single thing. What if you land up with something like this again, especially when I am not around."
"I promise you, I will be careful. I don't care if you were born a millionaire, the day you BECOME a millionaire in your own right, I will not cross that line there." She pointed at the kitchen door.
One more reason, why he loved her was her sense of self-righteousness. While one of the many causes he attracted women like magnet, was that he was filthy rich, but to her, it made no difference whatsoever.
"Ok miss Murthy, I get your point. Now go and get a shower, your dress is stained with blood. Agli baar se itna khoon girane ka showk ho to sign up for blood donation, at least you will save a life." He was still mad at her for the freak accident.
Nandini looked at her kurti and it gave her creeps. She had indeed lost a lot of blood. She quietly nodded and turned to leave when he called her.
"U r such a dumbo" He took her arm and wrapped a plastic around her bandaged finger to prevent it from getting wet. "Abhi bhigo deti ise.."
Every little thing he was doing for her, was only intensifying her guilt further. A part of her hated herself. But she had to live with it.
"I will order some food from outside. Hopefully, day time mein to they will have the restaurants open."
She couldn't care less, at least on her part.
***********************
She stayed longer than usual in the shower, that too under the ice cold water. This was so unlike her because for as long as she could remember, she had a problem with cold water. It gave her tingling nerves and tattering teeth. But today she needed it to cool the raging fire in her head. Anger, frustration, guilt, remorse, it was one heck of a cocktail that wouldn't let her think straight unless she found a way to drain it out of her system and she had to do it because she couldn't possibly show it to Manik and trouble the already troubled fellow.
Two days! In just two days she had given him the shock of his life, made him take her to the hospital, accused him with all sorts of hurtful words, didn't let him eat or sleep, made him stay up to nurse her, forced him to remember his painful past and finally like a cherry on top, she had had this not so small accident, scaring the daylights out of him. So much for Love, huh!
Putting on her skirt had been a cake walk but she had no idea it would be this difficult to hook this damn thing. 5 minutes, yes she had been trying for over 5 minutes and every time her plastic wrapped finger would slip away. If she continued doing this for couple of more times, she was damn sure the sore thing would break open and there would be another round of bloodshed. While personally she didn't give two hoots to either her finger or the possible blood loss, she didn't want to create another scene. The poor boy had already had enough. He deserved some peace. But then the alternative was no less dangerous and the mere thoughts made her blush cheek to cheek. She pulled a towel over her, waist up, opened the bathroom door and peeped out.
"Manik "
Manik was browsing his phone, sitting on the couch in the living room when he heard her. He walked inside to see her face popped out of the bathroom door.
"I...I..." she was stammering.
"I ke age kuch hai? Ya..." Why did he have to be such a monster? Why did he have to grab every single opportunity to tease her? Why couldn't he be sweet and cute always..
"I need help..." she blurted out.
"Yup tell me how can I help you? Waise maine order kar diya so u need not worry."
Aiyappa, how would she tell him. Why, did she always manage to land up in these honey-ish situations which were sweet yet incredibly sticky.
"I can't tie it with this finger, I need your help." That's as blunt and as clear as she could articulate it and she desperately hoped he would understand, without asking for any further explanation.
"Haan to come out, I will tie your hair. What's there to blush and stammer, dumbo?" But of course, she had overestimated his common sense. Or perhaps, all guys are certified idiots.
"Not hair idiot, tie thaaat, my finger is slipping."
He stared at her for a while, utterly clueless, till her rolling eyes helped switch on his head-bulb. "Oh thaaat" he replied, matching her tone.
As he was trying to push open the door to step inside the bathroom, he looked at her face and saw a hint of apprehension in her eyes. Though she didn't tell him anything, he could feel her awkwardness.
"Don't worry, I will keep my eyes closed." He assured her.
He closed his eyes and carefully stepped inside, one step at a time. Slipping on the wet floor and breaking a bone was the last thing they needed now. As he stood behind her with his eyes closed, he placed his tensed hands on her back. He had no clue where he was and how far his fingers would have to travel to accomplish what he had been called for. The only option he had was to let his trembling hands find their own way up. She was still wet and cold and when his warm fingers started sliding over and along her bare back, she felt she would directly turn into syrup, bypassing the jelly phase all together.
It was a torture, albeit sweet. This anticipation of what next, almost killed her. Would he grab her, would he turn her around, she forced her eyes shut and held her towel tight as if she was holding on to dear life.
Finally he could feel something other than her skin, some kind of a strap. Ok level 1 crossed, now level 2 was how to latch it blindfolded? It wasn't an easy task by any chance, not with closed eyes, and not certainly with her, like this. But when had life ever been fair and this was the price Manik had to pay for falling in love.
He did it in the 4th attempt. By then both of their breathing had become ragged. They both could feel the other's dilemma and yet there was this thin line of trust that neither wanted to cross. It wouldn't have been a crime if they had just let it go, they both were adults and in charge of their own lives. And even though Manik didn't remember, Nandini had pledged him her heart, mind, soul and body, years ago. But for reasons known only to them, they both gritted their teeth and stayed put. Manik gave a tiny kiss on a little below her shoulder before he pulled away. "Do you need any more help?"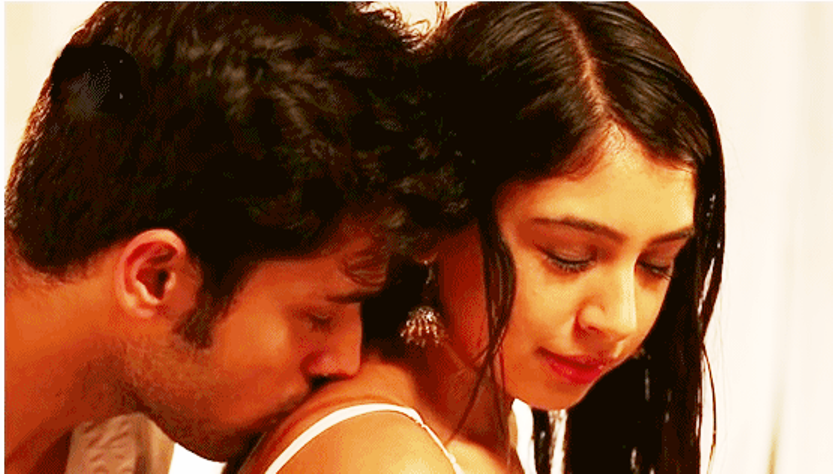 She was still trying to recover from his touch, when his kiss sent her spiraling down some unknown tunnel. But when he pulled away and asked her if she needed any more help, she was overcome by pride for her guy. He was true to his name. He was and always will be a gem. "I am all good love... waise thank you... wait outside, I will come in a couple of minutes and yes, I would need help in tying... tying my hair."
********************************************************************
She wrapped a towel around her dripping hair as she sat in front of her so called dressing table. Which one should she wear today? White to match with her white top, or contrasting pink, purple or silver...she was searching through her box of earrings when a tiny gift wrapped packet, lying on the table caught her attention. She picked it up and saw a tiny tag on it 'Bcz U R my BFF' (For those who don't know, BFF means Best Friend Forever). She hurriedly pulled out the plastic thing from her finger and with a little difficulty, opened the wrapper to find a beautifully carved box inside.
When she opened the box, she was spellbound to find a pair of platinum guitar earrings...
She breathed out to brush off the emotions that had suddenly come and surrounded her from nowhere. Her musical tie wristlet would have company now. But why had he given them to her when he had them with him since Friday afternoon?
She pulled out the towel and went running to him, as the tiny droplets from her hair left a trail behind her.
"Why didn't you give me these earlier?"
She complained first instead of thanking him. He didn't need formality, neither did she offer.
He bit his lips as she opened her palm to show him the delicate studs. He hadn't intended to leave them for her to find out. He had been hiding them from her for the past two days.
"Say na, why didn't you give these before?" She was insisting like a child now.
"I bought it for my best friend, thinking that I was her best friend too. But she already has one, so..." Oh so this is why he had freaked out when she had mentioned Navya. Poor boy, someone should tell him that he didn't need these labels. He didn't need any labels because he was special, not in a one in a million kind of special, but because he was just him, the most endearing, mad, sweet, angry, loving, sensuous, funny, teasing, helping, genuine, immature, impulsive, understanding guy ever. Because... he was her life.
"It's your fault that you only wanted to know about my best friend, because there's always something better than the best Mr. Manik Malhotra, and you are that... now will you please help me put them on and click a pretty picture?" She was way too happy. 3 years ago he was just her boyfriend, while his closest friends were the FAB4. Even though he had flaws as a man and as a lover, no one could be a better friend than him. He could go to any extent for his friends or withstand any amount to pain to shield them.
She had always wished for him to be her friend too but had never been able to tell him openly. She didn't want to intrude into their decade old friendship
But this time, he considered her to be his first and best friend before he thought of her as a lover. Aiyappa had been way too kind. She had never been happier, like never..
************************
THere will be no updates tomorrow :)
Replies:
@manepallavi: Thanks!!
@shalini16gupta: THey are already healing dear. the fact that they are together and sharing their individual share of pain and suffering indicates that they are healing.
@Yoga4life: THank you so much for your kind words. There are few readers who go really deep into the plot and are able to analyse it or reflect upon it. this also has to do a lot with age and maturity. As you grow older, the definition of love changes and then u seek for those little things. While I myself am closer to u in terms of age and maturity, the majority of my readers are way too young. And its really a big deal when despite their differences, they love this story.
I understand how hectic it must be for you. I would still request you to drop a comment whenever you can because u help me grow.
@manvilover18: Thanks
@keeprak: THanks buddy for this comment and every other comment u give , sometimes without getting a response back.I am glad I could make you cry (I am not saddist) but love is an asortment of emotions, it has its own 50 shades.And through my writing and the story, i wish to paint this rainbow.
And thanks for the wish.. Lots of love
@payal94: Thanks
@neetamandaliya: Thank you for your comment. Also for being the first few readers of all my posts
@urbabie: Thank you :) U r one of those people who have been with me since day one or two. At that time i had no readers. Its been a long and tiring journey but every bit worthwhile.
It doesnt have to be the right words as long as they are words.say anything u want to, I am all ears.
@siyaaali : What to do, part of life. But they are together for now and thats the most important thing.
@ac2000: WEll if there were no problems, there woul dbe no solution. If there were no misunderstanding, there would be no make ups. Life is interesting because it is a roller coaster, if it becomes a straight road, it will become boring. So stay tuned and keep reading.
@jesse93: Thank you my regular reader :) Love how u do drop in a comment every time, no matter how small it is. Means a lot.
@thamannamanan1:Let me tell u this today. U were the first reader to give me long comments and it continues till date. I would never forget your enouragement. U r a lot like me, U do comment, come rain or shine, as I try to do with my posts. U would always always be one of my most favourite readers, reply or no reply :)
@zyarah: Comments are never shitty dear, so please feel free to write whatever u feel like. THis story as I keep on telling you this is a story oh hope so All the wrongs atht ever happened, all the hurt and pain should come out and get healed, one at a time.Chachi will play her part and so will the rest. Just keep reading as U have ben doing so far.
@monstermanik : Thank you so much dear. both in their own rights underwent a lot of pain. But they didnt break and destiny has brought them together. I am glad i could bring their pain alive.
@rockstarlover: Thank you so much buddy
@shoana: Ok before I reply, let me just mention a few things. thank you. After thamannamanan1, you r the second one who started sending long comments on every update. You are like dessert. Until u have desert, you feel like ur meal was incomplete.Thats how I feel till i see your comment. U r also one of them who has always been very concerned about my health. I love you for that.Coming to the update,many of you fear as to what will happen when Manik comes to know of his past.I cant guarrantee you that things will be all smooth. because that will be fictional. In reality we break, we slip, we faulter, but the strength of a relationship is tested by how fast it can bounce back. continue to have faith in me. I wount leave u in d dark.
@Aashna_chawla : U r a writer, u know life can not always be smooth :) All i can say is have faith and keep hope.Let destiny take its due course.
@sabhanamh : Thanks!!
@Doyel: Yes, this story is on FB on two different pages. In all I have 600+ readers spread over IF, wattpad and FB.I havent taken much time for myself dear. I am often into run down state. the days I ave taken off is to think when my mind goes blank.Thank you for your kind compliments love. I try my level best to give u an experience, not just a story. I start writing to fill up the void that KYY s2 left and it is by no means an easy task. there's lot of other things I have to do over and above writing. Plotting, dialogues, research, searching pictures and videos and its both time consuming and exhausting. When u guys come and tell me how much u have loved a certain update, it makes my day. I am not always able to reply but I try as and when I can.
Finally, lots of love to u.
@styletheworld: Thank you !
@ashabanerjee: THank you so so much. Even though u have sent a comment after some time, guess you have more than made up for it.She was, is and always will be by his side. From time to time their love is put to test but they are meant to be together. My challenge was to start the story from a point where it was a total mess and to tie up all the loose ends into something meaningful.Theres a lot more that will come, a long distance they will cover and I hope I can do justice.I know there was a trend on twitter. From my end I have tried to approach many people from the different prodution houses involved. But I havent received any responce from anyone which is understandable and at the same time disappointing.But theres only as much I can do. I am trying to give some happiness and a much needed closure from my end, rest is for God to will and do.Keep reading and keep loving me.
@DesaiK: Yes life has been harsh on both of them
@Ananya_seth: Thanks Ananya :)
@Vaanii078: Aww, sorry for making you cry, but I guess we need to cry to be able to smile brighter. Thats how the cycle of life works.


Edited by 1_drop_of_rain - 28 June 2016 at 7:14pm