"Do you remember how many nights we have sent together till now?" Manik asked as he watched Nandini make her bed.
"I can't even begin to count" She blurted out absentmindedly. She used to dread this bed so much. It was here that she would return to at the end of the day, where all her distractions would leave her, all her pretense would fall through & she couldn't run away any more. This was where she would be left alone to think, contemplate and lament. This was where she had missed him the most and her Aiyappa knew how desperately she had hoped that oneday he would be here, on this bed, securing her in his heart and in his arms. It had seemed like a farfetched dream, like a miracle and she couldnt imagine that her dream would ever come true, especially in the circumstances that they were in. It was one thing for Manik to knowingly come back to his Nandini, but who would have thought that they would meet like this and even when he had no cognizance of his past, he would find her from among 7 billion people. How mystic was it that despite not having anything or anyone to guide him, he had found his way to her, to fall in love with the same girl he had always loved. But what if destiny had a different plan, what if he had met and liked someone else before their paths had crossed? What if he had reciprocated to his doctor? What would have she done? It scared her to the level that she felt paralyzed. Was it merely the freakiest of freak coincidences or had it been the universe's design?
"You shouldn't take extra classes in Maths because your maths is really weak Nandini, 4 and half is the answer" He proudly declared disturbing her trail of thoughts. She looked at him questioningly.
"One night in my car, one night on skype, and two nights here, on your bed" He showed her by counting on his palm.
"And the missing half?" This bed would now become her favourite place in her whole house. Every time she would lie down here, closing her eyes, she would feel him all around her. She would feel his lips, his hold, his touch & his breaths. She would imagine his smile and hear his voice. She would feel the butterflies in her stomach, the goosebumps on her skin, she would feel her throat go dry and she would feel her heart literally jump in her chest. She would feel him even after he would be gone. But this time, she would be happy, unlike the last time when she used to hallucinate about him and it always broke her down. This time she would know that he would always return.
"The missing half is for the time at the hospital, in Mumbai" He intentionally skipped mentioning that it was on her engagement night. She was his now and he didn't want to feel otherwise, not even through harmless words.
"Oh, but that's cheating na? On the skype night, you weren't physically here, so how can you count that?" She complained.
"It doesn't matter Nandini, how close or far you are. If your heart is with someone, you are there with them."
She loved how genuinely he said that and he couldn't be more right. "But if that's true, then the count should be much higher, because there isn't one night that I haven't thought of you.."
He pulled her by her waist and tucking away one of her errant traces behind her left ear, he leaned over her "how come you never confessed you were so smitten by me? You innocence is so misleading Nandini" He nuzzled her earlobe and planted a feather like kiss. She flinched in pleasure. One small touch from him was all it took to stir up all her dormant desires, just as one call of his could pull her back from any God damn precipice. She ran away before he could turn her to jelly.
"Listen this is not fair..this house has some rules" She threw her words at him as she fluttered away like a butterfly.
"WOOO rules? What rules? This sounds interesting"
"Rule no. 1 is, that this is my house and I am your host, so you wouldn't attack me like this, when I am defenseless and you know you can easily win over me."
"Ok so what do I have to do, maintain a 100 meter distance from you?"
"Oh God, Nooo, I didn't mean that"
"You are contradicting yourself miss Murthy, on one hand you are saying don't touch me and then u r stopping me from staying away as well. What exactly do you want?"
Even though he made it seem like he was totally confused, he knew exactly what was running in her tiny head but she wasn't being able to frame it in words. Manik could easily overpower her, wrap her in his arms and smother her with kisses and more. That's exactly what he wanted to do now, but he gave her the illusion of control, the advantage of leading because nothing gave him more peace than to see her beam with happiness. People love to different extents, what he felt for her was deeper than either pain or pleasure. He had found solace in her, when he had been down and out but equally, he had held on to his control, despite being just one stroke, one touch away from giving in to his temptations. He knew he had the power to drive any girl crazy and Nandini was no exception. But he wanted to guard her from his own instinctive desires till the day she willingly asked for it. And it will always be like this..he promised. She would always be safe with him, he would always protect her, from the world and if need be, even from himself.
That's what she wanted, she wanted him to cover for both of them, because she knew she could lose it. It was tough, especially with their electrifying chemistry. There would be slips every now and then, but he would manage.
"I don't know what I mean, but I know, u know what I mean, so figure it out mr. MnM slash coconut tree slash teddy bear. And btw, today's plan is stay at home because I wanna make enough memories to last me 5 days till u return."
"Oh...so u presume I will come here every weekend? What if I don't?"
"You don't know me well enough, I will be at your door step in Pune"
"What rule no. 2?"
"Rule number 2 is you are only ever allowed to love me. Even when I am mad at you, or I am at my absolute worst, you cant walk away. You have to deal with me any which way, but U can't leave, or u can't go to anyone else. You have brought this upon yourself and now you are imprisoned." Oh, how he cherished this one. If only he could tell her that he didn't have the slightest intention of leaving her, because she was 'HOME'.
"And because you have two rules, I should have one as well" Nandini squinted her eyes. She had not bargained for this. Only she was supposed to set the rules and he had to follow them. That is what 'justice' meant in her part of the world!!! :)
"Ok, but i will decide whether to grant it or not"
"Whatever!!! My rule is that i don't follow rules" Even though he had said this just to tease her, Nandini knew all too well that Manik Malhotra indeed didn't follow rules. He set his own rules for the rest of the world to comply.
"I know, i know but guess what, you would still listen to me, because you love me and u can't see my loosing" by now he was sure that this girl had a secret pact with his heart.
******************
"Tell me something about your family" She was chopping veggies, she wanted to cook chilli chicken n noodles for him. She knew he was a foodie and for last few days he was only surviving on stale food and sometimes not even that.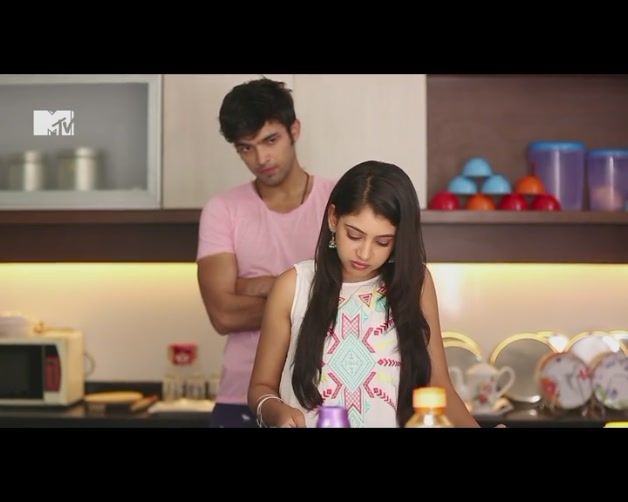 "We that is my parents, me and my brother used to live in the US where my dad was working as a scientist. When i was 12, one day we were going somewhere and our car met with an accident. Mom n dad... Well Rishu and I returned to India and were staying with my grandma in Mangalore. Rishab had lost the ability to speak after that incident and when I finished school, my uncle and aunty who live in Mumbai insisted that we come down to Mumbai for Rishab's treatment. That's where I did my college from. Apart from family, I have two very important people in my life, Navya my best friend and..."
"And?"
"And... you.." Though he was feeling bad for her and her brother, he couldn't stop a smile from crawling up his lips. She made him feel special in a 100 different ways. Even though it was childish, he felt a tad of jealousy for Navya... If only he could be her best friend, the way she was his. He gently hugged her from behind.
"And what else do you like apart from music?"
This was so strange and funny, when the first time they had fallen in love, it had started with hatred and they had never had the chance to know each other until much later into their love-hate-love relationship. Their second innings too had begun on hatred (at least for her) and it was only after falling in love that Manik was trying to get to know her.
"I love photography, I like writing poetry and I like cooking."
"Wow, that's impressive"
"Hold on, bring my cell" she ordered him as her hands were dirty.
"Unlock it" He gave it to her.
"I can't. Do it, the password is 'MaNan4Evr' and open the gallery." She said it casually but it struck him. Was it for them, did it mean them? When did she do it? Little did he know that her password hadn't changed in over 4 years. He kept quiet. There were so many things they spoke about and yet there were so many other things about her that he discovered in silence.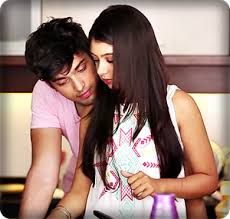 "Keep on swiping, till I ask u to stop" He did as she told him, he kept on swiping pictures, she in her pink and red skirts, the school function and so many other photos when she finally asked him to stop. Oh that was him. When had she shot him?
Manik leaned against the wall to take a better look at his photograph. It was from the day she had taken him to experience the sunshine. He had never known She had clicked him and clicked him this good. It could easily be one of his best shots ever.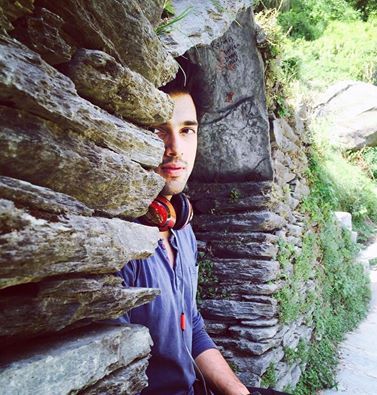 "I must say, you are a damn good photographer Nandini"
He raised his eyes to see why she hadn't responded to his praise and found her almost ogling at him like a star crossed admirer.
"What???"
Sometimes Nandini Murthy kept aside all her wisdom and goodness and became a regular silly girl. At such times, she couldn't help ogle at her extra-hot boyfriend and drool over his totally drool worthy features. He was wearing a simple t shirt and his hair was all messed up but even so, he looked so delicious, she could as well eat him up.
He could give any damn actor a run for his money, could make any damn girl go weak on her knees. What had he seen in a simpleton like her.
"Nandini???? What are you staring at??" He shook her.
"I need some air, its way too hot here!! She started fanning herself animatedly." Manik was perplexed. It was pleasant, infact a little chillier than other days.
"It should be punishable to be this hot" She said rolling her eyes at him "And then they say, the girl is so shameless, huh!!!!!" Manik Blushed!!! For the second time.
*****************************************************************************************
Author note: So super long update huh! Do let me know if you liked it or not. So hence forth I am going to take a break for a day every 2-3 days, whenever i feel ideas drying up. I know this is sad and hard for you guys, but I have realized, when I continue writing at a stretch, my brain becomes barren and the quality of writing nose dives. So whenever I feel like I need to stop and breathe in I will do it. (only for one day) and I will let u know in advance so you don't wait the whole day.
One more thing is, not all updates can be about MaNan or can be about their love, there will be other flavours too. I know you miss them, but this is kyy s3 so it will be about each one of them. If I could, I would have included a manan portion in each update, but thats not always feasible given the length of the update or the direction of the story. Also there will be twists and turns along the way. I hope you wont bash me for the same and have enough faith in me to walk along till the very end
The comment problem is sorted I believe so comment as and when u like :) Happy reading and happy weekend folks.