Chapter 21
Nandini hadn't imagined she would be back here oneday. This place brought back so many memories, some good, some bad, some indescribably happy while some had been heartbreakingly sad. She had detested this place when he used to call her his 'Spot' and force her to run errands for him but then it was here only that she got the first glimpse of the real Manik, the one he carefully hid under his monstrous mask. This is where they had felt the first flutters of love, This is where they had fought and made up, cared, shared, laughed and cried. This is where they had spent their Holis and Diwalis.. This is where the stars and fireflies had witnessed their union, when she became his - in body, heart and soul, and this is where she came every single day for months after he was gone with the hope that someone would tell her where he was. She had begged, cried and yelled but no-one had showed her any mercy. The last time she came here, she was mad at Nyonika for having targeted her chacha. And that was the day she had decided never to return.
But life has its own plans and seldom do we have any control over them.
If not exactly happy, at least she was relieved to be here today in his presence, to know that her Manik, no not her, JUST Manik was alive and ok.
She was a little skeptical that the staff would recognize her, given that they all knew she was the special one for him but to her utter surprise she saw a completely new set of faces.
They settled in the living room near the cellar where Neel got himself a drink. He offered one to Nandini but she refused. On any other day Manik would have readily joined in but today he preferred staying sober.
They got talking. Manik was much less inhibited today as he freely spoke about his last three years in bits and pieces. It wasn't much but for someone as intelligent as Neel, this was enough to draw a rough sketch of Manik's immediate past. He remembered how guarded Manik had been during the flight, perhaps it was the Nandini effect that was making him speak so much today.
Nandini listened intently. She knew Manik never played to the gallery, he was not one to exhibit his pain to gain sympathy. She knew that even though he spoke more about the places and people in Europe, than his time at the hospitals, he had been through a really hard time. There were times when she wanted to just walk up to him and hug him for dear life.
All this was so complicated...to feel something inside and express something else on face, to act as acquaintances when in fact he was her whole world. Y couldn't she just hate him for what he had done to her and her family. Y did her heart ache at the very mention of his pain.
She took a deep breath. she would have to keep her emotions in check. Besides she was someone's fiancee now. OH, why on earth did she sign up for this torture. But she didn't have an option did she? Chacha's career and prestige was at stake and only she could save it by giving in to Neel.
Neel was already inebriated after 5 pegs of Vodka. "Have u made any friends yet ? " His words were almost jumbled.
Manik answered looking at Nandini: "None other than her."
She smiled..
"Great" Neel smirked. "Then she can show you around Mumbai and even Panchgani." Then he turned to Nandini "Promise me Nandini, you will take care of my friend in my absence. He is alone here. Take him to Panchgani, he will like it.." He couldn't even finish the sentence before he collapsed on the couch.
Nandini could see right through his apparently sweet remark. He was actually trying to set her up with Manik. Considering that Neel had no knowledge of her past with Manik, he was trying to set her up with a guy just for one of his ulterior motives. How low could this guy stoop? However, she didn't complain cz whatever his reasons might have been, he had actually done her a favour. She needed to spend more time with Manik to dig out the truth.
"Seems he has completely passed out." Manik checked on Neel. "I think we should just leave him here"
Nandini : "No, I think you should arrange for someone to drop him home. He has a flight to catch tomorrow afternoon to Zurich."
Nandini wrote down Neel's address and Manik sent his driver to drop him home.
Nandini: "Its quite late, I must leave too"
Manik replied reluctantly "Ok, come I will drop you."
Nandini:"No No I will take an auto."
Manik: "Miss tipsy we can keep this argument for another day, its 11.30 and I am dropping you home. Besides I am sober, unlike ur waste...er wasted fiance."
Nandini raised her eyebrows. No point arguing, he wont give in today.
"Can I use your washroom before we leave." She asked
"Sure"
Even Before Manik could direct her to his room upstairs, she had started walking up the stairs.
30 mins later...
She had still not returned. Manik thought if it would be appropriate to go upstairs and check what took her so long. HE decided not to but it was getting late and her parents would be worried. He finally went up and knocked on the door. The door wasn't locked. He peeped in and saw her standing near his bed. He knocked once more but she didn't respond. He pushed the door and walked in.
"Nandini" he called. "NANDINI" he shook her.
Surprised and scare, she turned around and collided with Manik.
Manik: "Ouch..that hurt. Kiske khayalon mein khoyi ho Miss Murthy? Kab se knock kar raha hun, raat yahin guzarne ka irada hai kya?"
Nandini was a little embarrassed. "Nahi, jana hai na ghar. BTW Ur room is nice but yahan tumhari koi bhi purani pic kyun nahi hai?"
Manik:"Exactly!!! Miss murthy, the day I returned, mera bhi yahi first reaction tha. I mean look at me, I must always have been a star and some one actually had the guts to move my iconic pics...how hopeless" He started smiling. "Well when my mother returns, I will ask her whats going on here."
Nandini: "Mother!!!!"
Manik: "????Aise drama queen ki tarah kyun over-react kar rahi ho?"
Nandini: "nahi kuch nahi.. Lets go.."
Manik: "Haan to main to kabse bol raha hun...u girls and ur drama..!!"
In the car...
Manik: "Waise tumhe kaise pata mera room upar hai.. I mean itne bare ghar mein mera room kanhi bhi ho sakta tha na."
Nandini was thinking what to say "U r right, how would I know.. I just went upstairs and it happened to be ur room."
Manik: "Oh..that was a stupid question, wasn't it."
No, it wasn't at all a stupid question Manik, she thought.
Nandini: " Acha mera Address note karo GPS mein."
Manik: "I don't need ur address, just like you know my room, I know your house."
Nandini was stumped. "Tumhe yaad hai?"
Manik: "Of course yaad hai."
Nandini: "Tumhe sab kuch yaad hai?"
Manik: "Address to nahi par location zaroor yaad hai, abhi ek hi week pehle to gaya tha tumhare fiance ke saath."
Nandini gulped. "Oh, tum address ki baat kar rahe the.."
Manik: "Wht do you mean? Kuch aur hai kya that I need to remember? Miss Nandini Murthy, kya chupa rahi ho??"
Nandini: "Shut up MnM...waise us din, TUM aaye the Neel ke sath?" Her heart was right then, it had told her..told her that he was near but she had so vehemently refused to believe...
Nandini asked Manik to drop her a little ahead of her home. She didn't want chacha or chachi to see him. He complied.
They both got off , she bade him goodbye and started walking towards her home.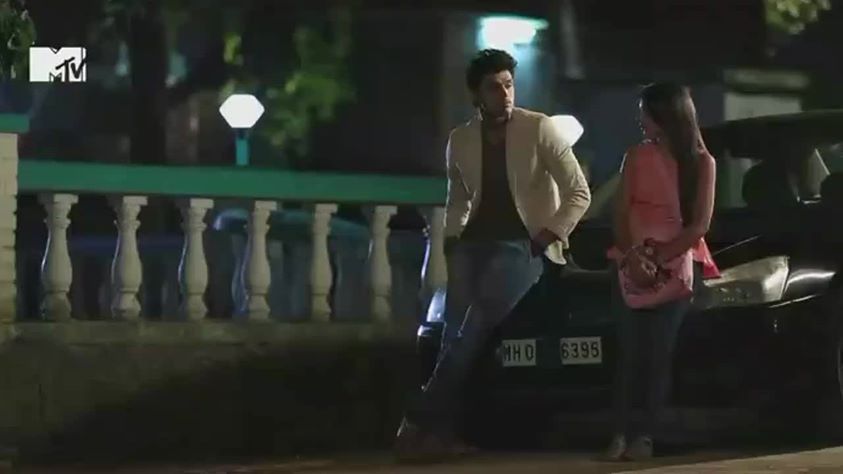 "Miss Murthy" he shouted.
She turned around.
"When are you taking me to Panchgani?"
She smiled. "Next weekend... And I have a name."
"Bye Nandini" he said. 'Bye Doll' he thought.