Chapter 56
He put her down at her request. "Manik I am sorry" she held both his arms and tried to study his face because he wasn't speaking up. She had been both a target and a witness to his uncontrolled rage, way too many times in the past. She could tell from her experience, this wasn't anger. He was lost, and terribly hurt. Yes, this was his plan, and he had prepared himself to face her wrath so that SHE could release all her stored anguish but he hadn't expected her to not trust him. He hadn't expected her to call him selfish or to question his very intentions for her. She had shaken him from within.
"Maaf kar do na please, jab tak tum mujhe maaf nahi karoge, I wont leave from here" her pleas sounded childish, even to her own ears.
"Nandini, I think we should go home." His voice was so calm and yet so authoritative, it scared her.
"Manik!!! " She tried to plead one last time.
"Let me carry you, I don't want your feet to bleed like last time." She figured, he had pretty much made up his mind and there was no way she could change it. She had never liked his anger, but between anger and sadness, she would always choose the former for him, for whatever he didn't spew out, stayed inside and continued to corrode him like acid.
She gave in and he swept her off her feet once more, but in the process, he hurt his hand and winced in pain. The same hand that she had banged against the door of the car and had not cared to check upon even once and yet, despite being in agony himself, he had responded to her very first cry of pain. She had thrown away her red shoes, his very first gift to her, the one's she had so carefully treasured so that she could proudly wear them when she was with him. She had thrown them away so mercilessly... She didn't even want to place her in his shoes and imagine how she would have felt if he had thrown away her guitar with as much hatred. How would she make it up to him? How would she give him back the confidence, her mean accusations had robbed him of ? She felt smaller than usual in his arms, against his generosity.
However, what neither of them realized, was that, anger was not the only emotion, Nandini had piled up inside her. It was not the only thing causing her progressively deteriorating health. She had been unknowingly holding on to an equally enormous amount of resentment and insecurity, which had made her bitter and turned her into a coward; which is why she had almost given up on Manik, before he appeared out of thin air one fine day. This is why she found comfort in Panchgani, away from her friends & family. This is why she had never been able to stand up to the jerk Neel or take charge of her own life.
And all the while that she was thinking that she was healing Manik, it was he, who was unknowingly sealing her cracks, one at a time.
It was late in the night when they reached home in absolute silence. A packet was lying infront of the entrance door. Nandini was surprised. If Manik was here, who else could have sent this? Could it be Neel? She was going to pick it when Manik stopped her and picked it himself "That's mine, don't bother." She was taken aback.
She unlocked the door and walked inside and switched on the lights. But where was he? she turned around to see him still standing at the bottom of the stairs, lost in thoughts. She immediately ran upto him and hugged him. "You are not leaving, are you?" she was afraid he would leave her once more. Her heart started beating fast.
"No, I am not" No matter how hurt he was, he wouldn't leave her to fall sick once more.
She sighed in relief and pulled him inside.
He settled on the couch in the living room while she went inside to change. He was doing something on his mobile when she tiptoed infront of him.
"Mujhe bhook lagi hai" she said. He looked up at her innocent face and guilty eyes. He recalled how she had been excited about their lunch outing and yet at the restaurant she had merely finished 5 spoons full of soup, leaving everything else untouched. He nodded and followed her to the kitchen. She brought out the food from the fridge and warmed it in the microwave, while he looked on at her.
"Dekho na, hum kanhi bhi jayein, ghum fir ke wahi kaka ki tapri pe hi lautna parta hai" She was smiling and trying to initiate a conversation with him. He had been silent much of the evening, only ever replying in one liners. She brought out two plates and served the food.
She started eating but he was only fiddling with his spoon. "Tum kyun nahi kha rahe ho Manik?" She asked. He had not even had those 5 spoons of soup.
"Tum kha lo Nandini, I don't have much of an apetitite."
She couldn't swallow another bite and within minutes he noticed fat drops of tears rolling down her cheeks. Without speaking a word, he pulled her plate and fed her one bite. She ate it like an obedient child. In turn, she tore a piece and brought it near his lips. He looked at her, looking expectantly at him, as if whether he accepted the food would determine whether she will smile or cry the next moment. He didn't protest.
"Now go and sleep" he told her once there were done with dinner. She reluctantly left. He switched off the lights and cuddled up on the couch. He had merely closed his eyes when he heard her voice. "Mujhe neend nahi aa rahi hai"
Exhausted, he somehow pulled himself up. "Is the pain back?"
She nodded.
"You wanna listen to music, it will relax you." He followed her to the bedroom and was about to play the music on his phone when she asked him "Will you sing for me?"
He couldn't refuse. He pulled across a chair and started singing this song.
Song link >> HERE
She closed her eyes as his soulful voice wrapped her in his soothing embrace. If only, she could bury herself in his chest. Memories started playing across her mind, pulling her to their happy carefree days. If only she could bring back that time. She was with him, he was just a feet away and yet it felt like there was one whole universe between them. If only, she could bridge this distance and find a way into his heart. She had, last night, but she had lost it today and the door to his heart appeared to be closed for good. There was so much pain in his voice, the words she felt, someone had written just for the two of them. And even though she wished for it to never end, it eventually did and he got up to leave.
In so many other ways, he was a different man. Those three years he spent alone in Europe, away from his toxic mother, in excruciating pain & sheer uncertainty, had transformed him into someone wiser and calmer. Even though he was still impulsive, insecure and possessive, he no more allowed his rage to blind him like before. He didn't allow his darkness to claim his relationships or his mad fury to scar the people around him.
And yet when it came to her, he was still the same Manik who's need for her was still, just as carnal as it was divine. Years ago, he had once told her , that he could happily jump off a building if she asked him to. She had shrugged it off at that moment, only to understand eventually that he had meant every single word. He could both kill and die for her... He hadn't once uttered the three clich words and yet showed her that no one could ever love her more, in this whole wide world.
She had always loved him, but he had earned her respect today. She had always looked out for him, but she would look up to him, from this very day.
She held his hand. She didn't want to let him go, but she couldn't force him to stay either.
He turned around when he felt her hand pulling him back. It was dark, but even in the darkness he saw her sparkling eyes. "There is not enough space for the two of us here. I am right outside, any time you need anything just let me know. Ok?"
"Don't go na...please"
"Nandini..."
"I need you, please stay here."
He moved on the bed, next to her as she curled up against him. In the silence of the night, they could feel their breaths talking to each other. Nandini was so glad she didn't have a big bed, at least she had an excuse for snuggling up to him. Her fragrance was so intoxicating, it was driving him wild. The softness of her skin rubbing against his, her warmth..her toes curling under his legs, he was having a hard time retaining his sanity. Had it been another day, another happy day, he wouldn't have been able to control himself.
"Is it still hurting?" He whispered in her ears.
"Hmm"
"Gimme a minute" he got off the bed to bring something. When he returned to the bed and settled next to her, she felt his fingers moving over her abdomen. She wouldn't stop him, whatever he meant to do. She expected his hold to tighten around her waist as he always used to do. Instead, she felt a sudden comforting warmth. Where on earth had he managed to find a heating pad from? This guy, her guy never ever failed to surprise her and every time she thought she couldn't love him more, he gave her a reason to defy herself.
He pulled up her top a tiny bit to give a hot compression on either side of her cramped abdomen.
She moved closer to him, as if she wasn't already close enough and with her finger, she started doodling something on his chest, over his shirt.
"I would never understand what you are trying to write, if you do it over the shirt. Your finger is slipping." He whispered in husky voice.
She didn't seek his permission, he didn't wait for him to lead her, she unbuttoned his shirt and doodled the same thing again, this time on his bare chest.
He smiled because he was feeling ticklish. "I LOVE YOU TOO" he said.
She doodled something more.
And he kissed her, with more passion than he thought he could contain. After all, he could never say no to her.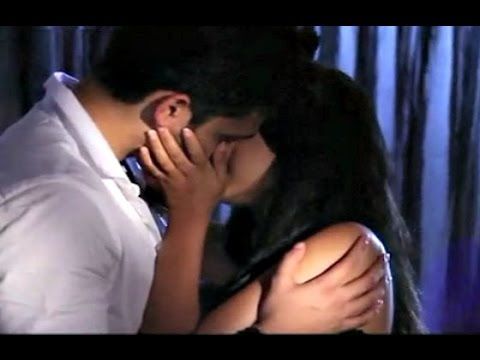 Edited by 1_drop_of_rain - 21 June 2016 at 5:13am