Chapter 55
The hilltop restaurant was an hour and a half away from her home. It was already past 5 in the evening. Two more hours, she would have hold her tears back. She wouldn't cry in front of him. She had already made a fool of herself, laying her heart bare to him, only to be trampled over one more time. Despite having suffered three years of hell, she had dared to trust him, she had fought with herself to prove him innocent. She deserved this, she absolutely deserved this!
The silence in the car was deafening, and it bothered him more because he remembered how she had been playing random songs in the afternoon and giggling like a child. He felt guilty.
One moment could change so much. One moment from the previous night had brought them so close and one moment today had pulled them apart. She appeared to be nothing but a stranger to him, who refused to look at him even by mistake. He knew it was not anger but raw pain, he knew because he had tasted it, he had let it run down his throat and burn his insides. But sometimes, the only thing that can cure pain is pain itself.
She was quiet, deadly quiet. Any moment now, her restraint could break & her strength could crumble.
It had become dark outside. More than two hours and they were still on the road. She hadn't noticed earlier because she was not in a sane frame of mind. But now it was obvious, he had taken a detour. Did he have more to reveal? But what would he break this time? Of course, not her heart because it was a powder now. She would never have come in his car, had this been Mumbai. But she didn't have a choice here.
The car screeched to a halt and Manik got out. He opened the passenger's side door and softly asked Nandini to come out, extending his hand. She looked at him with disgust and pushed his hand before stepping out. She saw his hand hit the door and make a light thud. She closed her eyes for a brief second but then walked straight, not turning back to check if he was hurt.
"Do you know you cute you look when you are angry? Like a red tomato, the red on your cheeks matches the colour of your skirt and your shoes." She couldn't believe he had the guts to laugh at her. How insensitive could he be? Was this the Manik she had known and loved? He had become a MONSTER again.
"What's the problem with girls? There she is jealous of you and here you are fuming in jealousy. It's so funny that it's not even funny. Look at you flaring nose and those fat tears sitting at the corner of your eyes." She was continuing to walk ahead and he was following her. He grabbed her hand to pulled her close to him. "Nandini, I am talking to you, just listen ok." She jostled out of his grip.
"How dare you compare me to her, Manik Malhotra? I don't need you, I don't need you or your dumb shoes." She bent down to take her sneakers off and threw them away with as much force as she could gather. She was trembling now and her tears were falling thick and fast.
He broke into a laugh. "So much anger? Nandini Murthy? Where in your tiny body had you hidden it? I didn't know I affected you so badly, that you felt so deeply for me. I asked you in the morning but you said nothing."
That was it for her. She could bear no more humiliation. She was crying now. In broken sentences she yelled at him "It is always about you, isn't it Mr. Manik Malhotra. Your life, your choices, your needs and your wants. You make friends when you feel a void and then you throw them away when you don't need them anymore. You make people believe that you care for them, that you can do anything for them and then you humiliate them and laugh at their feelings? You make people promise to stand by you when you are lonely but when they are lonely, you desert them. You knew what I felt for you, because I don't kiss around every Tom, Dick and Harry and yet you chose to kiss me so that you could make fun of me like this. You are so disgusting. You are a monster. I don't want to see you face, go away!" Her whole body was trembling and her face was burning with rage. She couldn't remember ever having an outburst like this, not in the last 4 years.
A sad smile spread on his lips. "Yes I only care about myself, I am selfish and I am a monster. For those three hours that you were inside the emergency ward, all I thought about was myself. I was only thinking about where to go, whose door to knock if I didn't see you again." What was he saying? Where did the hospital come in between? She tried to calm her throbbing nerves to make sense of whatever he was uttering. "Yes, I was only worried for myself when the doctor said you were hiding a lot of pain inside that had to be taken out, to save you from spiraling down. You needed an outburst to heal the wounds that you have permanently hidden under your smile. I was worried because I can't dare to lose you." He wiped his eyes.
"I don't believe you anymore...I don't know what to believe in anymore, thanks to you."
"I can see that."
"Yes, you should see and put it inside your stupid brain."
"But you know the funny thing Nandini, I had a plan B and plan C because I somehow felt you wouldn't believe me, that you would laugh it away. I thought you actually knew me better than myself because somehow, you always had the answers to my questions even before I asked. I thought you knew that I was always a loner, despite hundreds of girls falling all over me, till you walked in my life. I thought you knew that I felt safe with you because you and only you had the power to hold my hand and drag me out of darkness. I thought you knew that with you, I could overcome my fears." He stopped to breathe in.
Her tears had stopped as she stared at him dumbfounded. "I thought you could read my eyes. I thought you felt my helplessness when I wanted you to promise that you would always be my side. I thought you knew I loved music because you gave it to me." His voice was breaking "And because you are the one who told me to always listen to my heart, I thought you would listen to your heart, and not let 30 minutes of hollow words overpower countless moments, filled with words, silence, music, love, yearning and care...I thought you trusted me and would come around like I had. I was prepared to fail but I am glad I didn't. At least you will be better now and yes all I care about is myself."
She was no more sure who owed an apology. He was right but how would she tell him that she too had paid a hefty price for trusting him. That she had forgiven him for a crime, the world held him guilty for. But he was right this time. She opened her mouth to say something but he gestured her to hold.
"I am not done yet. She, the doctor was indeed head over heels in love with me. But as you have yourself certified, I only care about myself, I don't give a shit to what people feel for me, you see I rarely slip." He looked straight into her eyes " And I don't kiss around every girl that crosses my path and no one told me how to take care of a girl in pain, I googled."
He had started to walk back towards the car. She ran after him, barefoot and she noticed how a swarm of fireflies surrounded from nowhere. "Manik!!!" she screamed as a sharp stone chip pierced her foot.
He turned around to see her stumble and without much of a word, picked her up in his arms. Both had tears in their eyes, for and because of each other. She cupped his cheeks and whispered "I am sorry, I am so so sorry", planting a kiss on his forehead.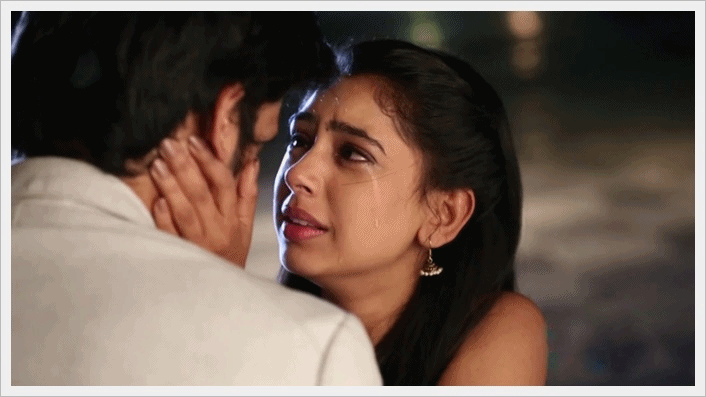 SONG LINK: Here


Edited by 1_drop_of_rain - 19 June 2016 at 6:27pm