"Nandini" He held his hand as she was getting up. "Tumhe kuch kehna tha ?"
"About what?" She asked, bent over him, her long tresses touching his face.
"About anything...about yesterday?" Her actions had spoken louder than words yet he longed to hear it from her, he wanted to see her blush for him, trying to look away from him. He could do it every single day of his remaining life and still want more.
"No nothing.." He noticed a shadow of a smile that she brushed aside even before it could touch her lips.
"Are you sure?" he lingered.
"Leave me Manik, let me make some breakfast... and there's nothing I want to say." She freed her hand from his grip and turned towards the kitchen.
"Then I have something to say." Manik said loudly and her heart skipped a beat.
"What?" She asked, facing away from him. Would he? After 3 years, her ears were dying to hear it in his live voice. Only she knew how many days and nights she had spent listening to his recorded voice. At times it felt like yesterday, at times forever.
"Laters" He got up and followed her to the kitchen. "And by the way, you are not cooking. Just because you are a little better at the moment, don't act as if you are ready to run a marathon. I am so done with hospitals, I swear I am not going to take you to one again, so u better take care of yourself." He overtook her and opened the door of the fridge "There's enough food her for 3 meals, but for now let's manage breakfast and we can have lunch outside..." he paused "provided you are up for going out."
"Yipppeee!!!" She squealed in joy. While she was wise beyond her age, her heart was still stuck at 15.
They ate breakfast watching Tom and Jerry cartoons on her laptop and they both rolled, sometimes on the floor, sometimes on each other, laughing.
When we are with people we love, even the most mundane chores, the plainest of things become extraordinary. How badly she had missed him. Now when she thought back, she wondered, how had she actually survived? But she was thankful to herself for dragging herself till this point. She was eternally thankful to her Aiyappa and Navya.
Nandini took time to dress up. She chose a white crop top and a pink floral long skirt. With a childlike excitement, she twirled infront of Manik, asking for his opinion. This was the first time Manik had seen her in anything other than a plain kurti (except for her engagement night, which he anyways didn't want to remember) and she was literally looking like a doll. He couldn't remove his eyes from this adorable girl. She asked him to take a picture of hers and when he obliged, she almost snatched the phone from him to check herself. Then, much to Manik's surprise, she nodded her face as if to disapprove her choice and went back again to change.
When she emerged, Manik noticed that she had changed her skirt, from the pretty floral pink to a plain red. He liked the earlier one more but he didn't mention it to her. This time too she twirled and asked for a photograph. Even though she was taking forever, Manik was enjoying it.When she looked at her photograph this time, she smiled.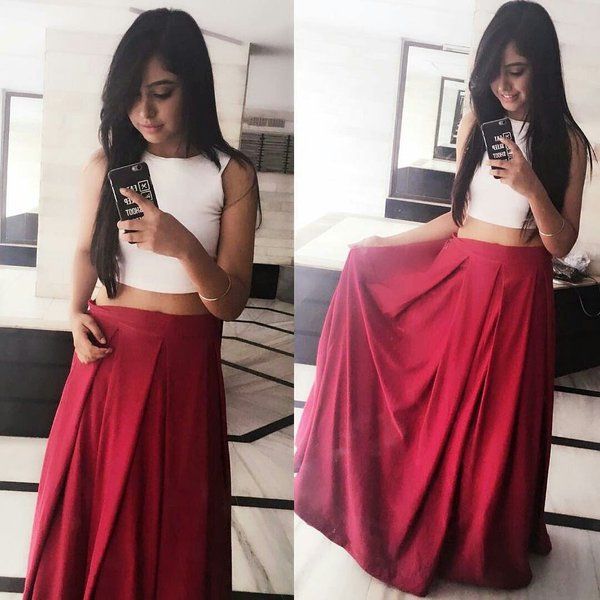 Just as they were about to leave, Nandini took out a pair of shoes from her tiny shoe closet. Manik noticed that these were the same pair of red shoes which he had gifted her. In all honesty, the shoes were a misfit. She should have worn heels or sandals but she chose his sneakers.
These little unspoken things that she did spontaneously, made him love her more. Now he understood why she was happier in the plain red skirt. He smiled and extended his arm for her.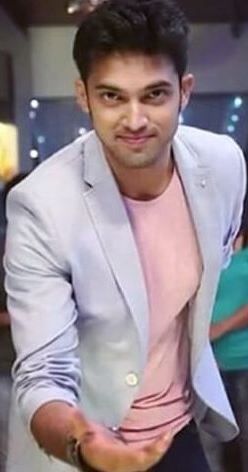 He took her to the posh hill top restaurant. All along the way, she was happily chirping and playing songs on the car's sound system.
Nandini was busy slurping her chicken mushroom soup, after having spent 2 whole hour checking out every possible angle from the glass paneled rotunda balcony of the restaurant and taking uncountable pictures, when he began "Woh you were asking na, what I wanted to say about yesterday?"
She looked down, deliberately avoiding looking into his eyes.
"Please don't mention anything about yesterday night to anyone."
"Why?" she asked, slightly surprised, her gaze still fixed at the bowl of soup in front of her.
"Agar meri girlfriend ko pata chal gaya to fir se jhagra ho jayega, bohot mushkil se manaya hai you know."
She looked up at him and smiled. "I know you don't have a girlfriend, so don't play these tricks on me, ok?" She started sipping again.
"I don't blame you, we know so little about each other and I didn't want to tell you, to be honest. But after what happened yesterday night, I feel I should clear the air before it's too late."
Her face was changing colours. She started fiddling with her spoon.
"What do you mean, after yesterday night?"
"U know, the kiss and all? I mean it is not a big deal, but I just wanted to make sure, you don't get any wrong signals, you know love and all. I know you are an intelligent girl, you know love doesn't happen in 15 days...still, girls get swayed away with a little care."
"Manik, listen I am not liking this at all. If this a joke, its not funny, please stop." The beaming glow of happiness she was wearing since morning was fast fading as she was turning more and more pale.
"Why should I joke with you, infact I should thank you, its because of you, that she is back in my life."
She didn't utter a word. This was news to her and she felt the earth slipping away from under her feet.
"She is a doctor, my gf, one of the doctors who treated me in Switzerland. She was head over heels in love with me and even though she is hot, I wasn't too keen in the beginning, you shouldn't risk infuriating a doctor. Kya pata kab galat treatment maar hi dalein" He was trying to add some humour to break it lightly to her. "We had some misunderstandings and isiliye main naraaz hoke India aa gaya tha, but yesterday when I saw you lying unconscious, I did not know what to do and In panic I called her. It was her, who told me what was wrong with you. How else do you think I was taking care of you, it's all from my experience with her. But when I mentioned about you, I think she felt jealous and asked me to give it another chance."
"No I don't believe you Manik Malhotra." She had stopped eating a long time ago. An entire assortment of delicious food lay untouched on their table.
"Why don't you believe me?"
"If you had a girlfriend, why did you say I am your first friend?" She hadn't given up yet, she wouldn't. He was trying to play a game with her.
"Yes, I still say it, you are my first friend in Mumbai, in India."
"Why did you spend so much time with me? Why did you come running from Pune to ask one question? Why did you help me every time I landed in trouble, why did you leave in anger yesterday and why did you come back to take me to hospital?" he stopped to take a much needed breath. She was feeling claustrophobic.
His phone rang and he excused himself to take the call. He didn't wait for her to finish.
She saw him leaving the table and take the call from a corner of the lobby which was at the other end of the lobby yet in her direct view. He was doing a video call and was so engrossed that he didn't spare a single look in her direction.
Her heart was sinking. She was holding on to the last bit of hope. She was eager to know his response to her questions which he had left unanswered to take a GOD DAMN call! But she dreaded hearing something she didn't want to. Fate better didn't play a game with her again.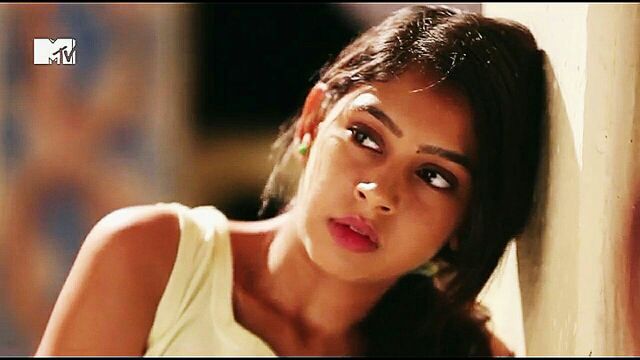 He returned 10 minutes later with a smile on his face. "It was her" and he showed her a photograph of a girl wearing a doctors coat, with a stetho hanging from her neck, kissing him on his cheeks, while he appeared to be in a patient's attire.
"You didn't answer me Manik" She was cold like ice, her voice betraying her inner turmoil.
"I would be honest with you, when I left zurich, I was on a rebound. I was alone and you filled the gap, perfectly. And I didn't feel like I was doing anything wrong because you too were in a similar situation thanks to that asshole fiance of yours. So in a way we both did the same thing. And irrespective of my relationship status, I care for you. You have been an incredible friend and support to me. I don't want to lose you ever...AS A FREND..You tell me, if you had seen me lying sick, wouldn't you have done the same?"
Why the hell did she giggle like an idiot all morning? Why did she dress up for him and come here? God, what was she doing? She just wanted to be buried in the soil or drown in the river.
"And the kiss? That was also on rebound?"
"I know it's a big deal for you, though I am perfectly ok with it. But you were sick and I didn't want to push you off... but I am confessing to you on the very first opportunity I got."
"Are you done, or do you have more skeletons in your drawer?"
"Nandini!!"
"can you drop me home? I am feeling sick."
She stood up and stomped out of the restaurant, not even bothering to turn back to hear his answer. Her eyes were blurred with tears and she collided with a waiter, spilling a few glasses of champagne.