Author Note: You are in for a double treat here.. back to back chappies. The reason, I will tell you tomorrow. Till then enjoy reading.
Oh, if the video below plays in your country, please watch it., trust me u will thank me for this.
Video credits: iranbirholic Aditi, source: Youtube
************************************************************************************
Chapter 50
He drove in silence, only trying to catch her glimpse in the rear view mirror and every time he did that, he found her eyes fixed on him. He had been so bold, so flamboyant only minutes ago, while getting her discharged but now he didn't know what to say anymore, how to break through this shroud of unspoken accusations.
Even though he didn't remember it now, he had been doing this forever...masking his pain & insecurities with anger, hiding his crumbling self under a hyper confident exterior because he had learnt from his experiences that the world worked on Face value.
You are what you appear to be, no one cares to peek inside.
When they reached home, it was close to midnight. He took her out and carried her in.
He was worried. She had vomited throughout the day and hadn't had any food since the afternoon treat. The doctor had warned him that she had given her medicines which would make her feel better for some time, but once their effect wore off, she would be back in pain. Amongst all other things, right now, she needed to eat something to gain strength but where would he get it from without having to go far.
He couldn't cook , so that was completely out of question. No place would be open this late..may be he should try kaka ki tapri, hoping desperately that he would not have to return empty handed.
Nandini was sitting on her bed with folded legs, so pale that for a while Manik wondered if she had any blood left in her body. Her eyes were still swollen, perhaps she had cried for a long time after he had gone. But he didn't know if the tears had been for him or because of her failing health. Either way he was guilty.
"Nandini, you stay here, chup chap baithna yahan par, I 'll go get some food for you." The was the first time he had spoken since coming out of the hospital.
She looked up towards him with sad questioning eyes "Don't go na..please."
Manik swallowed. The pain in her voice was too evident to not see. "Main abhi gaya and abhi aaya. U do one thing, U listen to songs and before the fifth one gets over I will be back." He couldn't take it anymore, he had to go out in the open, away from her, where he could cry or scream or do anything to release his pain. He started walking away when he heard her calling him.
"Manik!!!" He stopped in his place, his back facing her.
"My mind was telling me you would never come back, but my heart said you would, that u never left me, that you couldn't have left me" Her voice was cracking up.
He could do this, he could wear another mask, anything for her. He wiped away his tears and wore his best smile. Then he turned around and walked up to her. He touched her and took her hand in his.
"Listen to your heart, it will never lie to you...
Always listen to your heart, it will drive you home.." She had told him
"jab bhi tumhe koi doubt ho, close your eyes and listen, listen to your heart, coz your heart will never lie." HE told her this time and saw a smile forming on her tear stained face. She bent forward to hug him.
"You know what, I missed you so much"
Video link >> Here
https://www.youtube.com/watch?v=2Bj_OPNTUN4
Every word she spoke pierced him like a bullet. His voice was failing him. Gathering all his strength he said, "I will be right back Nandini, I am not going anywhere...Yun gaya aur yun aaya"
She nodded like a child who had been promised her favourite chocolate.
He almost ran out and drove uphill towards kaka's tapri.
He had never been more thankful in his entire life as he was now to find the tapri still open. He got a ton of food packed, every single thing kaka had on offer and was paying off when the old man asked "Tum wahi ho na, jo us bacchi ke sath aye the?"
Manik nodded.
"Yeh sab usi ke liye hai kya?"
Manik nodded again "Mera sab kuch sirf usi ke liye hai" he mumbled under his breath and left thanking the man once more.
He must have gone half way when he hit the break and got out of the car. His chest was hurting, he was physically exhausted and emotionally depleted. It had been a long day and he had experienced as many shades of emotions as there possibly could be. He had been nervous before the performance and had experienced dizzying happiness post it. He had had the first realization of love, he had suffered the pain of heartbreak, he was so close to getting her and yet had missed losing her by a whisker. He had made her smile and he had made her cry. He had helped her only to desert her when she needed him the most.
Her face flashed before his eyes. The pain in her eyes and the pain that he was feeling now, could it be only because of whatever happened during the day. He wondered if one day, one incident could generate so much pain.
Something inside him was telling him otherwise. That this was deeper than 1 or 15 days could create, that he had known her forever, that he had loved her for a 1000 years.
How could he have not seen her love for him, the same love that was flowing away as tears, How could he have not seen her yearning for him, her vulnerability, her fear of losing him. How could he have been so nave.
He banged his hand on the bonnet with such force that it made a dent on the car, and crying out in pain he slouched over his knees, unable to carry his weight anymore.
Right then his cell rang. He didn't have to look at the screen to know who it was. Only she knew, when to hold his hand and drag him out of a tunnel.
"I am coming"
"Fourth song is over...one more to go."
"I will be back before it ends."
He wiped his tears for the Nth time and got back in the car.
***********************************
Her eyes sparkled as soon as she saw him.
She had changed into a night dress but her hair was still a mess. How could she manage to look cute always, even when sick? As cute as a talking blinking doll :)
He cleaned his hands and sat next to her to feed her.
"See I got all this for you, tell me which one you want to eat?"
"Whatever you like" She didn't spare a single look at the spread. She would just not move her eyes from him.
"Ok, so omelet then.. to start with" he fed her one bite at a time and each bite doused the fire in his heart, bit by bit.
Half way she signaled him to stop. "What? Ho gaya tumhara? itne mein to chuhe ki bhi bhuk nahi mit ti, no Miss. Murthy u gotta eat the whole thing. How else will you gain the strength to fight with me?"
"I don't want to fight with you, no more?"
"He rolled his eyes "Really??? Itni jaldi haar man gayi? Waise bhi abhi score 1-0 hai, so you are anyways loosing"
"I will eat only if you do"
He smiled. He fed her and she fed him with her petite hands.
Wasn't it always like this between them, each watching the other's back, each holding on if the other slipped? No matter how much pain they individually carried, they would always rise and shine for the other.
Alternating between giving and seeking care, they were two sides of the same coin, two faces of the same soul and that's why even when they reeled in doubt, cried in despair at being torn apart, the stars never lost hope...because they knew these two will eventually find a way to each other...because that is where they truly belonged.
Chapter 51
He ran his fingers through her tangled strands and combed her hair with the gentlest of strokes. He didn't know how to make a proper braid, so he gathered her hair in a high ponytail and tied three more scrunchies to give a mock braid look. She was having fun watching him struggle with things, he never thought he would have to do one day.

When he was finally done, he laid her down and planted a small kiss on her forehead, wishing her good night.
"I am going to be right outside, keeping a watch on you. Just give me a buzz whenever you feel, ok?"
She didn't want to let him go, not even to the next room, but her bed had place only for one person and she didn't want him to stay up all night. In any case he wouldn't have a comfortable sleep on the couch outside, it was small for a guy of his frame, but she knew he would scold her to death if she volunteered to exchange places. Reluctantly she let him go.
Manik settled on the couch. It was a tad too small for him, but he was anyways not going to sleep. He would have to be alert. She could be in pain anytime, as soon as the effect of the medicine would wear off. He switched off the lights and started googling on his phone "How to comfort your girl during her period". He wasn't officially a boyfriend, he hadn't even confessed to her that he loved her and yet he was doing all the things that guys call 'gross' and girls 'cute'.
He flipped through couple of useless sites till he came across this list and started checking against each option
If possible, put her period in your calendar and take the two first days off from work - It was a weekend and he was already with her. (Checked) Be prepared with her favourite snacks, drinks, and meals - He had just fed her whatever he could get his hands on. He had stuffed the rest in the refrigerator. May be tomorrow, if she felt a little better, he would bring whatever she wanted. (Half checked) Bring her a hot water bottle. Oh no, did she have a hot bag or something. He would have to ask her and he couldn't do it now. (Unchecked) Massage - ???? As much as he would be willing to volunteer, would she be comfortable. He couldn't believe he was even thinking this. Any other girl would have literally screamed from rooftop if Manik had given or even promised to give a massage, but this was Nandini Murthy, the blushing talking blinking doll. (Question Mark) Bring her lots of water - This one was easy, why didn't they have more such options?? (Double checked) Have her favourite movie or TV show on hand - she didn't have a TV, ok she had a laptop, but wait it wasn't a TV show that would comfort her, it had to be music (checked) Cuddle her, listen to her, give her space... basically, be attentive and flexible - If only she wouldn't chicken out or throw him out of her house (Risky and question mark)
Oh well, this wasn't bad, he had it covered like always. He was prepared for the worst, only he didn't wish it to happen. He hoped, the doctor had been wrong about the pain and she would wake up fresh like the morning dew.
Even though he had planned to stay up, sleep eventually caught up with his exhausted body and he closed his eyes leaning against the couch.
************
He heard a light moan, floating away from a distance. He struggled to open his drooping eyes. He failed at the first attempt but that moaning sound continued to flow in.
He shook up with a jerk, was it Nandini, had she woken up? Oh shit! HE stood up and went inside to check on her. She was writhing in agony on the bed.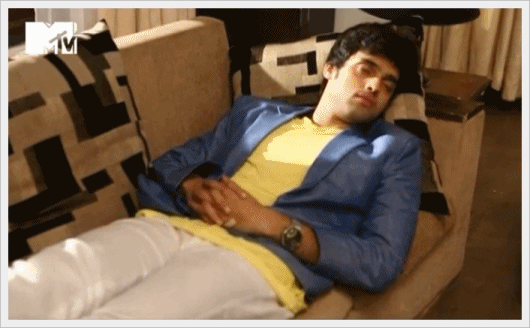 At once, he wrapped her in his arms and tried to massage her back with hesitant strokes.
"Is it hurting a lot?"
She pursed her lips to speak but no sound came out, such was the intensity of the pain. She had broken into a cold sweat. She buried her face in his chest. Her fingers dug into his skin.
He remembered all the things he had read a couple of hours ago. How foolish of him to have thought that he was prepared for this. But at least he knew few tricks.
Breaking away from her, he gave her some water to drink and wiped the sweat off her face. Holding her with one hand, he turned on the radio on his phone and put in on speaker. It helped, but not much. She continued to cringe.
He had never felt this helpless. He was willing to do anything, any damn thing to give her some comfort. He sat on the bed and cradled her in his lap, rocking her in the warm enclosure of his arms.
For a long long while he continued rocking her like a baby, his heart throbbing all the while. The music from his phone was the only sound breaking the silence of the dark night.
Little by little, he felt her flinching subside. He tried to check if she was still sweating as much, but in the darkness, he couldn't make out. The moonlight flowing in from the widow reflected off her petite frame.
Manik too had begun to relax. He started sliding his fingers on her bare skin while still holding her close to his heart. He moved them up from her fingers to her arms and to her neck. May be this light tickling would distract her.
"Are you feeling better, love?" He hadn't meant to say it like that. He didn't want to offend her, not when she was already in so much pain, it just slipped out. It is so hard to hide when you have so much concern for a person and all you can do is to see them suffer.
She still didn't answer. But he felt her face move against his bosom. She slipped her hands away from his grip to tug at his shirt. She was so close to him, he could literally feel the warmth of her flesh against him, despite the layers of clothes between them. He felt something soft and warm on his neck and when he tilted his neck to make sense of what was happening, he felt the warmth move up and touch his lips. Her's were the softest pair of lips to ever touch him, not that he remembered kissing anyone else.
Was she really kissing him? He couldn't understand. Nandini, one who could blush at the slightest of praises was actually kissing him. Holy crap! this girl never stopped surprising him. He was scared, he didn't want to leave a bad memory for her, something that she would repent later, but he couldn't control himself either. Should he push her away or should he give in.
And in the end his instinct won. He let go of his guards.. And pulled her in. He felt her grip tighten on him, sensing the urgency in her. He let her take the lead and he chose to follow, to wherever she led him. Boy, did he love her!!!
She badly wanted him to kiss her. She wanted to be told by his touch that he desired her. He wanted his madness to assure her that she was the one for him, that he needed her, as a lover. Her behaviour was brash n perhaps inexplicable.
May be he would be offended. But she couldnt stop, she couldnt hold herself back any more. She pulled him closer, leading him to her.
She broke the kiss and hid her face once more in his chest and then as suddenly as she had aroused him, she started crying, not the cringe-in-pain cry but loud wails that came from the bottom of one's core. She released his Shirt and encircling her arms around his neck, continuing to cry.
He was baffled. He couldn't make any sense of her behaviour, one moment she was bewilderingly sensuous and the very next she was like a vulnerable child. What would he do with this strange girl? But he had already fallen in love with her and there was nothing he could do except love her a little more with each passing moment.
"What happened , love, Is it hurting a lot?" This time he said it by choice.
"Don't you ever leave me again" In between inconsolable wails.. She kept on repeating in her broken voice..as if she possessed by a higher power.
"I would never ever leave you, you stupid mad girl."
The pain in her abdomen was numbing, but when she compared it to the pain she had been carrying for three years, it didn't even count. All her complains, all her sorrows, all the muck she had stashed away in her heart, washed away with her tears. She was trembling, with both fear and relief. He was here, finally he was here with her, loving her, caring for her. But she was scared too..she had survived it once, but if he were to leave her again, she wouldn't make it this time...no way..
She kept on crying till she had no tears left, till her body couldnt take it any more and he gave up in his arms.
He couldn't sleep. Nor could he cry. He kept on rocking her for the rest of the night.


Edited by 1_drop_of_rain - 15 June 2016 at 12:55am