Chapter 48
Manik rubbed his eyes to make sure he wasn't hallucinating. He bent down and tried to touch her with one finger. No, this wasn't a dream but this sure was going to be a nightmare. How could he do this to her, like how? She was sick all the while, he knew it, he had seen it and YET HE HAD TO LEAVE IMPULSIVELY. He gently moved the strands of hair from her face and there he saw stains of now half dried tears. He tried to wake her up by patting on her shoulders and cheeks but she didn't budge.
Teary eyed with panic and remorse, he kissed her on the still damp cheeks, with the tears that MONSTER MANIK MALHOTRA had given her.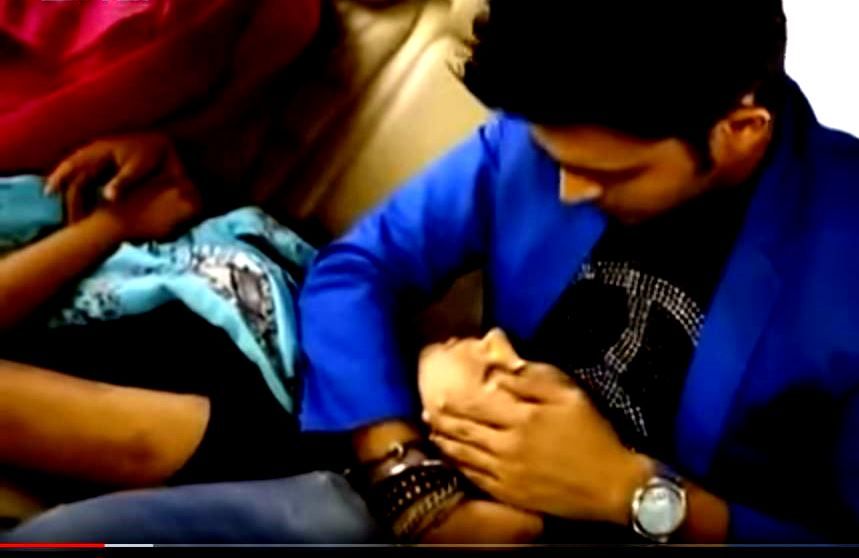 Yes, that's what he was... a monster. He had hurt the very person who had found his smile for him. He so wanted to kick himself but at this moment the utmost urgent thing was to take her to a hospital as soon as possible. It was close to 9 pm now and as he had already experienced by now, the town must have come to a standstill.
He didn't know much about Panchgani. His only touch point had been Nandini and right now he wasn't in the right frame of mind to search for himself. He called his secretary and asked him to send him the address and location of the nearest hospital.
He then picked up Nandini in his arms and rushed out.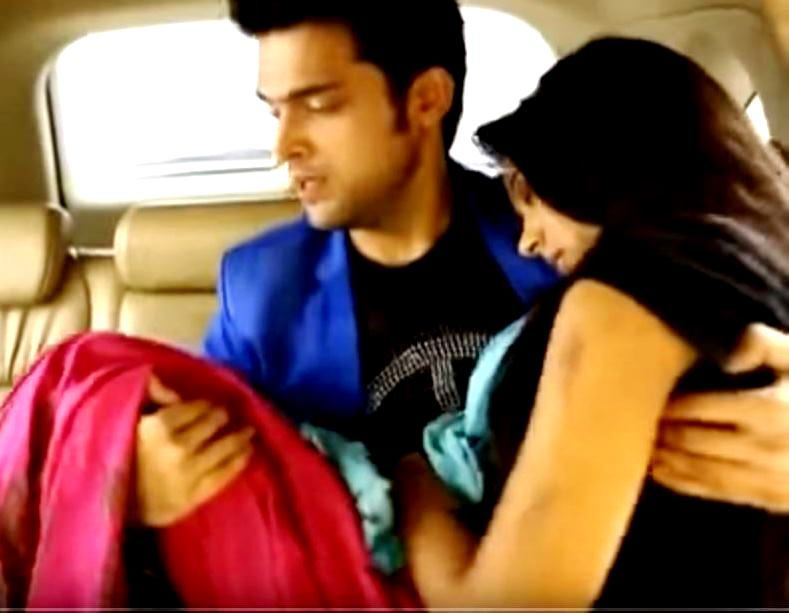 Where was the hilltop restaurant? Where was the penthouse, the sunrise and the proposal? He should have known he wasn't destiny's favourite child.
He would never make any plans again. His plans and perhaps his entire life was jinxed.
The hospital, his assistant referred him to was a government one. One look at it and Manik was appalled. How could his secretary find this one hospital in the whole town of Panchgani? He wanted to call and abuse the guy but then better sense prevailed. Enough of anger, It was only his anger that had landed him here in the first place. Perhaps this was the only one in the vicinity. For once he thought if he should take her to Pune, there he could take her to the best hospital but Pune was 3 hours away and he didn't have that much time.
A drowsy middle aged woman welcomed him with an irritated face at the emergency reception.
"Emergency case hai. Kidhar leke jana hai?" He was breathless from carrying her up a flight of steps.
The woman looked at him as if he had committed a crime, as he had shaken her out of her untimely siesta. She threw a form at him "Pehle form pe sign karo"
Any other day, Manik would have smacked her down right away, despite her being a woman.
He looked around and saw a stretcher. He carefully placed Nandini on the stretcher and started filling the admission form.
He had filled up most of the information when he came to the "Relationship with the patient" field. Should he write friend or girlfriend?
Seeing him hesitate, the nasty woman got another chance to prick him.
"Koi lagti hai tumhari yaa yunhi utha ke laye ho kanhi se... yeh aaj kal ke bacche kya kya gul khilate hain. Agar aisa waisa koi case hai to yahan admission nahi hoga. Hum police case nahi lete"
Manik clenched his teeth. His face had turned red and only he knew how he controlled himself.
"Will you just shut up, she is my wife"
"Dekhke to nahi lagta.. Koi id hai"
"TO HELL WITH YOUR DIKHNA, yeh koi passport office hai kya jo marriage certificate leke ghumna parega. U better hurry up or else.. " The look on his face and the bitterness in his voice must have really scared her because she disappeared only to reappear with a doctor.
"Kya hua hai inhe?" She asked, checking Nandini. She looked young, perhaps she was a junior resident.
"She was not well since afternoon, she was sweating & she had puked. I don't know what happened next because I had gone out. When I returned, she was lying unconscious on the bathroom floor."
The doctor ordered a couple of attendants to wheel Nandini in to the emergency ward and just as she was about to follow, she stopped and looked at Manik "You knew she was unwell and yet you left her to be on her own?" Her voice wasn't sarcastic, not even angry or complaining. There was a hint of sadness there, as if she was speaking from her own experience.
Manik had nothing to say.
They weren't taking her away, they were taking a part of him away from him, the part without which he was just a body. He hated hospitals, he had spent three whole years in them. He hated them even more today.
"You should have hope. Because miracle wahi hote hain jahan hope hota hai."
This wasn't the first time he had brought her to a hospital. In fact, it was a hospital where they had become friends and if 'Nandini's hope' really existed, may be nothing bad would happen to her this time as well. But he was scared and he wished he had a friend or friends to share his fears with. He sat outside the emergency unit in a deserted lobby. This silence, he knew it too well. These blue lights, these empty hallways, the beeping monitors, the stench of antiseptic, he was being sucked into a bottomless pit. He got up and took out his earphones. He switched on the radio. The only other thing that could save him from his own darkness was Music.
He flipped between a couple of channels till his ears fell on this one.
Play the song : HERE
Video link: https://www.youtube.com/watch?v=pEe7rz2JGq0
*********
"Mr. Malhotra" Manik shook up as he felt someone tap on his arm. It was her, the doctor. "Can you please come to my chamber?"
Manik's throat dried. His heart hadn't stopped beating fast.
"Is she ok?" he couldn't wait for those 30 steps.
"Stable"
She sat him down. "You are her husband, you should have known what was wrong with her, it would have saved our time and saved her the blood loss."
Manik was shocked. He hadn't seen blood on her. She didn't have a cut or a bruise or had he failed to notice in panic.
"She has an acute case of Menorrhagia" As soon as she mentioned it, she realized from his changing expressions that he hadn't understood her. "I mean heavy bleeding during periods."
"Oh shit!!" This was a completely new territory for Manik, something men often shrug off as girly problems.
"We did an ultra-sonograph and though she has a mild case of polycystic ovary, its not severe enough to call for surgery. I think this has happened because of stress and hormonal imbalance. Does she have a history of depression, has she fainted before?"
What would he know of her history, he had barely known her for 15 odd days. Who knows what sorrows she hid under her heart melting smile. Manik used to think , he was the only one who was wandering though darkness, trying to chase that one source of light. But Nandini had been right - "What you see is not always the truth". He will have to shine for her...
"Mr. Malhotra?" The doctor called him out of his thoughts.
"You are not her husband, are you?"
Manik lowered his eyes.
"You know, we could have refused to take up her case ... But I can see you care... And perhaps lover her too. Take care of her."
Manik was thankful to her beyond words. "How long will she be required to stay here, doctor?"
"She is conscious now, we have given some SOS medicines which will give her immediate relief. However, she will continue to be under pain for the next couple of days. So you have to take special care of her. We could have given her painkillers but I personally think the side effects outweigh the benefits. You can take her home right away but make sure you keep her happy."
******************************************************************
Author's Note:
Thank you so very much for your lovely messages and wishes. I am better though not perfectly fit yet. But the problem with living alone and especially in the US is that, even when u r sick, U cant act sick because u have to get up, get your groceries, cook, take care of urself and ur home.Yes, it is by no means easy to write every single day. By thursday I feel totally drained out and writing KYY s3 is not just writing. i have to think a lot, the plot and the scenes. I have to feel a lot too, I have to become Manik and Nandini to bring out MaNan in all their honesty. N thats not easy...
N because I wake up by 3.30 on most days, by lunch time I feel totally exhausted. And then I have the rest of the day to drag. U might ask me y I need to wake up at such an unearthly hour. The reason is firstly I have a time crunch and secondly, if I sit to write at the end of the day, I cant. My mind is so cluttered with work and other stuff that it feels like a haze. early morning I feel my soul actually speaking to me :) I dont wish to show my dedication by mentioning this, nor do I wish to make any of you feel guilty. Its something I have chosen to do with the best of intentions :)
But what makes it all worthwhile is the comments U guys drop in. there are few amongst u, who inspire me with their words. Sometimes when I am completely drained out, I re read these comments and I get strength.This story is about Manik, Nandini & FAB5, about friendship and love.But in a way its a story about me, you and all of us, about life and hope. It tells us that we all fail, we all wander, we all slip but we must not give up.. and thats y u dont see either candy floss or shakespearan tragedy here. You see moments, the same moments we live yet dont value them. You see the ordinary and how that can be turned into extraordinary... I hope you like this angle too, as much as I do :)
@AMAR_LOVE: Now U know
@payal94:Hopefully she will be
@styletheworld: whats an addiction if it doesnt give you sleepness nights. THats when u know how much u love this story
@keeprak: Update is up. And I uploaded Chiraags pics later on in episode 47. Please recheck
@Aashna_chawla: My health is ok ok :)
@shaan: Thanks :)
@siyaaali: i had to buy a microscope to read ur comment :)
@ac2000 : And i used to think TLC means Discovery TRavel and Living channel. health update is above.
@mishtii2z: ur wait is over
@monstermanik: he looks as cute as he talks :) n yes that favourite wala dialogue was adorable
@shalini16gupta: now u know
@thamannamanan1: Hahahah.. ek 7 saal ka baccha has way more akal than our cute Manik. Agar kabhi season 3 bane (in my dreams) to Chiraag ko lena hi parega. :)Health update is above.
@zyarah: The creatives were mad. They chopped the best pai of Manbir and they ruined MaNan. I have no clu ehat they were thinking.. may b they thought Madhyam could be the next Manik...like really???? That has to b the joke of the century.The writer is ok-ok... :) Thanks to all your lovely duwayein.Health update is above. N take ur time.. u will get ur pms
@shoana: chiraag is our pocket size powerhouse, there is no way we can hv a season 3 without him wattsay?? You r right, Manik hasnt had a eureka moment when he realized that he loves her, but he has undergone his 20 shades of love - friendship, happiness, jealousy, fear, confusion, comfort, excitement, sadness and attraction. Need i say more?
yes life is stressful, but writing and ur comments( even though it is really exhausting) is the only thing that brings sunshine in my life. I miss writing as much as u miss updates if i skip it one day.
@Narayani29: Welcome. Hope u r here to stay :) keep loving n commenting.


Edited by rk21 - 12 June 2016 at 9:21pm