HEY GUYS! i am the crazy reader of akdha stories but first time i dare to write one..
This story is dedicate to 4 persons:
1. Hala di from her story "not I only love you (modern Cinderella tale) I inspired to write this OS
2. My bestie hemaxi who encourage me to write a story
3. My IF bestie sherry that help me to write this story and to post it
4. All my IF lovely sisters who write lovely akdha stories from which I get inspired
This is my first try so all tomato, onion, slippers, sandals are accepted but not egg I'm pure vegetarian
...ok no more buk buk here is story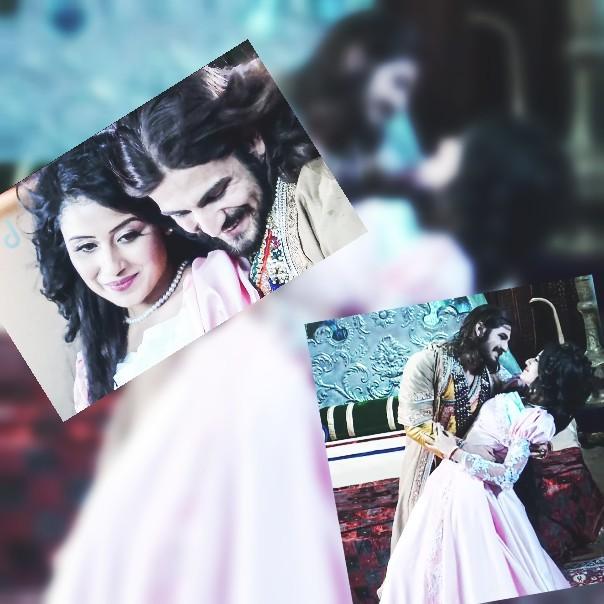 Once upon a time, there was a beautiful girl with doe shaped eyes with long traces that make her appearance angeletic named Jodha. She lived with her wicked stepmother Maham anga and two stepsisters, Rukaiya and Atifa. They treated Jodha very badly like a mad or we can say worst than mad.
One day they invited for a grand ball on a occasion of their king Jalal Akbar's birthday in king's palace. But maham anga would not let her go. Jodha was made to sew new party gowns for her stepmother and stepsisters, and curl their hair. They then went to the ball, leaving Jodha alone at home.
Jodha felt very sad and began to cry
. Suddenly, a fairy godmother named salima (hey guys now not kill me
for this it's only to give story touch...and BTW salima is like a fairygodmother (or angel) for jodha...isn't it?) appeared and said, "Don't cry, jodha! I will send you to the ball!" But jodha was sad
. She said, "I don't have a gown to wear for the ball!"
Then salima waved magic wand and changed Jodha's old clothes into a beautiful new pink gown!The fairy godmother then touched jodha's feet with the magic wand and She had beautiful golden slippers! (the same one as hala di describe in her story)
"How will I go to the grand ball?" asked jodha. The fairy godmother salima found six mice playing near a pumpkin, in the kitchen. She touched them with her magic wand and the mice became four shiny black horses and two coachmen and the pumpkin turned into a golden coach. Jodha was overjoyed and hugged salima
and thanked her for this beautiful gift and set off for the ball in the coach drawn by the four black horses .
Before leaving the fairy godmother said, "jodha, this magic will only last until midnight! You must reach home by then!" and jodha assure her she will might came before midnight and waved salima good bye and leave for her destination "king Jalal Akbar's palace"
.
(Ballroom of London buckinghum palace)
When Jodha entered the palace ball room, everybody was struck by her beauty. Nobody, not even maham anga or rukaiya and atifa recognized Jodha who she really was in her pretty clothes and shoes. The handsome and charming king Jalal also saw her and fell in love with Jodha...like love at first sight
.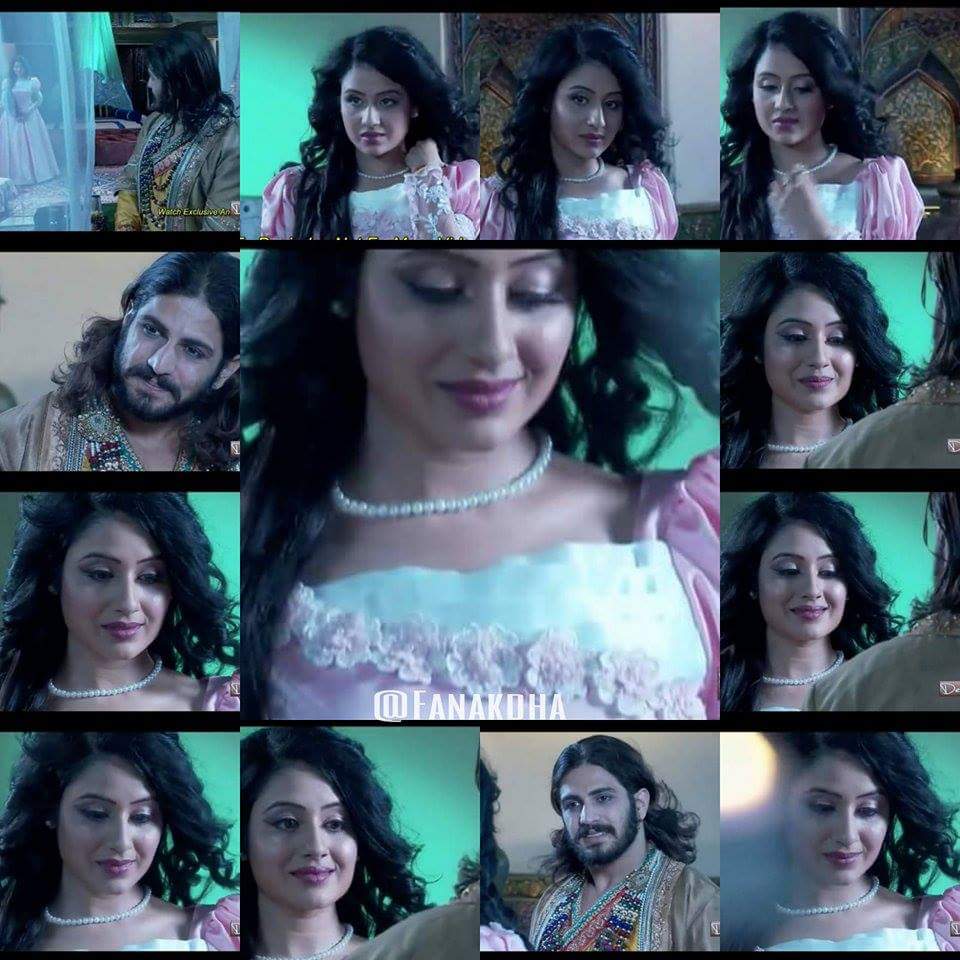 JALAL went to jodha and kneel down infront of jodha and politely asked in sweet voice..."princess will you llike to dance with me". And jodha with her sweet smile nodded and said "yes!"
. Then jalal offer his hand to jodha and she placed her hand on his and both stepped in the center of ball room and the song ankhon mein teri...started to play...
ANKHON MEIN TERI...AJAB SI AJAB SI ADAAYEIN HAIN
HO...
ANKHON MEIN TERI...AJAB SI AJAB SI ADAAYEIN HAIN...
DIL KO BANADE JO PATANG SAANSEIN TERI VO HAWAYIN HAIN
Song started playing and both jalal and jodha standing with only few inches between them, jalal put his hands on her waist as jodha put her hands on his shoulders. One hand brushed the soft skin at the nape of his neck.
ANKHON MEIN TERI...AJAB SI AJAB SI ADAAYEIN HAIN...
HO...
ANKHON MEIN TERI...AJAB SI AJAB SI ADAAYEIN HAIN...
DIL KO BANADE JO PATANG SAANSEIN TERI VO HAWAYIN HAIN
AAYI AISI RAAT HAI JO BOHOT KHUSH-NASIB HAI
CHAAHE JISSE DOOR SE DUNIYA VO MERE KAREEB HAI
KITNA KUCH KEHNA HAI FIR BHI HAI DIL MEIN SAWAAL KAHEEN
SAPNON MEIN JO ROZ KAHA HAI WO PHIR SE KAHOON YA NAHIN
Jalal spinning jodha and then moved her so that he is behind her and his hands holding her hands from behind ...his arms touching her delicate arms...there's no space between their bodies...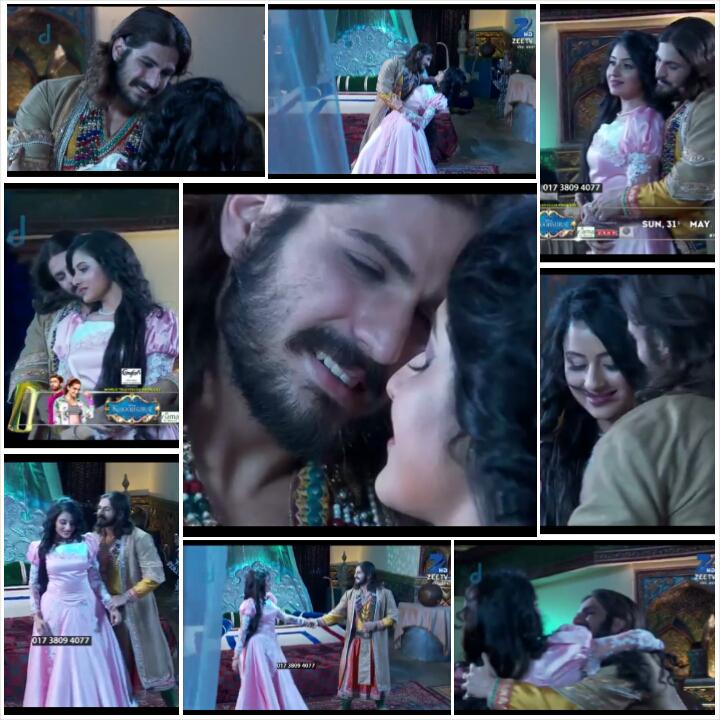 ANKHON MEIN TERI...AJAB SI AJAB SI ADAAYEIN HAIN...
HO...
ANKHON MEIN TERI...AJAB SI AJAB SI ADAAYEIN HAIN...
DIL KO BANADE JO PATANG SAANSEIN TERI VO HAWAYIN HAIN
TERE SAATH SAATH AISA KOI NOOR AAYA HAI
CHAAND TERI RAUSNI KA HALKA SA EK SAYA HAI
Then he spinning her little and came in ...They started dancing slowly slowly looking each other's eyes and they share an eye lock.
TERI NAZRON NE DIL KA KIYA JO HASHARR
ASARR YE HUA
AB INMEIN HI DOOBKE HO JAUN PAAR YEHI HAI DUA
ANKHON MEIN TERI...AJAB SI AJAB SI ADAAYEIN HAIN...
HO...
ANKHON MEIN TERI...AJAB SI AJAB SI ADAAYEIN HAIN...
DIL KO BANADE JO PATANG SAANSEIN TERI VO HAWAYIN HAIN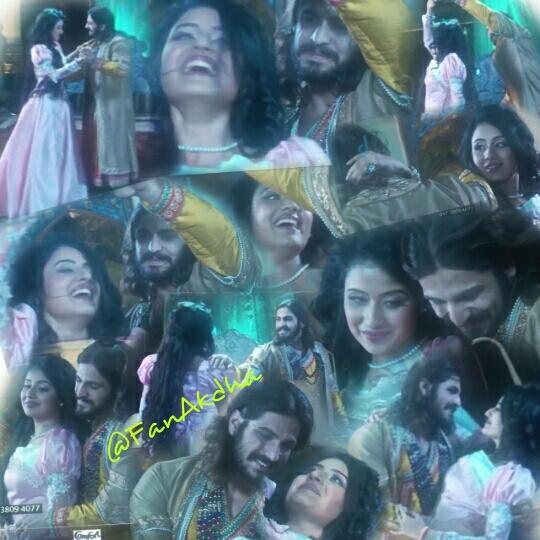 Jodha was so happy dancing with the jalal that she almost forgot what the fairy godmother had said. At the last moment, Jodha remembered her fairy godmother's words and she rushed to go home. "Oh! I must go!" she cried and ran out of the palace. One of her golden slippers came off but jodha did not turn back for it. She reached home just as the clock struck twelve. Her coach turned back into a pumpkin, the horses into mice and her fine ball gown into rags. Her stepmother maham anga and stepsisters reached home shortly after that. They were talking about the beautiful lady who had been dancing with the king JALAL.
The KING JALAL had fallen in love with Jodha and wanted to find out who the beautiful girl was, but he did not even know her name. He found the golden slipper that had come off jodha's foot as she ran home. The king jalal said, "I will find her. The lady whose foot fits this slipper will be the OWNER OF MY HEART
and one I marry!" The next day, the king jalal and his servants took the golden slipper and went to all the houses in the kingdom. They wanted to find the lady whose feet would fit in the slipper. All the women in the kingdom tried the slipper but it would not fit any of them.
Then jalal came to maham anga's home their jodha's stepsisters also tried on the little golden slipper. They tried to squeeze their feet and push hard into the slipper, but the servant was afraid the slipper would break. jodha's stepmother would not let her try the slipper on, but jalal saw her and said, "Let her also try on the slipper!" The slipper fit her perfectly. jalal recognized her from the ball that she is the girlOWNER OF HIS HEART ...after knowing that jodha is the same beautiful girl who danced with jalal in party maham anga ,rukaiya and atifa's eye become widen and mouth get opened in shock
.
Jalal then kneel down in front of jodha and take a small box of ring from his pocket and forwarded his hand towards jodha and asked her in his mesmerized voice "princess, will you be MRS. JALAL AKBAR? Jodha then shyly give her hand on his hand and say nodded in yes
...jalal just fill he was on cloud nine
then he put the ring on her finger and gently kiss her hands and get up and said" I promise you I give you all the happiness, I always love you no matter what the circumstances it would, and you are the only and always OWNER OF MY HEART..., I LOVE YOU PRINCESS...jodha get overwhelmed with his words and the happy tears started to flow from her eyes and she hugged
him and whisper I LOVE YOU TO MY PRINCE CHARMING (OWNER OF MY HEART). Jalal then married jodha on the same day and together they lived happily ever after...
-AARTI
LOVE YOU ALL
Done guys sorry for mistakes and for boring you all...please do like and give your precious comments