Originally posted by karkuzhali
Navratri Golu in Baby Sarasa's house.
(Baby Sarasa and Babloo visited grandma's friend's house to see the Golu.. Baby liked the golu so much that she wanted to have one in her house.)
>>this is interesting... I have never seen a Golu, neither knew of this South Indian culture, thank you so much for introducing me to this!
Baby: Grandma,I want to have golu here in our house..
G'ma: Sure kutty.. you can set up the golu on your own..
Babloo: But, grandma.. I don't like golu.. It is a girly thing.. Boys don't come for the golu...
>>has anyone else counted how many times Babloo has said this, I have certainly lost count
Baby: Babloo.. I want it.. I will have it..
Babloo: Then, I will also do something in it..
>>
G'ma: Kids.. both of you can organise the golu.. Bring your dolls..and arrange them..
Babloo: Okay grandma, I will tell her what to do..
Baby: Babloo...I don't want you to boss over me.. I am older than you.. I know what to do..
Babloo: But I am a boy.. I have muscle..see..( Shows)
>>Baap re, it's difficult to tell who is bossier
. If Babloo has started pumping out his musculature from now on, God knows what will happen later on!
G'ma: Don't fight..If you make a beautiful golu, we can send photos to Shyamala aunty.. She will love it..
Babloo: Will aunty come for our golu ?
Baby: I'll invite her for our Golu..
( So Babloo, being a boy, brings his dolls first..)
>>So thanks to Babloo, the age old etiquette if Ladies First is gonna change big time
His 'favrit' teddy bear Shyamala aunty gifted..
His collection for a ZOO.
The things he made in his play school..
Things Baby made when she was in play school..
Baby's collection..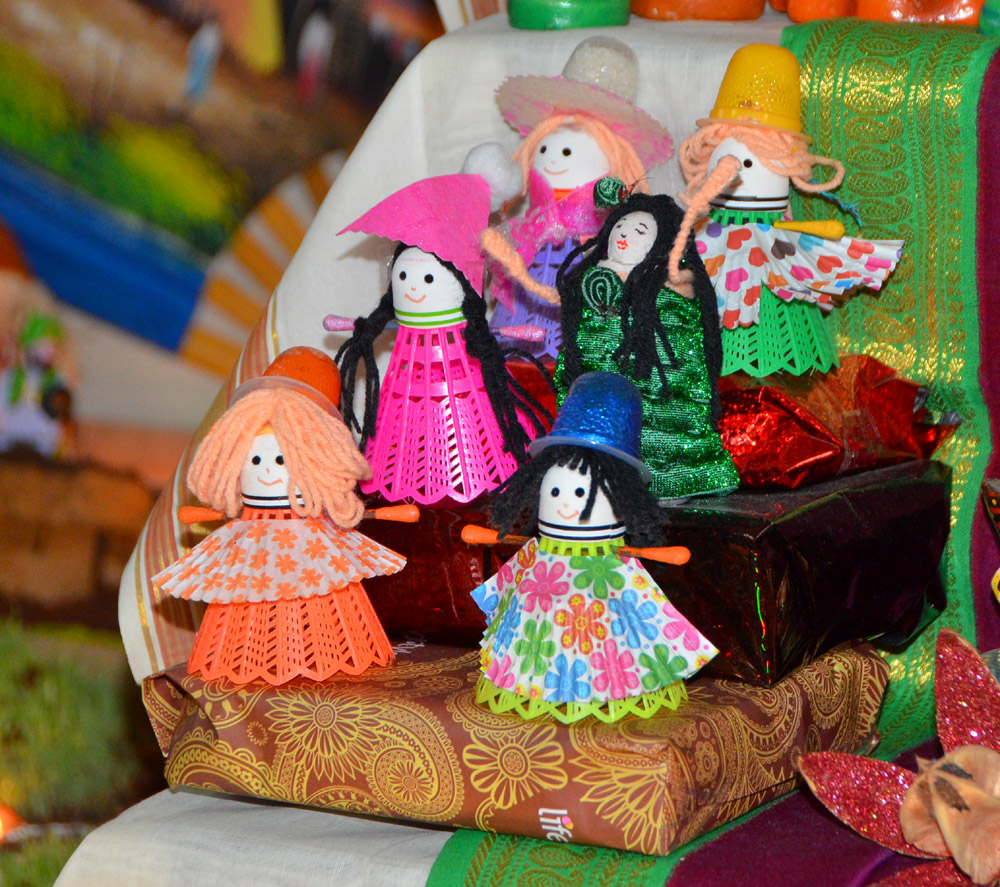 Baby's 'favrit' barbie doll, Shyamala aunty gifted her..
Baby's another 'favrit' Jodha doll..
Babloo's favrit Jalal uncle and Baby's 'favrit' Jodha dolls..
(So finally, with the assistance of grandma, they organise the golu and send invites to their friends.)
Grandma thus finally managed to give a shape to the kids' golu..
Baby Sarasa invites You
to
The Navratri Celebrations at her house in AAA thread
on 4th and 5th October 2016.
With compliments from Babloo.
* * * * *
Karkuzhali.
>>That was so colorful! Really setting up such Golus must be fun... especially for the Babies and Babloos, it must be a good opportunity to show off ones property, and ensure when the friends go back home, they are visibly letting off steam from their ears! Credits to G'ma for putting up efforts for peace keeping and Golu Arrangements