My God, Baby kutty and Babloo kanna, how many items you have assembled for you kiddy
golu!
Amazing!!
Now what you have to do, Babloo my pet, is to dress the teddy up as your Jalal Uncle. I am really quite tired of him, but at least for him you have a model in the Jalal doll. And you do not need a horsie, as you would if you tried to make him the Akbar of Lashy'kka's story.
And Baby my poppet, try and dress the Barbie doll up as the thin aunty, you know the one who is always yelling and hitting the man in the women's dress? The doll is already tall and thin, so it will be easy for you. Stick her behind the Jalal-Jodha dolls, as if she is keeping an eye on them. That was what she was trying to do all the time anyway!
Then build a 3 step frame, cover it all with a large tablecloth you can borrow from Grandma, and then put these dolls on the top step. Baby's on the right hand side and Babloo's on the left. Then your playschool creations on the two lower steps. It will look perfect!
Baby, you have to make a lot of
sundal
for your guests. Ask Grandma to teach you how to do that. And if you make a mistake, you can always get her to set things right!
I am still not at all well and cannot eat anything but
thayir shatam
(curd rice), and I am not allowed to go out of the house, but I will send a hologram of mine to your
golu.
A hologram in an image of the person that looks exactly like her or him, only it is created out of light, and is not real . Like this one for a dinosaur.
Baby, Babloo, which kind of dinosaur is this now? Do you remember from the film
Jurassic Park?
Bye for now, kiddos! Love you lots!
Shyamala Aunty
Originally posted by karkuzhali
Navratri Golu in Baby Sarasa's house.
(Baby Sarasa and Babloo visited grandma's friend's house to see the Golu.. Baby liked the golu so much that she wanted to have one in her house.)
Baby: Grandma,I want to have golu here in our house..
G'ma: Sure kutty.. you can set up the golu on your own..
Babloo: But, grandma.. I don't like golu.. It is a girly thing.. Boys don't come for the golu...
Baby: Babloo.. I want it.. I will have it..
Babloo: Then, I will also do something in it..
G'ma: Kids.. both of you can organise the golu.. Bring your dolls..and arrange them..
Babloo: Okay grandma, I will tell her what to do..
Baby: Babloo...I don't want you to boss over me.. I am older than you.. I know what to do..
Babloo: But I am a boy.. I have muscle..see..( Shows)
G'ma: Don't fight..If you make a beautiful golu, we can send photos to Shyamala aunty.. She will love it..
Babloo: Will aunty come for our golu ?
Baby: I'll invite her for our Golu..
( So Babloo, being a boy, brings his dolls first..)
His 'favrit' teddy bear Shyamala aunty gifted..
His collection for a ZOO.
The things he made in his play school..
Things Baby made when she was in play school..
Baby's collection..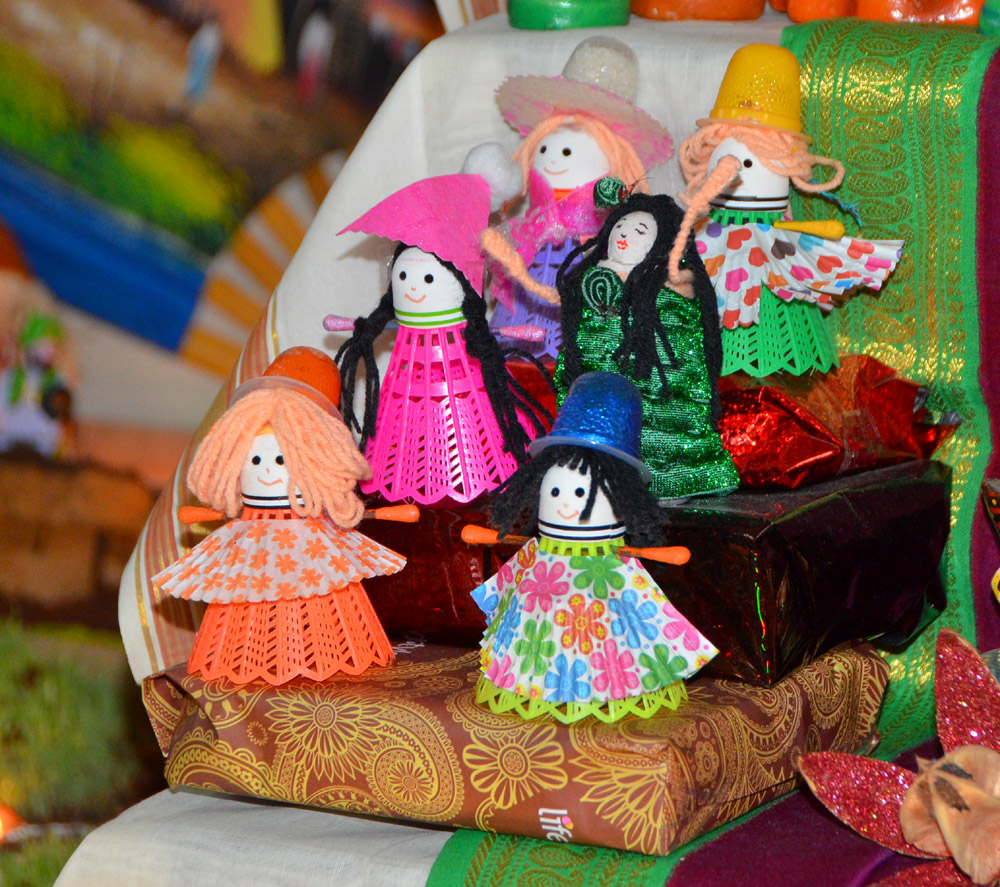 Baby's 'favrit' barbie doll, Shyamala aunty gifted her..
Baby's another 'favrit' Jodha doll..
Babloo's favrit Jalal uncle and Baby's 'favrit' Jodha dolls..
(So finally, with the assistance of grandma, they organise the golu and send invites to their friends.)
Grandma thus finally managed to give a shape to the kids' golu..
Baby Sarasa invites You
to
The Navratri Celebrations at her house in AAA thread
on 4th and 5th October 2016.
With compliments from Babloo.
* * * * *
Karkuzhali.


Edited by sashashyam - 04 October 2016 at 5:27am