PART 2 : THE FIRST SIGHT
Sarayu and Vijay continued their Journey towards the Ashram , they continued their talks in horsekrit
Vijay : I am feeling really thirsty , brother
Sarayu : Looks like you are aging too fast dear
Vijay : Oh you fool , now what has this to do with my age , both you and I are horses , not camels .
Sarayu : Ok Ok , dont get angry , What I hear is right then , after a certain age , you oldies do loose it a bit.
Vijay : what did you say ... . Leave it anyways , How do we signal our master about our thirst.
Sarayu : I always have a knack for those action . look how its done .
Sarayu Stops and Lifts his front legs in a rising pose , and then shakes his body left right , making lakshman fall of the back
Lakshman ( sighs ) : Gadhaa Kahin kaa . Brother Ram , Looks like sarayu thirsty , can we go down the river bank to fetch a drink.
Ram : Rishivar , lets carry out the journey towards your ashram , lakshman shall reach there directly after fetching his horse with water.
Vishwamitra : Ok
Vijay : Sarayu , what about me , I am thirsty too
Sarayu : Then find ways to let you master know himself , my work is done .
Vijay : you selfish stallion , you dont care about older brother
Sarayu : Older brother !!!!!...Grandpa would be the correct word I guess.
Vijay : Oh stop it now
Sarayu : Chill Chill , as you said , you are in land of pravachans , that is enough to quench your thirst , isnt it
For a moment , vijay forgets about his thirst , and remembers her beloved
" I am so dying to hear those magical words again , Oh meera will I ever be able to see you again "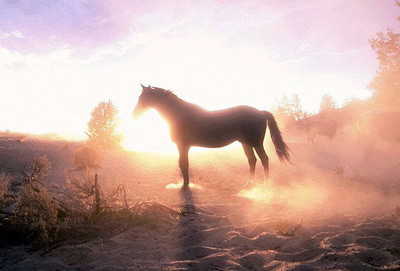 Sarayu ( noticing a lost vijay ) : Vijay bhai ka toh kaam ho gaya , chalna chahiye ab
Lakhman along with sarayu left for the river , whre lakshman took a nap as Sarayu drank.
As sarayu drank , he noticed someone's blurred reflection in water coming from the other Shore
As he lifted his mascular Black neck up , he saw one of the most beautiful pony he had ever seen in his life , Light white coloured skin with brown hair tinkling over her face , with those mesmerizing big shiny eyes , playing with her sibling.
He could not help but stare at her continuously ,rather shamelessly
All his big claims that he was too handsome too drool over some pony were drowwned in water at the forst sight of her.
On the other side of the shore , It was Surilie , the reason for Sarayu's behaviour , who was playing and splashing in water along with Mandavi's pony , Jwala.
Jwala , though a beautiful pony herself , still didnt come close to surilie' charm , she looked more apt for Sarayu's brother Takshak , horse of bharat.
Jwala had her own traits , quite tall and athletic body , but with a visible rage and energy on her face.
Jwala : Its so nice here without Meera behen and Smiley ( kirti's horse ), No pravachan and no crying
Surilie : No pravachan definately , but Smiley would be crying , after all she would be getting proper lectures from meera behen on the way to ashram as we speak
Jwala ( removing her cotton buds ) : I am just glad that we could fool those 2 into leaving for the ashram without us .
Sarayu : what a sight , If I could only know her name , If only vijay bhai was here , I am sure he would know her identity , he was after all here a few months back.
Sarayu was lost in his own world without knowing what's happening in his surroundings , with bells ringing in his head. Soon , did he realize it wasnt the bells , but Lakshman hitting him with a wooden stick on his back
Lakshman : Ab kya ho gaya hai isse , Kaisa adhiyal ghoda hai .
Sarayu came out of his fictious world , finding only a distresses Lakshman beside him , with no sign of jwala and Surilie.
Lakshman : Lets go now , we are already very late , I just dont know what happens to you sometimes.
Sarayu : Stupid Me , my master is angry just because of Me , I will run as fast as i can and we shall reach on time.
Saying so , Sarayu took a shortcut with a full burst sprint.
Meanwhile , at the ashram , Vijay had reached and both rama and vijay and went top hill to make a camp for themselves. As soon as Vijay had sat down for a rest , He heard few words he had been waiting to hear from ages.
Down at the ashram '
Meera : Smiley , Van bhi kya koi danre ki jagah hai . dekho , Van Jeevan kya hai , Jee aur van , arthath Van me sabhi jeev . Aur phir saare vriksh toh hamare mata pita ki tarah hai ...
Smiley started crying more loudly on hearing pravachans from her sister.
Smiley : Satyanaas mera , yahan to cotton buds bhi nahi milenge.
Similarly , It was Sita with same words for Kirti , but not in Horsekrit of course
Vijay : Yeh to mere praanpriya ki Dhwani Hai , Ashram se hi aa rahi hai
Ram : Yeh kis mahila ki awaaz hai jiske itne uchh vihaar hain ...
And both Started going Downhill in direction of the voices.
Meanwhile , not far away , jwala and Surilie along with their mistress were about to reach Ashram , and sarayu was coming from a shortcut Route.
On the way , he was sprinting as fast as a cheetah , but still in lost in his world , with images of Surilie floating in his head.
He didnt realize that he was approaching Perpendicularly towards Surlie at a horrendous Pace , but it was too late to realize and a collion between sarayi and surilie seemed certain.
But Lakshman was alert , and he kicked sarayu hard on his back , Sarayu sensing danger , made a humoungous jump over surilie , but in that moment of eagerness , hadnt realized who he had jumped over
Surilie , in fear , Ducked low , but it led to Urmila having a big fall , with Mandavi and jwala having a big laugh.
sarayu leapt forward and kept going forward , but Lakshman turned Around his face as sarayu was speeding
Lakshman ( casually : Soryy for that , but have to reach Vishwamitra ashram quickly
Urmila : That Atrocious man , I shall bury him alive
It was however different reaction from her pony
Surilie : Jwala , did you see that balck Stallion , Its speed and , OMG , that huge jump , I have never seen something like this
jwala ( mischeviously ): Bang bang , Surlie Got a bang
Surlie : Oh shut up , will you
Lakshman reaches the ashram , and the Kids are excited to see a magnificent horse like Sarayu , and lakshmana was himself boasting about his ashva
Kid 1 : Look how big it is
Kid 2 : I want a ride
Kid 3 ( pulling it ) : Look at his hair , it so soft
Sarayu : Am I in a circus , these stupid Kids .
A few Moments later , there was some chaos in the Ashram
Kid 1 : bhaago , bhootni aa gayi
Kid 2 : Rakshasi , sab jaan bachaakar bhaago
It was urmila and mandavi along with her trupe , her face had blackened due to the fall
Urmila : Ok , where is that Black beast , i am going to eat it Alive
Jwala : Surlie , you never told me your mistress is Non vegetarian
Surilie : Cmon , dont talk rubbish and innocent like Smiley
Lakshman Confront her
Lakshman : I think the black beast is standing right before me ( pointing towards her black face )
Urmila ; Oh you ignorant man , you have any idea what you and your horse have done.
Lakshman : It called a jump lady , you need to learn horse riding better , BTW , I am free for some tutions if you want
Sarayu and Surilie tried hard to pull the clothes of their masters towards themselves , in a bid to make them stop fighting
Sarayu : Lagtaa hai meri prem kahaani shuru hone se pehle hi aaj mere maharaaj khatm kar denge
Vijay and Meera , along With Ram and Sita , had heard the noises , and rushed to the spot , sensing the worst...


Edited by Shivam... - 19 April 2016 at 1:47pm