Annnd it's finally completed! This has been a video I have been wanting to do since practically the start of the show.
Shravan's character is such a well sketched character. I have never, at least in Indian Telly, seen a character with so much depth and layers! Even at the beginning with just a few flashbacks to his younger self, your heart already would go out to him, it would break for him. And as the show went on, it has only broken more. His character is so damn beautiful it makes you cry. So much he's been through and yet the one who has always been misunderstood, mistreated. The vulnerable Shravan that he always was and still is, the one who keeps all his feelings, all his dilemmas to himself. How can you not love a character like that? It just makes your heart break.
He sure is an introvert, but like they say, introverts almost always have the most pure hearts, and that's our Shravan Malhotra. But unfortunately for him, for a very long time, he has only been hurt. Hurt by being taunted. Hurt by being insulted. Hurt by being abandoned, by losing almost everyone he truly cared about. Hurt by being misunderstood even though his intentions were right. And even still he'd manage to take it all in and not let it show. Manage to stay strong. When all he'd ever wanted was to be loved by those whom he loved.
And when it felt like it couldn't get any worse. When things had finally started to make sense. When those around him had finally started to value and love him. When happiness had finally started to come back in his life, he lost the most precious thing to him... his father. This, he couldn't take, just couldn't believe. Everything seemed to flush right out and all he could think about was how could this happen? How could anything worse happen? What did he do to deserve this? He went completely numb. Until he completely broke. All his fears, all his pain, all his trauma he had held in for so many years, came rushing out and he fell. It felt like it was gone. It was all gone.
Coming to the video, basically what I wrote above is what I tried to show. At first I was just going to make a video on his and Sumo's story. But after this week's episodes and the recent scenes, I completely changed my mind and decided I actually do a tribute video to his journey till now. It's been such a painful journey. I usually don't cry easily while vidding but this...this made me cry. Just hats off to everyone who made the character of Shravan. And Namik + Vishal for playing it so diligently. Thanks for bringing such a beautiful character to life. He's truly made a place in all our hearts.
The song I chose I felt fits perfectly with him.
Hai Mauj Mein Doobi Dunya
Tera Kissa Kaun Sunaye
Jo Kahe Tujhe Na Jaane
Jo Jaane Keh Na Paaye
Khwabon Ka Musafar
Namaazi na Kaafir
Saiyaan Tu Batade
Kahan Hoon Main Aakhir
I felt those lyrics especially so apt for Shravan
I really hope you guys like the video!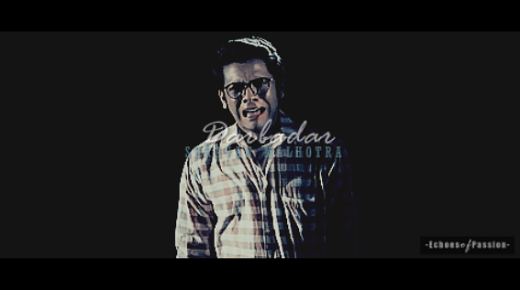 Enjoy and do leave your feedback!