http://www.latestgossipwu.com/gossip-2535-a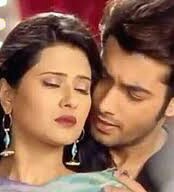 Kasam: Fortuneteller informs Rishi (Ssharad Malhotra) about his eternal love for Tanu (Kratika Sengar)
The upcoming episode will show that Bani is irked seeing Rishi's inclination towards Tanu.
Bani tries to get Tanu married, to end Rishi and Tanu's increasing closeness.
Bani asks for marriage proposals for Tanu and fixes Tanu and Pavan's marriage.
Tanu also agrees to get married to Pavan, Tanu really loves Rishi but couldn't confess her love.
Rishi is upset knowing that Tanu said yes to get married to Pavan.
Rishi happy to know truth
Rishi is upset and feels bad that his love of life Tanu is getting married to someone else.
Rishi again meets fortune teller who tells Rishi that his destiny and love is Tanu.
Rishi refuses to love Tanu as he knows Neha as Tanu, but Rishi's confusion will soon be resolved.
Rishi will find truth that Tanu is actually Neha and Tanvi is Tanu, and he wants to marry Tanu his love.
Stay tuned for more exciting updates of the upcoming episodes.