-
Sameena Razzaq
Usually Indian soaps are shot on sets, but the newly launched finite series, Dahleez, is breaking that pattern by actually shooting in real locations across Delhi. An opulent farmhouse located at the sprawling Chhatarpur area, doubles up as a set for the house of protagonist Adarsh Sinha. The sequences involving the rich and the famous Sinha family are extensively picturised there. Their lifestyle gives a peek into the high profile lives of the bureaucracy in the capital. We bring you a glimpse of the on-going shoot and larger than life locations of the show.
The perfect family:
This pretty family moment indicates the Sinhas are a close knit pariwar. Mother Suhasini Sinha played by seasoned actress Meghna Mallik pretty much rules the heart of her three children Adarsh, Jaidev and Abhay. She is quite the unconventional television mother. Off-screen too the bond between actors Meghana, Harshad, Meer and Aryan is as special as it appears on screen.
Ready for the shot:
Touch up is mandatory after every shot especially if you happen to be the protagonist of the show. Bong beauty Tridha who plays Swadheenta seems particular about it. Even though this is the actress' first ever television show, she has already made a mark with a powerful performance.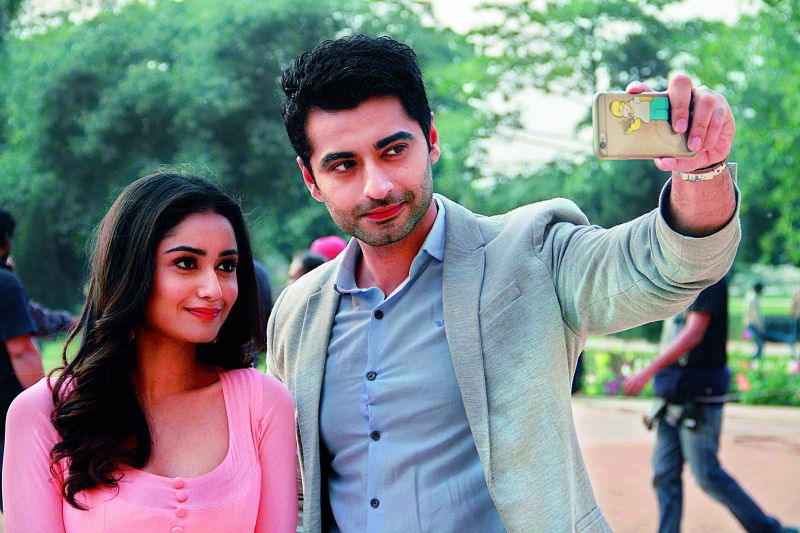 Main hoon hero tera'
Leading man Harshad Arora is smartening up to say that to his leading lady. Harshad works pretty hard on his looks and this candid picture suggests that. The handsome actor is playing an IAS officer in the show and so he is seen in dapper suits in almost all his scenes.
We make a perfect couple:
This selfie says it all. The on-screen chemistry between Harshad and Tridha is obvious off-screen too. Their camaraderie and understanding easily makes them the best pair on screen.
The brooding star in black
This scene makes Harshad look like the quintessential brooding star in black. The sequence was shot in the night. With hands placed firmly in the pockets and an intense look on his face.


Edited by Sutapasima - 15 April 2016 at 2:43am