Chapter 4
Janardhan was not in town when Aruna threw Gopi out of the house. As he returned, he searched for Gopi but could not find her.
He asked Aruna, "Where is Gopi?"
Aruna said, "Don't take her name. She is a total disgrace to the family. She came between Ahem and Charu."
Janardhan said, "I know my Gopi very well. As far as I know, it is Ahem & Gopi are in love with each other. It is Charu who is coming between them. You created a rift between 2 sisters. You are the disgrace. Not Gopi."
Aruna said, "He might be loving Gopi but why did he consummate Charu?"
Janardhan said, "I don't think he did such a thing. I had glanced at the room where Ahem was. Charu was only besides him. I had got up to take early morning flight to Delhi as I had to meet Arnav Singh Raizada for the contract."
Aruna badmouths Gopi. Janardhan hits her black and blue. Pramila comes and tells Janardhan the entire incident that took place in his absence.
She said, "Gopi is safe. She is with Urmila and Jitender who are your distant relatives."
Anrav has one elder sister named Anjali. Urmila is Manorama's sister who has a son named Akash. Jeetu is Manorama's brother-in-law. As they bring Gopi inside, Nani welcomes Gopi. Rashi hugs her and asks her, "What work are you doing?"
Gopi said, "Fashion designing and Interior Decoration. What about you?"
Rashi said, "I'm into modelling and acting but not in AR company. I know what has happened with you. I can't even think is the rarest of my dreams that Charu can do such a thing. I know her very well and am sure that she is faking her pregnancy. Don't go near Ahem till I bring her true colors. I won't allow that marriage to take place."
Janardhan disowns Aruna and Charu and joins Gopi in Raizada family. They went to the extent of changing their surnames from Kapadia to Singh Raizada.
Arnav comes in. He is surprised and happy to see Gopi and Janardhan. He offers Gopi to design the dresses for his models asking Sim to show her the samples.
Rashi tells Urmila, "Gopi may not be directly related to us but she is very close to our heart and is more than my real sister and like your real daughter. We need to get justice for her."
Urmila said, "I know that Aruna and Charu very well. They are after money and have seduced Ahem only for that. Ahem innocently drank the juice."
Manorama joins Urmila and Rashi to investigate about Charu's pregnancy. Gopi meets Khushi, Lavanya, Sim, Pam and others in AR company. Both Arnav and Ahem are equally grim as far as work is concerned.
Ahem misses Gopi. He is concerned about Gopi not coming to his office anymore. Kokila is reluctant to get Ahem married to Charu but has to agree only because of her pregnancy.
Aruna and Charu are talking about their engagement plans. Urmila and Manorama come to that place to get some clue about Charu.
Ahem tells Gopi, "Whatever has happened is only because of accident and you know it very well. I am ready to accept the child but not Charu. Even now nothing is lost. If you change your decision, we can go ahead."
Gopi said, "How can you take a child from its mother? This accident has ruined our relations. You have to accept her wholeheartedly."
Aruna fixes Charu's engagement the next day and marriage in two days with Ahem. They invite Raizadas for the engagement party.
Veera and Baldev go to Poland to do the agriculture research under Nihal's guidance. Nihal has been supporting SS family ever since he died. He is in love with Ratan but the later is not ready for remarriage. Weather is cold. Suddenly, Veera faints. Baldev shouts, "Veera."
He recollects the days when he had hated her & develops feelings for her. He said, "Veera, open your eyes." When she doesn't, Baldev takes her to the hospital. The doctor said, "She has got high temperature and is very weak now. But I will try my best to save her."
Baldev said, "What do you mean by saying that you will try? What kind of a doctor are you?"
Nihal goes to SS house and meet Ratan who gets emotional about Nihal standing by her at all times. Nihal and Ratan consummate in the process of sharing their emotions.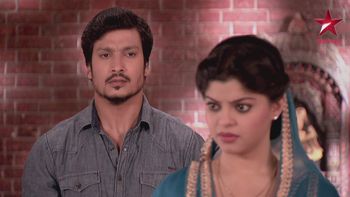 Veera is under observation. Baldev is anxious about her recovery.
Abeer starts investigating Akshat. He tells Meher, "That chomu kabutar is not suitable for you. He is a big flirt."
Meher said, "Mind your language. He has got a name & he is Akshat. I know that you don't love him."
Meher said, "I love him. Our relationship is over."
Abeer said, "Can you say the same thing looking in my eyes?"
Meher is unable to to that and shares the moments with Abeer.
He tells Meher, "Give me 2 days time. I will bring his true colors before you."
Meher agrees but says, "If you are unable to do that, I will go ahead with him."
Abeer said, "I am good at that. You will definitely get to know his colors. Moreover, even if you divorce Akshat after marrying him, my doors are always open for you."
Meher accepts the challenge.
To be continued


Edited by katrinasalman - 27 April 2016 at 7:33am