Chapter 16

Gohem & Mehbeer reach their place. Both the couples had got drenched in the rain.



Kokila: How did you guys spend the night.
Ahem: We slept in the car. The mechanic came today & set the car right.
Kokila: You guys look exhausted. So you need rest today.
Gopi: But we have got an important meeting. We have to go.
Kokila: Nothing doing. That is my order. You guys are not going today.
Gopi: What about the music?
Kokila: It is in the evening right? I know you guys will definitely get bored to stay at home even for one day. Gopi will do the household chores when she is at home. Even when she goes out for work, she will prepare everything before hand. But Gopi, today you need to take rest. If you do any work, you are not going for sangeet today.
Hetal & Kokila make preparations for Jigar-Rashi wedding. Ahem & Gopi go to their room. Gopi does some gargling for evening sangeet. She closes the door while Ahem calls to the office & instructs to cancel all the important meetings. He then carries Gopi in his arms & puts her on the cot saying, "This is the best time for us. No phone calls or any other disturbance." Both switch off their phones. Ahem then kisses & caresses her.

Both of them share moments with each other.

At Malhotra House, Abeer does gargling. Meher checks the presentation before leaving for Groove. Kuber tells Abeer & Meher to have family time for today as both had got drenched in the rain. Abeer carries Meher in his arms & both share their moments.
Abeer: Coming with me for dinner today?
Meher: Sure, I will come.
Abeer: We need to do something special as today is your birthday.
He wishes Meher on her birthday & said, "We need to get ready by today evening."
Both of them have rest.
It is evening time now. Abeer and Meher go to the room where they had booked for birthday celebration. Abeer messages everyone to conduct the show in that venue. Ahem and Gopi reach that spot. Meher said, "Remember, no mere nishaan. I want something different. "
Abeer: Yes Madam.
He then sings on yadein teri...
Nisar sings on mere nishaan
Ranvi sings on Sheher main aaya tere. Aake Mujhe dil toh de..
Geet sings on tum bin Jiya jaaye kaise.
Gopi sings on kehna hi kya.
Gunjan and her team dance on Its my life before haldi rituals.
Meanwhile, Veera and Baldev are making preparations for haldi ki rasam. From therw, everyone goes for haldi rituals. Jigar and Rashi too shift to Baldev's place for their haldi rituals.
Next day, there is sangeet for Raji, Veeba and Ranjan. All the couples dance on Salam e Ishq.
On individual dances,
Veera and Baldev dance on Zara sa jhoom loon main.
Jigar and Rashi dance on Tu Roop Ki Rani.
Ranvi and Gunjan dance on Jeene ke hain chaar din.
Ahem and Gopi dance on Doli taro dhool baaje
Arnav and Khushi had come for Raji mehendi and haldi rituals. Everyone are surprised to see them for the sangeet.
They dance on teri meri meri teri prem kahani hain mushkil...
Abeer and Meher dance on Pehla Nasha.
Everyone goes home after sangeet.
At Raizada house, Arnav-Khushi and Akash-Payal too complete mehendi and haldi ki rasam. They invite everyone for their Sangeet.
NK:Nannav Bhiya, you have to dance now.
Arnav:You know that I don't dance.
NK: At least for Khushi's sake you have to.
Khushi :That will be our old memories when our kids become big.
Arnav agrees.
NK dances with Lavanya and Manorama.
Ahem and Gopi dance on chal hatt pagle neend se..
Jigar and Rashi dance on Hum tujko utake le jayenge. Doli main tujhko le jayenge.
Abeer and Meher dance on Mere Rang Main.
Ranvi And Gunjan dance on Ishq Shawa.
Akash And Payal dance on jab koi baat bigad jaaye.
Next is Arnav and Khushi's turn. They dance on Mujse shaadi karogi and aate jaate haste gaate...
After Their Sangeet NK suggests for bachelor party.
Ahem And Abeer : We are already married and no more bachelors.
NK: You guys can give company to the bachelors.
All men go upstairs for the bachelor's party and have some drinks.
Payal said, "Have you ladies gone mad that you have allowed your men for that? "
Khushi: What's wrong in that?
Payal: Do you know what men to in that party? They will be with other girls. We cannot trust them fully. We have to stop this party.

Gopi backs Khushi whereas Rashi supports Payal.
Gopi and Khushi agreee with them. All the ladies go upstairs and find their men boozing. They see NK & said, "We never expected this from you. Where are our men?"

NK:This is our bachelor party & these things happen there.
Lavanya: If it was your bachelor party, it was ours too. we could have had a nice time.

Payal sees Akash & said, "You too! I didn't expect this from you. Where is the other lady? If I see her, I will smash her."

Akash: There is no other lady here. It is nothing like that.
Payal is about to leave.
Akash stops her.
Both go to the other side of the terrace & have soft drinks.


Rashi sees Jigar & pulls his ears.
Jigar: Nothing like that. I can't think of anyone other than you.
Rashi: Where is that witch?
Jigar: Who?
Rashi: I think it is Sonal who was with you. Your ex girlfriend.
Jigar: No dear, Sonal is just my friend. I've never loved her. You are the first & the last. Ok just chill, I will do whatever you tell me to do.
Jigar & Rashi take leave. Both go to the ball & dance with each other.
Rashi: You have boozed? I will tell your mom.
Jigar: No, this is the first time. We never knew it is going to be like this.
Rashi: If you go home like this, it won't be difficult for Koki Aunt to make out. She will definitely tell your mom & dad.
Jigar: Please help me.
Rashi: Come to the bathroom & have a nice shower.
Jigar goes for the shower & comes back.
Rashi gives him chewing gum & said, "Have this. Nobody will be able to make out. But promise me that you will never have more than one peg."
Jigar: I won't drink hereafter.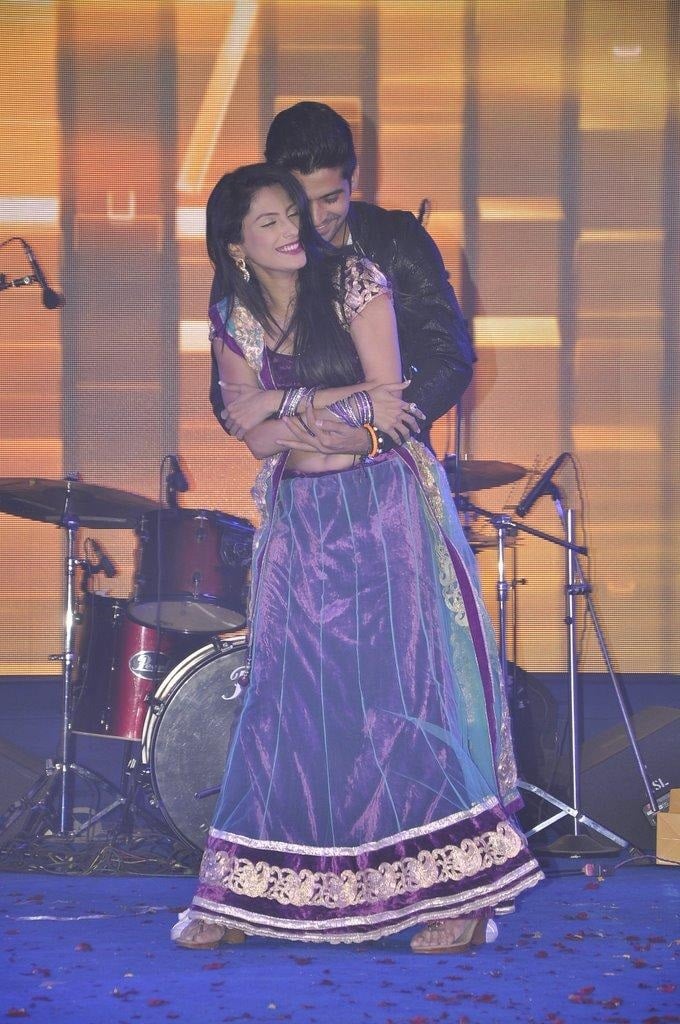 Khushi rushes to Arnav & pushes him after seeing the shadow, assuming that it is a lady. That shadow disappears.
Arnav: I was not ready for this party. It was you people who had insisted.
Khushi: Where is that witch whose shadow I saw? I will kill her.
Arnav: Which lady are you talking about?
Khushi: See that shadow.
Arnav: That is your illusion.
Khushi changes her dress & wears black saree. She dances before Arnav who gets mesmerized. Arnav & Khushi go to the terrace where he shows her the artificial Solar System. Both of them lie down & have moments with each other.
Arnav: I was never like that before. I never knew what was love all about but when you came in my life, everything changed. I don't say that I cannot live without you because I see many saying that but they still live when it comes to that. But I will say that I cannot live happily without you. Promise me that you will never leave me.
Khushi: Even I am in the same condition. I promise you that I will never leave you.



Gopi holds Ahem's ears & said, "I never expected this from you. As far as I saw you, I have never seen you boozing like this."
Ahem: That is because I never booze. This is the first time & perhaps the last.
Gopi: If mom sees you like this what will she think? Shall I tell her?
Ahem: Please don't bring mom in between. I never had any idea about how the bachelor party would be. Moreover, you know very well that we got married without engagement. We married directly.
Gopi: Fine, I won't tell her but it won't be difficult for her to find out.
Ahem :Please tell me how to cover up that smell.
Gopi gives him garlic & said, "Take this."
Ahem: Even that gives smell.
Gopi: When you can have beer & bhang, why can't you have garlic. Fine, you can at least have chewing gum.
Ahem takes the chewing gum & puts it in his mouth. He asks, "Can you make out the smell now?"
Gopi: Now it is fine.
Ahem hugs Gopi.



Meher, Veera & Gunjan confronts Abeer, Baldev & Ranvi for drinking.
An hour later, the beer wears out. All the ladies tell NK, "You have spoilt our men in the name of bachelor party."
It is late night. Balwant tells everyone to stay back for the wedding & makes arrangement for the dress to be worn the next day. Everyone informs their families about the same. Balwant requests Kokila & Devyani to conduct the wedding in the same hall. Kokila agrees.



Next day, Jigar-Rashi, Baldev-Veera, Arnav-Khushi, Akash-Payal & Ranvi-Gunjan get married. After the wedding, all the five ladies ask all the single girls to stand in a line. "Whoever gets the booke, it will be their turn for marriage."
All four of them throw the booke. Lavanya, Geet, Preetika(Khushi's friend), Charu & Rati get it.
Rashi: So, you guys are next 5 to get married.


To be continued


Edited by katrinasalman - 25 May 2016 at 4:04pm