Jassi

puts

on the bamboo and finds the

Hence her team gets to

first
Everyone

to the dining room and start

Chachi

is

when Sumedh sir

comes...He is surprised seeing the amount of food in chachi's plate and tells her to finish everything while he watches...Now chachi has no option but to

Sumedh sir tells her not to be greedy and hands her
to digest the food
Scene shifts to the

Adi

and Riya

...Riya tells Adi we have to win the next round no matter what..
Adi goes behind chachi and tells her to remind Meenu about the bracelet..
Scene shifts to Suri and simran
Suri

for Simran's attention...She tells simran that she's here to take back her

which she forgot at the time of holi...Suri apologizes but Simran is

about Riya & Jogi and hence ignores her..
Adi

and Chachi

doing serious plotting to get Ria and Jassi out of the game...Adi notices ria and tells Chachi that they should disqualify Jassi and make Ria win...Ria

hears this and tells Adi

to stop plotting and that She can win the competition herself.
Its night...Jassi

and scares Chachi...Chachi is

and hides under the blanket.
In the morning Sumedh sir

comes to wakeup all the boys and tells them to come downstairs within 5 mins..
Everyone is

...Sumedh sir tells them to choose partners for themselves and explains the game to them...
Meanwhile Meenu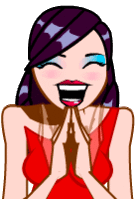 calls Ria's mom to ask her about some red top...Simran notices the bracelet and gets

assuming that Jogi

has given the bracelet to Ria

.
____________________________________
Hope y'all liked the update


Edited by ..Kimi.. - 13 April 2016 at 12:57am