HALLOWEEN FANFIC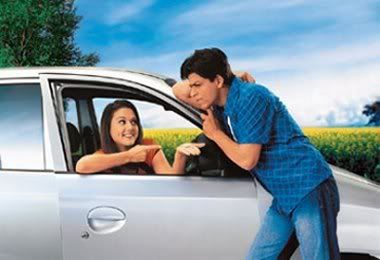 Naina: Hey Aman.. How r u..check out my new car..
Aman:Hey Sunshine girl..I m doing good…
Naina: I want to ask u something Aman..Main…Main.Main….
Aman:Phir se bakri ke tar ha bannoge,main toh yaha se bhaag ne waala hoon
Naina:Tumhare aur Rohit ka kya chakkar hain??(giggles) ..Naina giggles and drove away…..
This kept Aman worried..Yeh kya bol rahi hain…Mein aur Rohit? Chakkar?
Aman:Nainaaaa
Aman called Rohit.
Aman:RRoHHiTT(In a gruel voice)
Rohit: Kantaben??
Aman: (smiles)Haan Kantaben…..Kaha ho tum?
Rohit: Kantaben I just told u na…Main Naina ke saath concert mein hoon….Hum log perform kar rahi hain!!!BYE…
Aman:Naina aur concert mein??
SONG: AA ke DARR……..
Rohit:Naina, ek hi song aur humara kaam khatam..Want to go on a date wid me,sweetie??
Naina: We r looking so dumb here …Uss Karan ko mein na …What kind of a song is this Rohit?? We r looking real stupid……
Rohit: Lastly do the salsa step and we'll shoo off!!!!
Naina:Oh Rohit….I feel horrible for helping u this time…Aur who?Kya naam hai uska? Chameli..err….
Rohit..Arrey nahi Naina…..Camilla…..
Naina:Aman toh keh raha tha who yaha honge…..Whr is he????
Rohit:No idea……
TING TONG….STRONG WINDS R BLOWING…OOOOOOOOO………………
Aman:Karan tum yaha?
Karan:Hi dude….wadz up, where's Naina?
Aman:Well I thought she's back wid Rohit
Winds getting stronger and stronger……..
Karan: I m scared Aman..
Aman:Cheee dun touch me…Call urself a man some more!!!
The lights went out….But the phone was ringing….
Aman:Hi, who's this?
Jenny:Arrey duffer main bol rahi hoon….
Aman:Ab mein ka matlab kya hua?
Jenny..Mein Jenny….
Aman:Oh Jenny mein Rohit bol rahi hoon….Aman toh Jia ke saath bahar chale gayee
Jenny:Kaha?
Aman:Bata nahin…..
Jenny hung the phone…
Aman:Aaj toh baar baar bach gayi!!!!
Aman:Karan…whr r u??Karan!!!!!!
Aman:Loh Jia aa gayi….Chalo books dekh te hain…
Jia:Aman come yeh Halloween kitab dekhte hain…
Both flipped through the pages…..and had a nice time though Aman kept having blank calls..and left them unattended!!!!
Aman left Jia with Jennifer…and Aman went back to his house……
Aman:Mom, I m home……Mom???
Yeh sab log ko HO kya gaya hai???
Rohit comes to Aman's house…
Aman opens the door and he got a shock
Aman:NO KANTABEN……. and fainted.....
Rohit:Aman yeh main Rohit…..
Rohit spills so much water and Aman was coughing all the way
Aman:Rohit? What the heck were u doing??
Rohit:I was escaping from Kantaben..She's on lease right now!!
Aman:Lease??
Rohit:Darr ke mare lease keh diya…..She's on loose..She may be coming anytime…Hurry!!!!
Aman:Naina,woh kaha hai??
Rohit:Naina is safe at home!!!
Aman and Rohit ran once they saw Kantaben….
Rohit:Bach gaye….
Aman:Hum log toh zaroor Olympics hona chahiye..zaroor out ho jayenge…
Rohit:Very funny Aman…
Aman:Shoot..where r we?
Rohit:We r almost near the stadium…..Hey Aman ur phone is ringing…
Aman:Hello Naina
Naina:Yes Aman come to the stadium for da concert……
Rohit:Lakin concert toh khatam hua tha
Aman:Chalke dekh leta hain!!!!
Every one started shouting for both Rohit and Aman…….
Naina took off da wicked costume of Kantaben from Rohit and gave both Aman and Rohit a shirt!!!
Rohit and Aman stared at each other…..
Ab hum dono ka kya hoga?????
Ab hum dono ka kya hoga..
Every1 was clapping….
Aman:Bhaiyon aur behnon
Rohit:Sisters and brothers…..
One person from audience: Who humein bhi maloom hain..Aage bolo…?Kantaben ke bare mein toh boliye!!!
Aman:Kantaben??
Rohit: Yeh Kantaben kaha se aa gaya bhai..
Naina started shouting:Aman,Rohit, COME ON!!!
Rohit:nAiNa!!!
Aman:Kantaben is Rohit's maid..Lakin usse humari dosti pasand nahi thi..
Rohit: Basically Aman Naina and I went to a party where both Naina and I had gone berserk. Aman sent Naina home and then he sent me..By then he was too tired and so he slept at my bed.
Aman:Exactly..Thatz all
Rohit:Kantaben was introduced to Aman and vice versa in da morning…And when Kantaben asked him for food, he said banana and more worse, he had almost Kissed me!!!Yux!!!!
Audience went:OMG!!!!Ewwwww!!!!!!
Aman:Arrey I was njoying it Rohit..How am I supposed to know that I was digging my own grave!!!
Haila..woh dekho Rohit!!
Aman:Rohit..Kantaben..Bhaago!!!
Rohit:Aur kitne bhaagengey
Aman:Arrey bhaag doofus
Kantaben:Rukh!!Rohit..mer I kapde kahan hain..Kyu churaake bhaag rahe hon??
Aman:Kapde???ROHIT!!!!!
Rohit:NAINA!!!!Sabko bata chal gaya..Main toh bhaaghi…..
Lastly, Rohit was caught and was told to scare Pia…but Rohit gave up easily….Kantaben posed a picture with her outfit and with Aman-her new best friend!!!!