Dil tere naam kardiya
Angad khannah
-yr 11 school stud and heartthrob,one more year and then hell be off to college,hes a naughty boy has been since he joined school,hes a flirt,a gangster without doing drugs but he smokes summing it all up hes a lafunga.he hasn't heard of love and he lives in nyc he is a school hottie and is doing 8 gsces but to him only one matters that is music,he dreams to become the countrys biggest rock star one day.
Kripa sharma-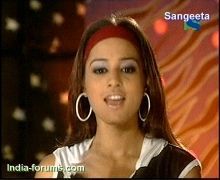 yr 11,last year and then shell be off to college,shes a sweet girl but at the same time shes confident.she goes out with boys but she doesn't go further than a kiss.she lives in nyc her mom and da have moved houses and due to this hse has to move schools,she is upset yet excited.
Other characters will be introduced later in the story.


Edited by memze - 05 April 2007 at 6:19am